Top 6 DIY Ideas to Decorate Your Dream Home
Having a home that is luxurious and comfy is every person's dream. Unfortunately, upgrades for better furniture and decorations in the house are usually expensive.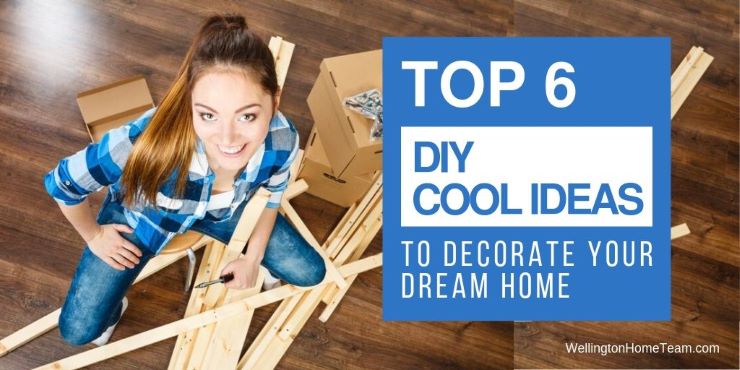 However, even with financial constraints, sometimes you can tweak the simple things in your home that can not only elevate its look and feel of it but also enhance the comfort levels. It may require you to put in some additional research in order to source the best stuff but every effort would be worth it in the end. Here are some amazing DIY ideas to change your home with little investment.
6 DIY Ideas for the Home
1. Staircase Storage
Most two-storied houses have a hidden gem in the form of unused under-staircase space. Often it's left as a dumping ground for extra clutter around the house. However, with a little bit of ingenuity, you can turn the space into a beautiful storage unit.
Whether it's a shelf unit or a pull-out drawer, with a bit of effort, you can create a space-saving trick that will be trendy and functional. what you need to make that happen is to contact a local carpenter and explain your ideas to him. Consider sourcing the raw materials at your end and pay off the labor charges, that way you can further save and yet get your best design implemented 
2. Faux Marble Look
One of the most cheap and easy home decor ideas is marble table tops, they instantly give a space a luxurious feel. However, they are quite expensive, and hence investing in one can cause financial strain. Fortunately, you can fake this look using faux marble wallpaper. Choose a countertop or tabletop that you want to give an update on and roll the stick on marble paper.
This is something you can definitely do on your own without expert input. Ensure you take care of small stuff like cleaning and drying the surface before you use the wallpaper, having a glue gun handy in case you tear the paper, leaving the surface to dry by turning on the air conditioning, etc.
3. Build an Under the Bed Storage Unit
With housing units increasingly becoming the size of micro-apartments, investing in furniture that offers double duty is a necessity. Under the bed, storage acts as a great place to store seasonal clothing that might otherwise create clutter in your bedroom.
This space can also be used to showcase your shoe collection, book collection, or DVDs. If you can spend a little more, certainly consider investing in a good mattress. This will not only enhance the comfort levels but will give an amazing luxurious feel to your bedroom overall. While there are endless choices in the market that do not require you to burn a hole in your pocket, the Leesa and Helix are both popular beds, worth giving a try.
4. Revamp Your Couch Legs
As standardization is becoming a norm, the use of plastic couch legs has become increasingly common. Unfortunately, to cut down on cost, they are created with functionality in mind hence sacrificing the aesthetic element. To instantly upgrade the look of the couch, choose to switch them out with real wood or metal. Ensure you paint them in a unique color to give them the extra pop. This easy DIY home decor idea will light up the living room to the next level.
Decorating your dream home doesn't have to break the bank! Here are 6 cool and easy DIY ideas to decorate your home. #diy #howto
5. Updated Knobs
A cool DIY idea that works wonders is updating knobs around your house. With constant use, cabinet knobs and doorknobs become worn down and become an eyesore after a while.  Additionally, it's common practice to see housebuilders install modest knob designs during the build. Add a little bit of character by choosing unique designs and colors and switch them out yourself for an instant wow factor. 
6. Paint Whenever Possible
Even if you are a renter,  one thing that does wonders for any home is painting in unique colors that can be switched out when you get bored of it. Steer clear from boring colors like beige and choose one that adds warmth to a room.
Invest in a can of paint and create accent walls to give a dramatic feel to a room. If you want to go all the way, you can choose to paint your ceilings to add an extra oomph factor and help your home stand out more. With a little bit of paint, you can change the whole feel of a house.
Final Thoughts
If you are a true beginner and don't have the needed experience to do challenging tasks, start small. As seen above, you can choose to tackle small DIY projects that make a big impact in your home. As you become more confident in your skill, move on to other projects hence creating a more appealing and welcoming home.
Please consider spreading the word and sharing; Top 6 DIY Ideas to Decorate Your Dream Home
Decorating your dream home doesn't have to break the bank! Here are 6 cool and easy DIY ideas to decorate your home. #diy #howto
About the Author
Top Wellington Realtor, Michelle Gibson, wrote: "Top 6 DIY Ideas to Decorate Your Dream Home"
Michelle has been specializing in residential real estate since 2001 throughout Wellington Florida and the surrounding area. Whether you're looking to buy, sell or rent she will guide you through the entire real estate transaction. If you're ready to put Michelle's knowledge and expertise to work for you call or e-mail her today.
Areas of service include Wellington, Lake Worth, Royal Palm Beach, Boynton Beach, West Palm Beach, Loxahatchee, Greenacres, and more.
Top 6 DIY Ideas to Decorate Your Dream Home