8 Things That Increase Home Property Value
If someone asks you what your single biggest investment is, you'll probably say "My house". And that would be true because no other expense costs as much as buying a house. However, you might be thinking of relocating to another house somewhere nicer. In that case, you probably should do something to hike the property value of your home. But what? 
Here is a checklist of things you could do or pay for that would help increase home property value and some of them are fairly inexpensive and cheap ways to increase home value.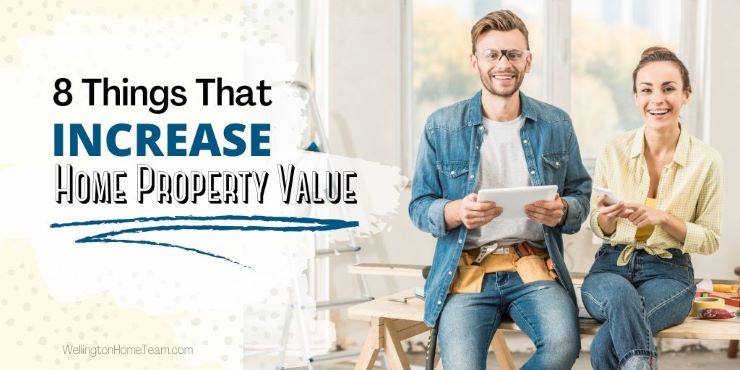 1. Make a Plan
Some people really do better in increasing their home property value simply by making a tangible plan to do just that. This means organizing your thoughts and setting your ideas down on paper or on your computer so that it'll be clear to you and your partner just what should be done. So that should be item #1 on your list for how to increase home property value. 
2. Learn the Nice and Not-So-Nice Parts of Your Home
It's amazing how much you miss out on because of the mad rush to meet work and life deadlines daily. So, you need to take some time to get to know your home better. List down in your plan what are the pros of living there are.
It doesn't matter if you don't describe it well, just jot it down. Then you may list down the cons of living in that house. This will give you an idea of the weak points of the house that could do with a repair, a remodel, or a complete upgrade. (A good example is switching to a better air filtration system such as those from Air Filter King).
By the way, while you're at it, don't look at your home just from the front door side. Learn to see your house from every angle. This means going around the house to the backyard and to the garage, just inspecting it. You can even go to the parts that prospective buyers might miss out on, such as your attic or even the garden shed. This allows you to learn more about your property even through a short time of observation.
3. Estimate How Much It Would Cost to Improve the House
This will vary from house to house because some homes are more lived-in than others. But try to come up with a reasonable estimate. If you don't have any idea on how to increase home property value, try to contact your Realtor and get their estimate.
If possible, walk through the house with your Realtor and let them see the good, the bad, and the ugly aspects of your home. They will probably be able to come up with a more realistic ballpark figure of your budget for home improvement.
While you're at it, ask your Realtor how much you could sell the house for, if you do home improvement down to the last detail as the Realtor recommended. This will serve as your motivation for making the house look and function much better.
4. Start with Renovating Just One Room
Another great way to increase home property value is to renovate one room at a time, and don't rush the process. Remember that you are doing this to improve the potential selling price of the house. And even if you don't wind up selling at all, the house will look and function better afterward.
So, you and your family will be able to enjoy a better lifestyle, one room at a time. Incidentally, try to put extra attention to the upgrade of the kitchen and bathrooms. These areas are key to getting a good price for your home when you sell. This could easily be one way for how to increase home value by $50,000. Kitchens and bathrooms often sell homes an have a great return on investment.
There are a lot of different ways to increase home property value and here are the top ways homeowners can increase the value of their homes. #realestate #propertyvalue
5. Keep Track of Home Improvement Expenses
One problem that homeowners face is runaway home improvement expenses. They just simply get carried away and start buying this and fixing that until they lose track of what they spent. Do it differently and list every expense related to home improvement.
Even painting just one wall will cost something so it pays to be religious about keeping track of expenses. This will make it easier to compute your profit when you finally sell the house to another family.
6. Keep the House Presentable
This is a tall order, admittedly, especially if you have young kids running around the house daily. But keeping your home tidy, organized and clean will pay off in the long run. If you have upgraded one room, keep that room as presentable as possible daily.
Think of it this way: what if a new prospective owner asked to walk through the house right now, would you say yes? It is also easier to keep the house presentable if your kids confine their activities to their bedrooms. If they can't stay in their bedrooms, at least allow them one room to play and study in, while the rest of the house is being renovated. This will make it much easier for you
7. Get Rid of Actual Junk
Some people are natural hoarders and pack rats, meaning they tend to accumulate junk in addition to valuable stuff. So, since you're preparing to eventually show your house to potential buyers, you should say goodbye to junk permanently and declutter your home. If you think those things still have value for someone, you can put them in bins and conduct a yard sale one weekend.
Not only would your old junk prove to be valuable to someone else, but you get paid for it. Not bad, considering you must get rid of all that stuff anyway.
8. Check Your Property Documents
If you have done all that is reasonably beneficial to make your house attractive to home buyers, don't neglect the property documents. You might need to check if any loans need to be paid and if you have any penalties to pay for too.
You can then compare the selling price you have in mind to the amount of money you have been paying. This will help you see just how profitable it will be to sell your house afterward.
Final Thoughts
While these are the things that increase home property value for sale it's not uncommon for homeowners to change their minds about selling altogether. However, all of your efforts will still pay off because you've added value to your home.
Going through all that effort to organize, tidy up and renovate your home should pay off in the long run. However, sometimes there are a few more steps you'll need to take in order to increase home property value. So whether you're looking to sell today or a few years down the road it can still be worth it. Plus, you love your home again!
Please consider spreading the word and sharing; 8 Things That Increase Home Property Value
There are a lot of different ways to increase home property value and here are the top ways homeowners can increase the value of their homes. #realestate #propertyvalue
Need Home Improvement Advice for Your Wellington Home?
If you'd like to make improvements to your Wellington Florida home but are not sure what to do contact top Wellington Realtor, Michelle Gibson. She has been specializing in residential real estate since 2001 throughout Wellington Florida and knows how to increase home property value. Her areas of service include Wellington, Lake Worth, Royal Palm Beach, Boynton Beach, West Palm Beach, Loxahatchee, Greenacres, and more.
About the Author

Bonnie Hayes wrote 8 Things That Increase Home Property Value and offers professional home repair services. Bonnie's clients are usually first-time homebuyers and real estate investors who would want to improve the value and appearance of their properties.
8 Things That Increase Home Property Value