10 Valuable Tips for Hiring a Home Contractor
When you are planning renovations to your home, you'll most likely want to hire a contractor. But choosing the wrong contractor can lead to unnecessary delays, unexpected increases in costs, as well as huge headaches for you.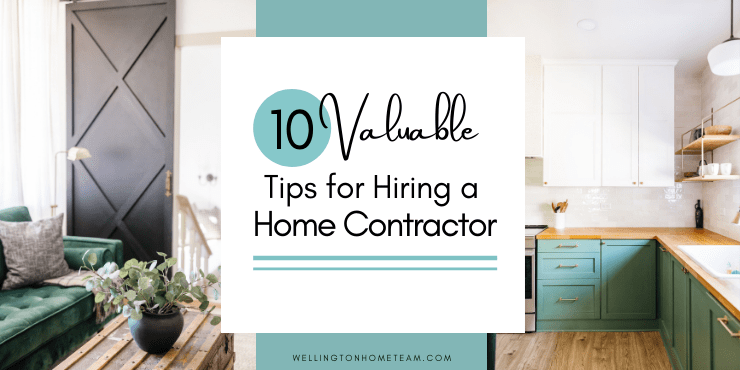 This is why hiring a home improvement contract is by far one of the most important steps for any home renovation. The process of hiring a contractor can take some time but in the long run, will be well worth the time and effort. And how to find a contractor for small jobs is no different than finding a contractor for a large job. Here are 10 steps for hiring a home improvement contractor.
Hiring a Contractor Checklist
1. Compare Multiple Estimates
Before choosing which contractor you are going to work with, you should get multiple estimates. While one contractor might come in lower than the others, you need to make sure that you are making a fair comparison between offers. Are the different contractors using the same building materials, construction methods, and completion time?
For these reasons, you should be wary of any lowball estimates, but you also don't want to overpay.

2. Use Local Contractors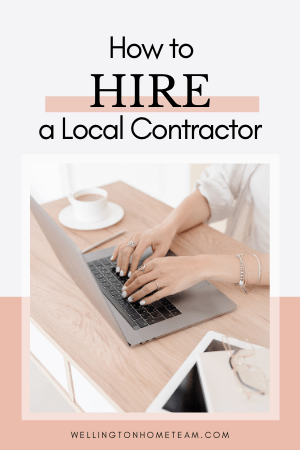 It is normally better to use local contractors who will be more readily on hand if you have any issues that need to be resolved after completion. A local contractor should also have a better understanding of building codes in the area, giving you a smoother construction timeline.
Of course, you need to be sure that the contractor is licensed even if they are close by. You can also ask them for their physical address to make sure they really are local so that you know who you are dealing with.
If you are contacted by someone offering contractor services door-to-door, you should be wary. They are unlikely to be offering the best estimate and are more likely to be from out of the area.

3. Review Their Work History
Before settling on a contractor, you should make sure they have a good track record of completing similar types of work. Get references from the company to confirm they produce quality finishes and workmanship.
Check previous customer feedback online and look up their Better Business Bureau profile. Ideally, you're looking for a contractor that doesn't have many unhappy customers in their past. You also want someone who has been successfully doing this type of work for years.
If you're planning a home renovation and hiring a home contractor you'll want to check out these 10 valuable tips before signing a contract. #homerenovation #homeremodeling #homeimprovement
4. Are They Insured and Bonded?
You'll also want to ensure that any contractor you choose has a valid certificate of insurance. Ask the contractor for this so you can see the details of the policy, which you should verify with the insurance company.
If the contractor doesn't have the insurance they should, or if they have excuses instead of showing you the certificate, choose another company. If you do not, and they don't have insurance, you could find yourself liable if accidents happen during the renovation work.

5. Don't Rush Your Decision
There normally shouldn't be any reason to commit to a contractor in a hurry. You might be pressured to make a decision straight away and sign a contract, but this could be a mistake. You need to be particularly careful if the contractor asks for a large deposit before any work begins.
Always ensure you fully read any contracts you are asked to sign so that you don't later receive any costly surprises.
If you are hiring a contractor for emergency repairs, and you need to act quickly, ask for recommendations from friends or family. This should help you avoid setting yourself up for problems even if you don't have the time to carefully choose your contractor.
Contractor Tips and Checklist Continued
6. Have a Clear Written Contract
Before any work begins, make sure everything is written down in a contract. It should cover everything in the project and be unambiguous. Using a lawyer to check it over will give you more protection, something that is particularly important for larger projects with higher costs.
Any contract that is drawn up should include the following:
* Estimated start and completion dates
* A clear description of all aspects of the project and cost breakdown
* The payment schedule stating when the contractor needs to be paid
* Contractor guarantees
Once you have signed this contract, any further changes should be put down in writing as well. Also, you need to be sure your contractor has applied for and received the necessary building permits.

7. Changing Your Mind
If for whatever reason, you decide you want to back out of the contract, you should be able to under federal law. You should be able to benefit from a cooling-off period that will prevent you from being penalized for your change of mind.
There should also be a cancellation clause in the contract, to allow you to walk away from the arrangement if you need to. You will have to give this cancellation notification in writing, and it needs to be sent by registered mail so that you know it has been received.
If you're planning a home renovation and hiring a home contractor you'll want to check out these 10 valuable tips before signing a contract. #homerenovation #homeremodeling #homeimprovement
8. Avoid Upfront Payments
Under no circumstances should you pay all of the money for the project up front when hiring a contractor or before it has been fully completed. Even if most of the work has been finished and there are only a few minor things left, the contractor will be far more motivated to fully complete the job if that's when they will get paid.
Instead, for the first payment, you might pay a third of the expected cost of the project. Then perhaps another third is paid at a particular stage in the project, with the final third paid on completion.
You should also avoid paying in cash, and make any checks payable to the company instead of an individual. This will ensure there is proof that you have paid the amount required under the contract.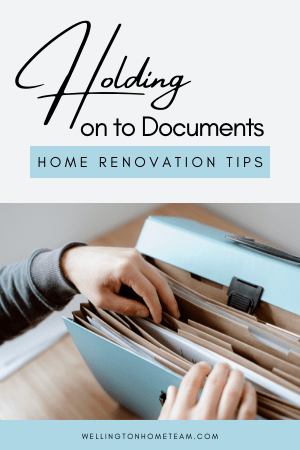 9. Hold on to Documents
Keep all the relevant documents related to the work together in a folder in a safe place. Any contracts, bills, plans, contracts, letters, and certificates of insurance you have, should be held onto.
This will help if you have any issues with the work completed and should help avoid problems and misunderstandings with the contractor. And just like having a final walk-thru checklist when you bought a home having a home renovation checklist will be helpful as well.

10. Expect Delays
No matter how confident your contractor is of completing by a certain date, unexpected things can happen to push that date back. You should be ready to adapt to delays in the completion date, and not too fixated on a certain timeline.
Also, keep in mind it's not uncommon for contractors to provide an unrealistic timeline in an effort to get the job. They know most people want things done asap and once you sign on the dotted line and give them money you're stuck. So when one contractor says 2 weeks and one says 2 months guess who most people will lean towards hiring? But don't be fooled. This is where calling past clients can be helpful.
Final Thoughts
Doing a minor or major home renovation project, like remodeling a bathroom, can be exciting but it can be stressful as well and if you hire the wrong contractor it can turn into a complete nightmare.
This is why it's important to not only interview contractors before hiring them but research them as well. If they have zero online presence that could be by design, without a web presence people are unable to leave bad reviews.
So once again do your research before hiring a contractor for home renovation, it may take time but it will be well worth it in the end.
Please consider spreading the word and sharing; 10 Valuable Tips for Hiring a Home Contractor
If you're planning a home renovation and hiring a home contractor you'll want to check out these 10 valuable tips before signing a contract. #homerenovation #homeremodeling #homeimprovement
About the Author
Top Wellington Realtor, Michelle Gibson, wrote: "10 Valuable Tips for Hiring a Home Contractor"
Michelle has been specializing in residential real estate since 2001 throughout Wellington Florida and the surrounding area. Whether you're looking to buy, sell, or rent she will guide you through the entire real estate transaction. If you're ready to put Michelle's knowledge and expertise to work for you call or e-mail her today.
Areas of service include Wellington, Lake Worth, Royal Palm Beach, Boynton Beach, West Palm Beach, Loxahatchee, Greenacres, and more.
10 Valuable Tips for Hiring a Home Contractor