7 Expensive House Flipping Mistakes to Avoid
With all of the real estate house flipping shows on TV, it's no surprise that so many people want to flip houses. After all, these real estate gurus buy a property, fix it up and sell it for a huge profit. What they fail to realize is there's an art and knowledge to flipping. Buying a distressed property and renovating it doesn't always equal profit. In fact, it can easily equal a huge loss of money.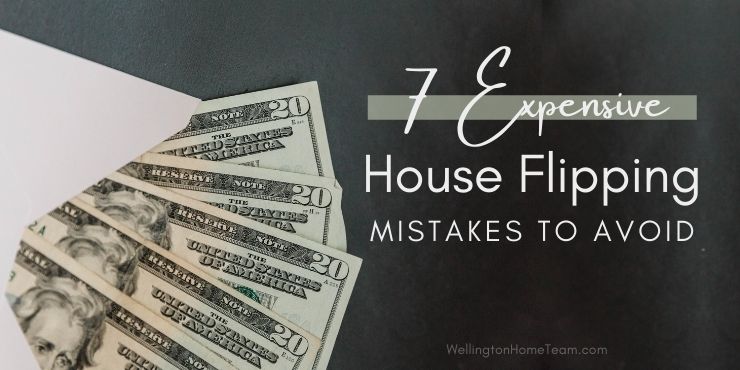 It's not uncommon for first-time house flippers to lose a lot of money on their first flip and they may lose money on the next one too if they decide to try again. Sometimes learning the ins and outs of house flipping will cost money one way or another. However, we have put together a list of the most costly house flipping mistakes newbie and seasoned investors make.
House Flipping Mistakes:
There are countless mistakes house flippers can make and here are the top 7 expensive house flipping mistakes every investor needs to avoid.
Choosing the Wrong Home to Flip:
Just because a home is inexpensive doesn't mean an investor will be able to flip it and make a profit. One of the biggest mistakes house flippers make is purchasing the wrong home. There are a lot of calculations and considerations that need to be made when choosing a house to flip.
While the home's location and layout are important, market conditions are even more important. Knowing the area, comparables, cost of renovations and market conditions are key to being able to make a profit when flipping. This is one of the many reasons why investors should work with a top Realtor who can help them find the right house to flip. Odds are it'll be a fixer-upper, but not always. Sometimes agents come across incredible deals that with a little paint and carpeting can produce a profit. These types of flips are often the best type for new flippers because there won't be as many house flipping mistakes they can make.
Hiring the Wrong Contractor: 
Another big house flipping mistake is hiring the wrong contractor. A contractor who cuts corners, doesn't pull permits, does inferior work, overcharges, doesn't show up for weeks. The list of what makes a bad contractor goes on and on.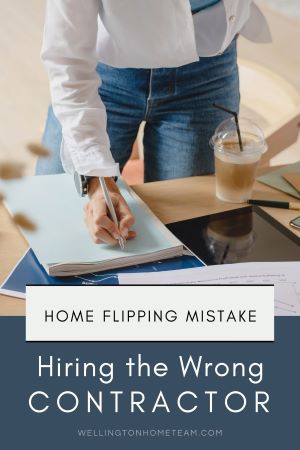 With that being said, even if a great contractor is hired the investor still needs to oversee the entire project. After all, this is their investment and their money, not their contractors. Unless the investor and contractor are splitting the profit 50/50 a contractor is never going to care as much as the investor about time and money.
If the investor decides to skip hiring a contractor altogether and do it themselves that too can turn into a costly nightmare and a big house flipping mistake. Flipping a house isn't a job for weekend warriors. It costs money every single day to hold a property, 5 days with no work means 5 days of expenses and less profit. Even if an investor paid cash there are still additional expenses, like homeowners insurance, property taxes, utilities, and HOA fees.
Not Pulling Permits:
Pulling permits can be costly and getting them closed can take time, time that could eat into an investor's profit. For those reasons some investors skip pulling permits and just do the work. However, this is a step that should never be skipped.
Homebuyers purchasing a flip want to know corners weren't cut and all renovations were done correctly. By pulling permits an investor will instill confidence in the buyer that things were done to code. It will also eliminate potential financing issues or closing delays.
Prior to purchasing a flip investors need to know what improvements require a permit, the cost of the permit, and an estimated length of time it will take to close the permit out. This will allow investors to budget accordingly and know if a specific flip is right for them.
Flipping a house can be profitable for some but costly for others. Here are 7 expensive house flipping mistakes every investor needs to avoid. #homeflipping #howto #homebuying #fixerupper
Skipping the Details:
In order to obtain top dollar for a flip, it's imperative investors don't skip the details. Renovating a kitchen and leaving the aluminum blinds or updating a bathroom and leaving the hollywood lights above the mirror is a huge house flipping mistake. It can scream the "money ran out" and the appeal of a renovated home can quickly be lost when the details are skipped.
And the renovation doesn't stop inside either, it extends outside too. If the exterior doesn't have curb appeal it may turn buyers away. This can also scream the "money ran out" and we can't afford to finish the project. A successful flip needs to be a completed flip. So investors need to make sure they budget, not only for the big items but the small ones too both inside and out.
Selecting the Wrong Finishes:
An investor's goal is to make as much money as possible, this leads some investors to buy discounted materials, materials that are no longer popular. Just because something is new, like 30″ oak cabinets, doesn't mean they're in style and appealing.
It's important for flippers to keep it neutral and appeal to as many buyers as possible. Keep wall colors neutral in addition to cabinetry, tiling, and flooring. Sometimes taking a look at new construction in the area can help a flipper know what finishes are in and what's selling. By doing so can help avoid this type of house flipping mistake.
Over-Improving:
It's easy, especially for first-time flippers to over-improve their flip. Why? Because they let their personal taste get in the way. Instead of refacing cabinets, they decide to demolish them because they don't like them. Instead of purchasing engineered hardwood floors, they purchase real hardwood floors.
Now, some flips will require hardwood floors because that's what's expected for the area. However, when the local competition has laminate floors that's what investors should use unless it's more cost-effective to obtain a higher quality material for less. There is a balance between under-improving and over-improving that flippers need to master in order to maximize their profit.
Overpricing the Home to Make a Certain Profit:
Homebuyers don't care how much an investor spent on a flip or how much money they want to make. A majority of buyers only care about market value. Now, will some buyers be willing to overpay for a renovated house? Possibly, but unless they are paying cash it can become an issue with financing if the home doesn't appraise and the buyer isn't willing to come up with the shortfall.
Overpricing a property can lead to months of carrying costs. These expenses can start eating into their profits and inevitability the house may never sell. At this point, most investors are forced to reduce the price and in some cases will take a loss.
Final Thoughts
Flipping a house is a full-time job. If a person treats it like a hobby it may produce results like a hobby, costly with no return on investment. Successful house flippers will have excellent time management and budgeting skills. They will also have the understanding and knowledge of what it takes to flip a house.
Sometimes partnering with an experienced flipper is the right move, even if they take a higher percentage of the profits. There is a cost to education and paying to learn the right way is better than paying for house flipping mistakes, which can be much more costly.
While learning how to avoid house flipping mistakes is a great start, sometimes people need more than books and articles about how to flip a home. For those deadset on flipping a house, but don't have a partner to teach them make sure to start small with their first project.
Please consider spreading the word and sharing; 7 Expensive House Flipping Mistakes to Avoid | Tips & Advice
Flipping a house can be profitable for some but costly for others. Here are 7 expensive house flipping mistakes every investor needs to avoid. #homeflipping #howto #homebuying #fixerupper
About the Author
Top Wellington Realtor, Michelle Gibson, wrote: "7 Expensive House Flipping Mistakes to Avoid | Tips & Advice"
Michelle has been specializing in residential real estate since 2001 throughout Wellington Florida and the surrounding area. Whether you're looking to buy, sell, or rent she will guide you through the entire real estate transaction. If you're ready to put Michelle's knowledge and expertise to work for you call or e-mail her today.
Areas of service include Wellington, Lake Worth, Royal Palm Beach, Boynton Beach, West Palm Beach, Loxahatchee, Greenacres, and more.
7 Expensive House Flipping Mistakes to Avoid | Tips & Advice