10 Bathroom Updates that Add Value and Help Sell Your Home
Bathrooms are important to potential buyers of your home, so if you hope to sell quickly, bathroom updates could help. Making the right upgrades could pay dividends helping your home sell for more without sitting in the listings for longer than necessary.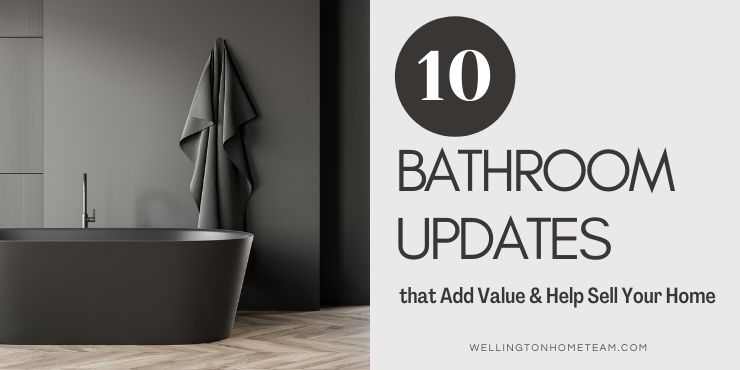 New homeowners will appreciate the changes you make if you choose your upgrades carefully. The closer the home is to their ideal property, the more likely you are to sell quickly. Most home sellers don't have dream bathrooms, so if you take the steps to improve yours, you will be ahead of the competition.
We look at some bathroom updates you can make to improve your home's appeal to buyers, no matter what your budget.
Minimal Bathroom Updates
If you don't have the time or the finances to make big changes, there are still great options. With a budget of just $500 or less, you can make home improvements that will wow your potential buyers.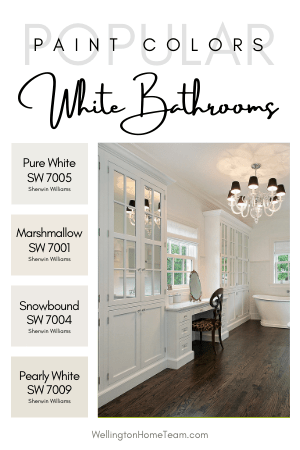 1. Painting the Walls
With a fresh coat of paint, the bathroom will appear more inviting. It's by far one of the most cost-effective bathroom updates. For a minimal investment, this relatively simple job can add value to your home. When choosing colors, it is better to go for a neutral or white, rather than something more adventurous.
If you are going to save money by doing the painting yourself, make sure you do your preparation. Masking off places you don't want the paint to end up and using plastic sheeting or tarp to prevent unnecessary damage. A semi-gloss finish is a good option to ensure the walls are resistant to mildew.

2. Improving the Light
Rooms in your home will look better to buyers if there is more light, and your bathrooms are no exception. Upgrading the lights is a low-cost option that should help sell your home. This is particularly true if the bathroom doesn't benefit from natural light through large windows, as many don't.
Make sure all the lights are working and replace any that aren't as bright as they could be. LED light bulbs are a better choice and more energy efficient. Add extra lamps if there is a darker area that would benefit from being brighter.

3. New Faucets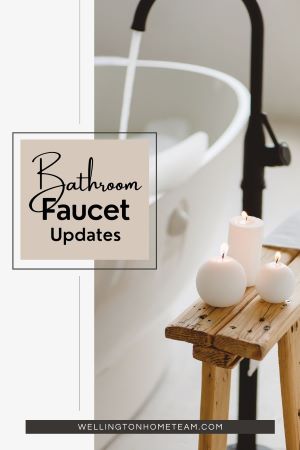 If your faucets are dripping, it isn't going to convince the potential buyer that you take care of your home. The older your faucets are, the more susceptible they are to blemishes and the worse they can appear. These problems can be obvious things that buyers will notice, and will put them off.
Brand new shiny faucets can make your bathroom sparkle and will improve the whole appearance of the room. With that being said if you decide to replace your faucets make sure they aren't the cheapest or the most expensive ones on the market.
You'll want to shop around and purchase the most appealing bathroom faucets that won't break the bank. There are so many affordable faucets on the market and oftentimes purchasing them online will be the most cost-effective.
If you are getting ready to list your home for sale and have an outdated bathroom here are some simple bathroom updates that can add value. #bathroomupdates #homeimprovement #howto #diy
Mini DIY Renovations
If you have more time and money to spend on improving your bathroom, some great DIY options are available for bathroom updates.

4. Bathroom Accessories
Replacing towel hook or bars, and the toilet paper holder, are simple improvements that can make a big difference. This simple change offers a lot of value to improve the overall appearance.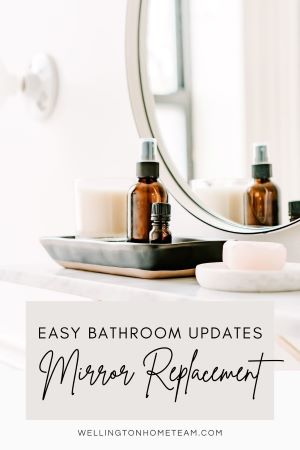 5. Mirrors
Adding a larger mirror in the bathroom will help improve how light and spacious it feels. Mirrors aren't always the most inexpensive items, but there are so many online home improvement websites that you're sure to find a good deal on a framed mirror or a plain builder mirror.
If you already have a large mirror that's in great condition, consider adding a frame or replacing the current one. Adding a frame is a great DIY project, but there are also company's that specialize in frames for mirrors. So all you have to do is assemble it and hang it around the mirror.

6. Cabinetry Facelift
Updating the pulls and knobs on your cabinets can rejuvenate them at a low cost. If your cabinets are looking out of date, a new coat of paint can help as well. Make sure the hinges are working well, make adjustments if necessary, or replace them if you need to.

7. Countertops
If your countertops are old or are showing some wear and tear, it could be time to upgrade. New countertops can update the look of the bathroom, helping to make the home closer to buyer expectations. If your countertops are neutral colors and in good condition, you don't need to update them.
If you are getting ready to list your home for sale and have an outdated bathroom here are some simple bathroom updates that can add value. #bathroomupdates #homeimprovement #howto #diy
Big Budget Updates
With more money to spend on bathroom updates and some time to complete the renovations, you should be able to minimize the time it takes for your home to sell.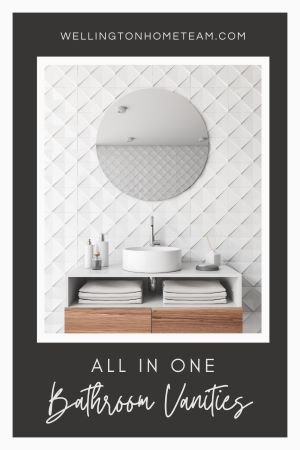 8. Vanity Units
Installing a new vanity will make a big improvement if your current ones are lacking. Choose neutral colors and make sure there is plenty of useful storage that is always helpful in a bathroom.
There are many vanity options available with granite tops that are relatively inexpensive and should impress potential buyers. If you think you have too many neutral colors, you can add color with boldly colored towels and accessories.

9. Tile
Wear and tear will show on floor tiles, and water can do damage over time as well. The grout can become loose and break off, allowing water to into the flooring underneath. Worn and damaged tiles aren't going to create the right image so replace them.
You don't need to buy the most expensive tiles, either. There are a lot of relatively inexpensive tiles available that can make replacing even a large floor space affordable. Don't go too bold with your tile choices to not put off buyers.
Replacing the floor tiles can be easier than tackling shower walls, which might require a professional. You can repair the grout to improve the look of your tiles, removing damage or mold. It is also possible to repaint tiles to cover minor issues and change the look of the room.

10. Bathroom Fixtures
The toilet, tub, and sink can often be saved. A thorough cleaning might be enough to avoid the need to replace these items.
If your bathtub is scratched or discolored, there is a fix. Kits are available to allow you to repaint your bathtub after sanding and scraping the surface. The primer and the final coat can then be applied with a roller. Though the finished product isn't going to be as good as bringing in professionals, it isn't going to be as expensive as a replacement either.
Staging Your Bathroom

Staging bathrooms are often forgotten, but just as important! Naturally, you want to make sure the room is sparklingly clean, and you should put away personal items too. Don't leave any toiletries on show, remove shampoo bottles from the shower, put away toothbrushes, and remove bath mats. Homebuyers don't need to see these things and they can distract from the improvements you've made.
Make sure your countertops are clear except for some carefully placed accessories. Glass jars of bath salts, soaps, or cotton, can add some color and interest. Place fresh new towels out before buyers are due on both the towel bars and countertop if there is room.
Final Thoughts
Updating a bathroom doesn't have to cost a lot of money to make a great impression. Having a great bathroom that enhances your home will help buyers fall in love with your property. So if you're wondering "is it worth it to remodel a bathroom?" the short answer is yes, but only if you take the time and spend the money on the right bathroom updates, you can really maximize your chances of a fast sale.
If you aren't sure what the best bathroom features for resale value are, get the advice of a local real estate agent or visit an open house or two in your area to see how yours compares. They will also be able to provide advice for those asking how much value does adding a bedroom and bathroom?
Please consider spreading the word and sharing; 10 Bathroom Updates that Add Value and Help Sell Your Home
If you are getting ready to list your home for sale and have an outdated bathroom here are some simple bathroom updates that can add value. #bathroomupdates #homeimprovement #howto #diy
About the Author
Top Wellington Realtor, Michelle Gibson, wrote: "10 Bathroom Updates that Add Value and Help Sell Your Home"
Michelle has been specializing in residential real estate since 2001 throughout Wellington Florida and the surrounding area. Whether you're looking to buy, sell, or rent she will guide you through the entire real estate transaction. If you're ready to put Michelle's knowledge and expertise to work for you call or e-mail her today.
Areas of service include Wellington, Lake Worth, Royal Palm Beach, Boynton Beach, West Palm Beach, Loxahatchee, Greenacres, and more.
10 Bathroom Updates that Add Value and Help Sell Your Home