10 Incredible Home Staging Tips When Selling Your Home
When your home is listed for sale, you might be advised to stage your home. Home staging shows your home in its best light so that potential buyers are impressed when they walk through the door.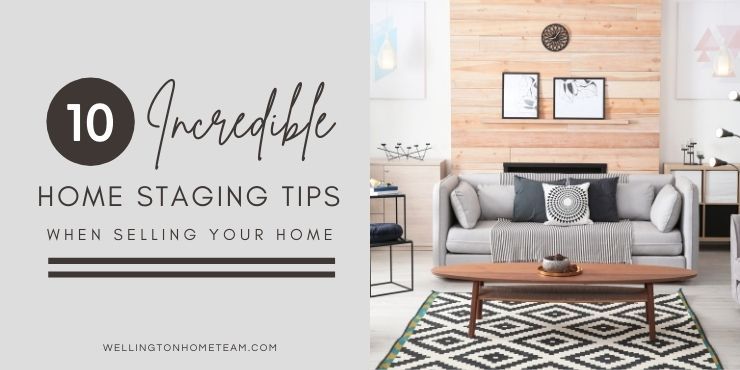 Home staging gives you the best chance of selling your home more quickly and at a higher price. Let's take a look at why staging your home is important and what steps you can take in your home.
Home Staging; Why is it Important?
When you list your home for sale, you don't want it sitting on the market for any longer than it needs to be. You also want the best selling price you can get, and home staging can help with these concerns.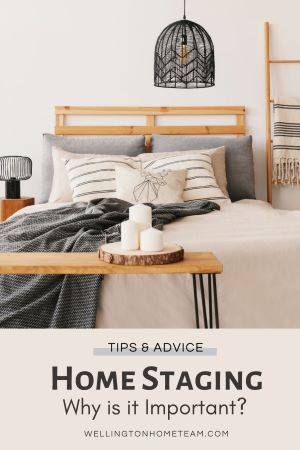 Since most people's homes are their largest asset, anything you can do to help it sell for more will be time well spent. The potential buyers of your home are looking to improve their lives, staging is intended to help them see that possibility with your property.
The easier it is for a buyer to imagine what it would be like to live in your home, the more likely they are to make an offer. Home staging should see your home on the market for less time, and it could sell for more as well.
Staging a home should help hide downsides with the property while emphasizing the good things about it. It should create an emotional connection with the buyer that can make them begin to desire the home. Which could encourage them to pay more to make sure they get the home.
If your home has many obvious problems that a new buyer will need to address, they are going to offer less for the home. Too many problems and the buyer will look elsewhere. This is why it's so important to follow home staging tips and it doesn't have to be expensive. There are plenty of different ways how to stage a house for sale inexpensively.
If you are getting ready to list your home for sale you will want to follow these 10 money-saving home staging tips prior to putting it on the market. #homestaging #homeselling #homedecor
Top 10 Home Staging Checklist & Tips
Staging your home doesn't require you to spend a lot of money, you just need to spend some time to get your home ready for sale. Let us guide you through the top home staging tips that could sell your house for top dollar in the shortest amount of time.
1. Curb Appeal
Home staging starts with the outside! The first things the buyer sees when they visit your home are very important. If you create a great impression from the moment they arrive, they will look more favorably on the whole home.
Curb appeal matters! This will mean making sure walkways are clean, the front yard is neat and tidy, windows are washed, and the front door is repainted if necessary. The porch should be inviting and well-lit. Keep the lights on in the evening, just in case an interested buyer takes a trip past your home.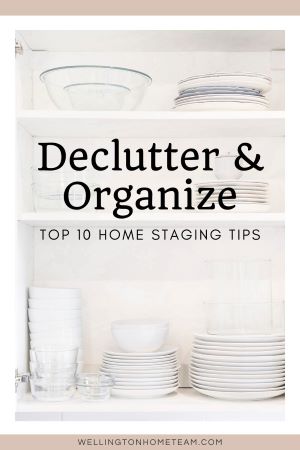 2. Declutter
One of the top home staging tips that every single seller needs to follow is to declutter! It is very easy to accumulate a lot of possessions the longer you live in your home. This not only takes up space but can distract buyers, so have a clear out. You can give things away to charity or rent some storage, and this isn't much extra work since you would have needed to pack them anyway.
You should also put away personal items, like family photos, that will make it more difficult for the buyer to visualize themselves living in the home. Make sure clothes are stored away, bathroom counters clear, and religious symbols removed as well.
3. Clean Up
If your home is spotlessly clean, it will create the right impression on the buyer. It is always more difficult to sell a home that doesn't look like it has been cared for, and a dirty home certainly gives that impression.
You need to clean every part of your home so that it shines from floor to ceiling. Despite this, you shouldn't make the environment completely sterile, the home still needs to have a warm lived-in feel. Some cut flowers or a basket of fresh market produce can help set the right mood. This is one of the most affordable home staging tips, which can be free if you did it yourself.
4. Fix Minor Repairs
If there some scratches, holes, or damage around the home that you've been meaning to fix, this is the time. Look around your home for this sort of minor damage to doors, walls, and frames. Use a little paint to touch up problems or a melamine sponge eraser to remove scratches.
If you are getting ready to list your home for sale you will want to follow these 10 money-saving home staging tips prior to putting it on the market. #homestaging #homeselling #homedecor
Home Staging Tips (Continued)

5. Light It Up
People aren't going to find a dimly lit room as appealing as it could be. Make sure to turn on all the lights before showings, open up blinds in all rooms to let the most amount of natural light in.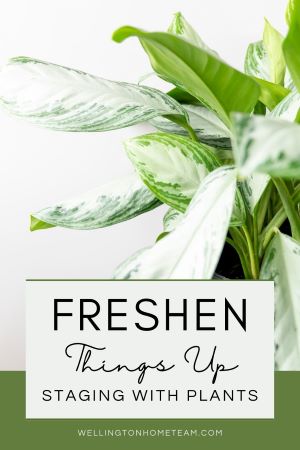 6. Freshen Things Up
Some plants and fresh flowers around the home can add some life to the space. You should use them sparingly in different rooms, rather than having a lot in one particular area.
You also need to make sure there aren't any unpleasant odors. If you have a dog, for example, you might not notice the odor, but people visiting your home will.
Speaking of dogs, if you have pets make sure the plants you select won't harm them. Unfortunately, some plants can be very toxic to our furry friends, so don't assume a plant is ok, do a little research first.
7. Moving Your Furniture
You should remove unneeded furniture or furniture in general if you have a lot. Then space out what remains to make the rooms seem as spacious as possible. However, don't remove too much furniture and just leave a chair sitting in the middle of the room.
Remove furniture that is damaged or doesn't fit in with the style of the rest of the room. In some cases, you may be able to use slipcovers to cover damage or a piece that's taste specific, like a bold flowered sofa. Sometimes the old furnishings can make a home feel like, so keep that in mind when you're deciding what pieces to keep, which ones to remove, and which ones you want to try to salvage.
8. Stage Outdoor Areas
If you have some outdoor space, don't forget to stage that as well. Use your patio furniture to create a space that people can envisage using and enjoying. While it doesn't add square footage to the inside of your home it does add overall living square footage for a buyer. It's little home staging tips like this that can make a buyer fall in love with your home.
9. Creating a Lifestyle
People will be looking for a home in your area because of the things they believe it offers them. You should play on this in the way that you stage your home. If you live in a quiet neighborhood, perhaps a hammock in the yard will build on what they are looking for and expect to find.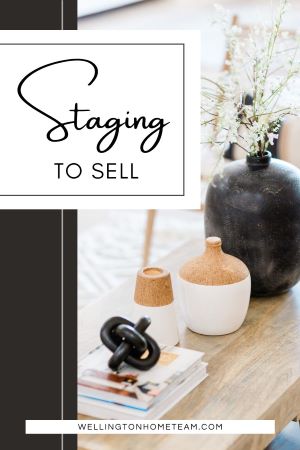 10. Decorating
If you plan to decorate before listing your home, go for neutral colors instead of bolder choices. What might have been your taste when decorated previously is unlikely to suit potential buyers. If you go for neutral colors, you will avoid putting off buyers, and it will be easier for them to imagine their own decor choices.
Also, keep knick-knacks to a minimum. There is a fine line between tasteful decor and a cluttered mess. You'll want to keep the decor neutral as well, no themes, just clean and simple.
Final Thoughts
As you can see, staging your home to sell needn't be an expensive process. Try to look at your home through the eyes of a potential buyer, be critical of your home because they will be. This should help you make the changes your home could benefit from, to attract buyers and give you a better selling price. Your Realtor will also be able to guide you through the process and provide additional home staging tips.
Please consider spreading the word and sharing; 10 Incredible Home Staging Tips When Selling Your Home
If you are getting ready to list your home for sale you will want to follow these 10 money-saving home staging tips prior to putting it on the market. #homestaging #homeselling #homedecor
About the Author
Top Wellington Realtor, Michelle Gibson, wrote: "10 Incredible Home Staging Tips When Selling Your Home"
Michelle has been specializing in residential real estate since 2001 throughout Wellington Florida and the surrounding area. Whether you're looking to buy, sell, or rent she will guide you through the entire real estate transaction. If you're ready to put Michelle's knowledge and expertise to work for you call or e-mail her today.
Areas of service include Wellington, Lake Worth, Royal Palm Beach, Boynton Beach, West Palm Beach, Loxahatchee, Greenacres, and more.
10 Incredible Home Staging Tips When Selling Your Home