4 Huge Buyer Misconceptions About Multiple Offers
A majority of homebuyers across the country are finding themselves in multiple offer situations. This is a tough position to be in and many aren't sure what to do. Should they submit their "highest and best" offer? Should they offer full price or more? Should they submit an offer with the expectation the seller will counter it?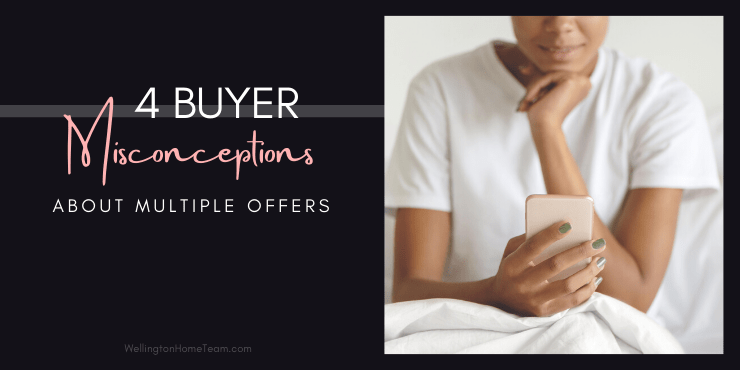 Unfortunately, there is no multiple offer playbook. Every multiple offer situation will be different and how the seller decides to handle multiple offers will differ too. However, there are 4 popular buyer misconceptions about multiple offers that need to be addressed.
Multiple Offer Notification
It's the seller's prerogative if they want to disclose how many offers they have received. While notifying all parties there are multiple offers on the table can payoff it can also backfire. Not all buyers want to be in a "bidding war" and the buyer who planned on submitting the best offer may bow out. In that case, the seller just lost out. This is one of the many reasons why a seller might not disclose they have multiple offers.
Buyers in hot markets need to anticipate and expect to be competing against other buyers. They need to write their offer accordingly and have no regrets. No regrets they offered too much or too little. What terms will help them sleep at night, win or lose? That's the offer they need to submit.
Counter Offers
A buyer should never assume a seller is going to counter their offer when they have multiple offers in hand. Some sellers are receiving 20 offers and odds are they already have several strong offers. Therefore, there is no need for them to counter inferior offers or any offers for that matter.
So when a buyer wants to "try" a lower offer price or additional contingencies they need to understand a seller isn't obligated to counter their offer. This is another buyer misconception about multiple offers. It's exactly why buyers should write an offer with zero expectation of receiving a counter offer.
There are a lot of buyer misconceptions swirling around about multiple offers and here are 4 things buyers should never expect if they land in one. #homebuyer #realestate
Full Price Offers Lose
While the offer price is a deciding factor for a lot of sellers it's usually not the deciding factor. When a seller receives multiple offers odds are good they'll receive many offers for full price or more. This will leave them examining secondary terms. Terms like contingencies and contingency periods. If the buyer is obtaining financing who the lender is may play a role as well.
So if a buyer needs a 5 day inspection period they shouldn't ask for 10 days. If their closing date is flexible they should find out when the sellers prefer to close. This should be done prior to submitting an offer. Sometimes simply asking questions prior to submitting an offer can give the buyer a leg up against the competition.
Sellers Won't Wait
Time is of the essence in real estate, even more so in a competitive market. Buyers and agents alike need to act quickly when homes are flying off the market faster than they're coming on. With these types of market conditions, a buyer should never expect a seller to wait around from them.
A seller isn't going to wait around for them to submit an offer. They're not going to wait for an updated pre-approval letter. They aren't going to wait for a buyer's parents to view the home before they submit an offer. Nor are they going to wait for you to get a quote for homeowners insurance or renovations you want to make.
Buyers need to be ready, willing, and able to view a property and submit an offer at the drop of a dime.
Final Thoughts
Multiple offer situations can be stressful and in some cases leave a buyer feeling hopeless. However, if a buyer sets their expectations accordingly and avoids these buyer misconceptions they'll be one step closer to achieving homeownership. It just might not happen as quickly as they were hoping, but need to hang in there and not give up.
Please consider spreading the word and sharing; 4 Huge Buyer Misconceptions About Multiple Offers
There are a lot of buyer misconceptions swirling around about multiple offers and here are 4 things buyers should never expect if they land in one. #homebuyer #realestate
About the Author
Top Wellington Realtor, Michelle Gibson, wrote: "4 Huge Buyer Misconceptions About Multiple Offers"
Michelle has been specializing in residential real estate since 2001 throughout Wellington Florida and the surrounding area. Whether you're looking to buy, sell, or rent she will guide you through the entire real estate transaction. If you're ready to put Michelle's knowledge and expertise to work for you call or e-mail her today.
Areas of service include Wellington, Lake Worth, Royal Palm Beach, Boynton Beach, West Palm Beach, Loxahatchee, Greenacres, and more.
4 Huge Buyer Misconceptions About Multiple Offers