Every home seller will handle multiple offer situations differently and it's important for homebuyers to understand prior to submitting an offer what can happen if the seller does receive more than one offer. Below are 4 different ways a home seller may handle a multiple offer situation.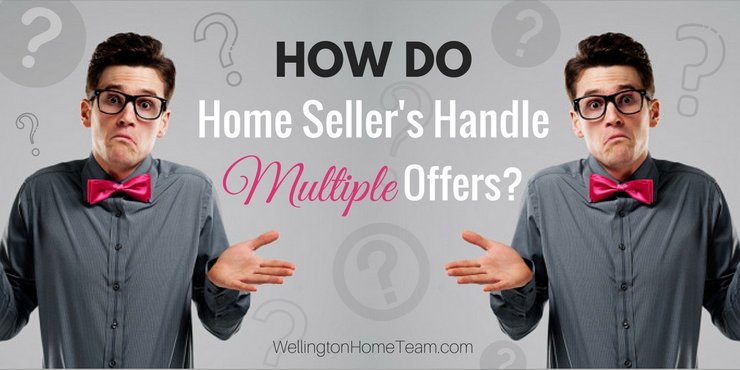 Request Highest and Best
Many home sellers will request "highest and best" from every buyer who submits an offer on their home. So what does it mean when the seller requests "highest and best"? Basically, the seller is giving every buyer an opportunity to change their offer. This way they can submit their best offer by a certain day and time. The highest and best offer should contain the buyer's highest purchase price they're willing to pay. Plus, highest escrow amount, least amount of contingencies, shortest contingency periods, and best closing date.
It's important for homebuyers to understand when they are instructed to submit their highest and best it's their only opportunity to change their offer. They should not expect the seller to counter their offer, think the seller will wait around past the deadline for their offer or that a full price will "win." It's not uncommon for other home buyers to offer well above list price to the tune of 1%-10% in a multiple offer situation because they really want the home, so offering $1 above list price might not cut it.
Counter One Offer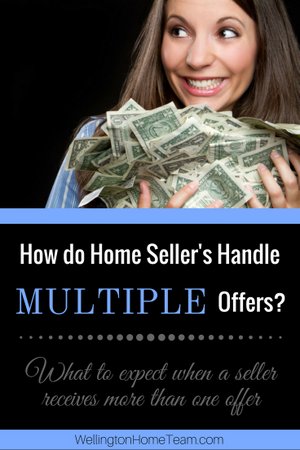 Not all sellers will disclose they have received multiple offers especially if one offer, in particular, stands out. So instead of requesting the highest and best, some sellers may choose to counter one offer and see if they can come to terms. Now a lot of homebuyers don't understand why a seller wouldn't notify all parties that they received multiple offers and give them the opportunity to change their offer. However, in my experience, some sellers don't want to risk losing an offer that has the potential to be perfect for an offer that may never come if they were to request the highest and best.
Typically when a seller decides to counter one offer it's because there are only a few terms they'd like to change. Something simple such as price or close date, so they'll counter. When countering a single offer the seller may disclose to the buyer they received multiple offers.  But are choosing to work with them first in hopes they'll agree to the changes. Some buyers will jump at the opportunity to avoid a bidding war and accept the seller's counter, but others won't. If the first offer doesn't pan out the seller may elect to counter a second offer and avoid requesting the highest and best all together. Not every seller wants to go to the highest and best route.
Accept an Offer
With multiple offers being commonplace in many parts of the country some home buyers will submit their "highest and best" offer from the start in an attempt to get the house and avoid a bidding war. Sometimes this tactic works; the seller will accept the offer as written and not entertain or view any of the other offers. Both parties usually look at it as a win-win, but when this happens it tends to leave the other buyers who submitted an offer extremely disappointed that they didn't get a chance to negotiate or change their offer.
Nothing
It's rare, but sometimes a seller may choose to do absolutely nothing. I've only encountered this situation once, the seller didn't feel they had to do anything. They assumed if a buyer really wanted their home they'd chase them. This definitely isn't the norm, but in this case the buyer whose offer was accepted did chase them because they really wanted the house.
Final Thoughts
Homebuyers need to understand the real estate market and what they can expect. If they're in a hot market where homes are receiving multiple offers they'll probably want to submit their highest and best offer from the start. This is where working with a top Realtor who specializes in the area can greatly benefit a buyer. Their agent will not only be able to guide them through the process, but also educate them along the way.
Please consider spreading the word and sharing; How do Home Seller's Handle Multiple Offers?
Every seller handles multiple offers differently and if you're looking to buy a home in a hot market it's important to understand the possible outcomes. #homebuying #realestate
Additional Real Estate Advice from Top Professionals
Are you a home seller looking to generate multiple offer? Kyle Hiscock provides excellent advice on how home sellers can achieve this.
Many home sellers aren't sure how to handle a bidding war, but Bill Gassett goes into great deal exactly how this situation can and should be handled.
Is the highest offer the best offer? Conor MacEvilly answers this very popular question, which a lot of home sellers may be surprised by the answer.
About the Author
The above real estate article "How do Home Sellers Handle Multiple Offers?" was written by Michelle Gibson of Wellington Florida Real Estate. Specializing in residential real estate since 2001 in Wellington and the surrounding area. Not only does Michelle assist buyers and sellers, she assists landlords and tenants too. She would love to share her expertise and guide you through the entire real estate process.
We service the following areas; Wellington, Lake Worth, Royal Palm Beach, Boynton Beach, West Palm Beach, Loxahatchee, Greenacres and more. If you are considering selling your home, we welcome the opportunity to work with you and list your home with a top Realtor in Wellington Florida