How To Bring Life to Your Windows | 14 Simple Design Hacks
The windows of your home reflect your interior décor while also allowing sunlight to get into your space. Thus, making your windows look good on both the inside and outside can be beneficial. Aside from giving your windows more life, you can also control the amount of light that enters a room with the help of window treatments.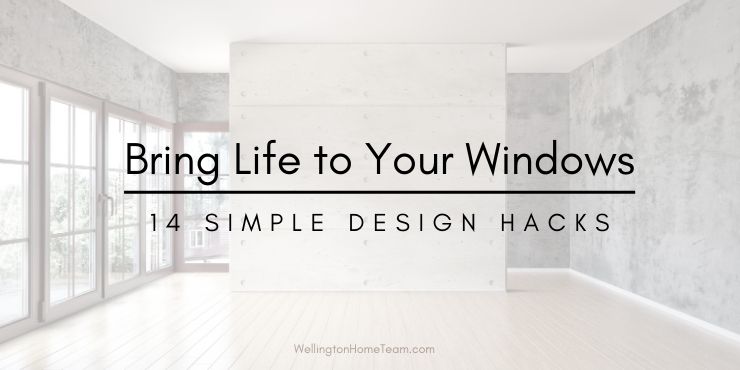 14 Ways to Bring Life to Your Windows
Here are different ways you can make your windows look more inviting:
1. Use Wooden Blinds
Blinds are a great way to decorate your windows while making them functional. They're easy to clean and come in various colors and designs. You can also find blinds in different sizes, so there's no reason why you can't find one for your windows at home. Wooden blinds are a great addition as they give off a homier, at the same time classy, feel. You can easily mount wooden blinds yourself and give your bare windows a new look. 
With wooden blinds, you can have privacy whenever needed or allow plenty of light to get inside a room. Whatever your preference, there's surely a wooden blind to fit your window.
2. Design a Frosted Glass Window
While frosted glass can give you the privacy you need, it also blocks the beautiful view outside your home. If you're feeling a little crafty, you can design your own frosted glass window using spray paint and low-tack tape. With this idea, you can create your own design that will cover your home from prying eyes but will still allow light to get in. A frosted window also adds a decorative element to your home.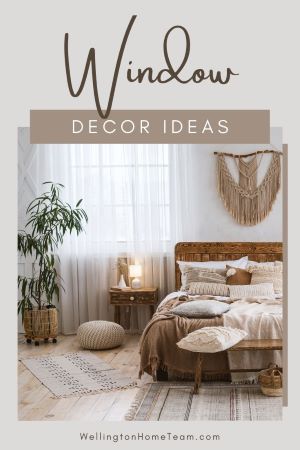 3. Make Curtains from Tablecloths and Tea Towels
With tablecloths or tea towels, you can make your own curtains to adorn windows. Tablecloths with seasonal prints can be put into good use if you can turn them into curtains. This DIY idea is so simple and should only take an hour to make your windows look more cheerful. 
If you don't have spare tablecloths, consider using pretty tea towels to turn into tiny window curtains that can show off their beauty. Using rings and clips, you can create pretty coverings for your window.
4. Make Your Own Window Shutters
If you want to add a shabby chic feel to your home, try making your own window shutters using wooden slats. You can use any spare wooden slats you have at home, or you can purchase from your local home improvement stores. If you want to give it a more rustic appearance, try using barn door hardware and distressed paint.
5. Create Window Garlands
Garlands are another way to adorn your windows without needing curtains. You don't need to wait for a celebration to hang them. If you're up to the task, you can create your own set with different colors and sizes using various materials. Making garlands at home is simple as you just cut out various materials and paste them next to one another on a rope or string. When you're done, you can simply hang the ends of the string onto your window. Consider making garlands from flowers, handkerchiefs, photos, or little flags—just let your creative juices flow.
6. Make Felt Hanging Décor
Felt is an excellent material for many projects, which include making a window decoration. Use different felt colors to design your windows in varying seasons. Cut out different shapes such as snowflakes, flowers, or leaves to represent summer, winter, spring, or fall. Tie these shapes vertically on a rope or string, and hang the ends from the window.
7. Use Crocheted Window Ornaments
Crocheting is a great way to craft many things out of thread or yarn. If you're already into the craft, you can easily make your own crochet ornaments out of scrap yarn or threads. One idea is to create a single motif in different colors. Sew or connect these motifs together to create window decoration.
Many people tend to overlook their windows and while there's nothing wrong with plain windows, here are a few hacks that will bring them to life. #homedecor #interiordesign #designhacks
8. Create a Jewelry Window Curtain
If you like bead necklaces, consider making a window curtain out of beads and other materials. String beads together to create a pattern or just connect them together. Then, attach the strings onto a board and place them by the window frame. You now have a unique window accessory.
9. Use Flowers
String flowers together to create a pretty, temporary curtain. This is a great idea if your garden is in full bloom and you're looking for different ways to display your flowers. To make the flowers last longer, string them together upside-down. When the flowers have dried, you can still leave them there since dried flowers are in vogue nowadays.
10. Install Window Shelves
Tiny windows, especially those above a kitchen sink, may not need full coverage. If you'd like, you can easily install glass shelves instead of using curtains on the window. This idea will let you add privacy into your space while also displaying decorative things such as your herb plants, or your mug collection.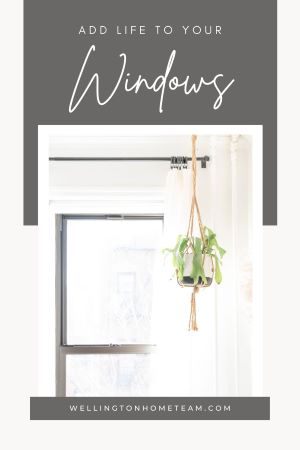 11. Create a Hanging Garden
You can bring more life into your kitchen window by making an indoor hanging garden that also doubles as a window treatment. You can choose to hang herbs, some small plants, or even flowering ones to add pretty colors into your kitchen.
12. Make DIY Sack Curtains
Add a comfortable and homey feel into your kitchen by making feed sack curtains. Sewing feed sacks into curtains is as simple as hemming them and stringing them across a rod using curtain rings. The final product will give your space a cozy charm. Plus, you get to reuse something that you may otherwise be throwing away.
13. Create a Ribbon Garland
If you want something fancier and easy to make, try knotting different ribbons over a cord to make a garland. Use any pattern, size, color, and length of the fabrics you like. One idea is to mix different textures to make a unique fashion statement.
14. Create a Rolled Valance
One of the several ways to improve darkness and privacy in your room is using a shade. If you're into DIY projects, you can create a rolled valance using fabric, lumber, rustic buttons, and linen ribbon. If you're not into sewing but would like to make one, consider using a hemming tape for a no-sew version. 
Final Thoughts
Many people tend to overlook the importance of their windows. However, it's undeniable that this part of your house connects your interior to the outside and vice versa. While there's nothing wrong with plain windows, you may want to consider accessorizing it a bit using the given ideas. 
Please consider spreading the word and sharing; How To Bring Life to Your Windows | 14 Simple Design Hacks
Many people tend to overlook their windows and while there's nothing wrong with plain windows, here are a few hacks that will bring them to life. #homedecor #interiordesign #designhacks
About the Author
"How To Bring Life to Your Windows | 14 Simple Design Hacks" was written by Leo Folk. He is a full-time blogger who writes articles on home improvement and real estate. Leo also submits guest posts to other websites to educate more readers.
How To Bring Life to Your Windows | 14 Simple Design Hacks