Whether you call it shabby chic, farmhouse, or cottage classic, the home decorating style featuring simple fabrics, distressed furniture, and a neutral palette has remained popular for decades. Many people enjoy being surrounded by the vibe of coziness and warmth that's often given off by a home done up in this comforting style. Read on to learn how you can incorporate the charming shabby chic look into every area of your home.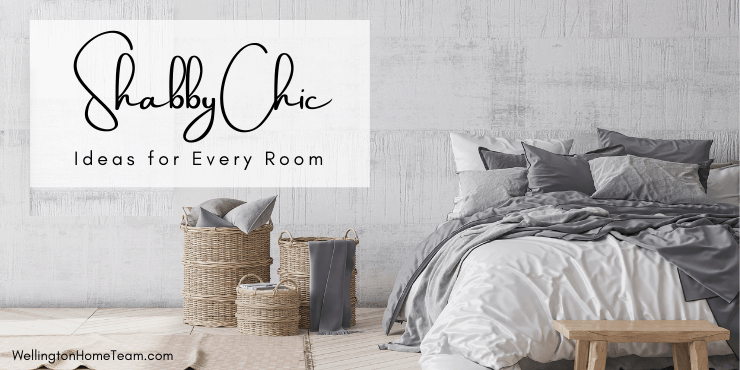 Bedroom
Your bedroom is probably your sanctuary, the one place in your home that is singularly yours. For that reason, a shabby chic bedroom design may be the perfect choice to express your individuality. The neutral base that is typical of the style – think cream-colored walls, a white-on-white patterned duvet, wood flooring – is the perfect backdrop for unique decorator touches. These tones create a sense of calm and comfort, and the items you add into the rest of the space can reflect your personal tastes. Repurposing pieces such as vintage suitcases as nightstands or an antique desk as a vanity can give your bedroom a shabby chic look that is completely your own.
Kitchen
The heart of the home is another room ideally suited to the shabby chic ethos. A cozy kitchen can feel much more inviting than one that has a sterile, industrial design aesthetic. From vintage appliances to open wooden or wrought-iron shelving, your kitchen can appear charming while still being completely functional. If you can afford it, spring for a deep, inset farmhouse sink to round out the look. For smaller budgets, clever touches like a wall covered with chalkboard paint or cupboards adorned with antique, mismatched pulls can bring layers of shabby chic style to the room. Finally, dressing your windows in café curtains featuring a checked or floral print can create a sense of comfy cottage quaintness.
Family Room
Along with the kitchen, your family room is likely a favorite gathering spot for your brood. The shabby chic style can be a good fit in this space, where everyone usually wants to kick back and relax. One of the hallmarks of the aesthetic is furniture that looks lived in, so sofas and chairs in family-friendly fabrics like denim are a great choice.
Cotton slipcovers also fit with the style and are very practical in a room where kids (and their dirty sneakers) spend a lot of time. As in the other areas in your home, it's often the small elements that bring the shabby chic look together. Add in lots of throw pillows in damask, floral or checked patterns, and scatter family photos in rustic frames throughout the room for a personal touch.
Patio
Often, outdoor spaces are just as much a part of a home as what's under the roof. The shabby chic look of pieces that are worn but not worn out works well for patio décor, as exposure to the elements can add a pleasant depth to their already weathered appearance. Wrought-iron, rattan, and wooden furniture pieces can be the focal point of your patio, while again, it's the decorator items that can create a cohesive cottage look. Distressed clay pots and wicker baskets overflowing with flowers can add beauty to the space and make it seem light and airy, and an outdoor rug in a vintage pattern can anchor the area and make it feel like an enchanting extension of your home.
Warmth, coziness, and charm are some of the key elements of the shabby chic aesthetic. Your choices in furniture and decorator items that are in keeping with this popular look can make every space in your home feel both stylish and comfortable.
Whether you call it shabby chic, farmhouse, or cottage classic, this simple home decor style is easy to achieve and here's how. #homedecor #diy
Please consider spreading the word and sharing; Shabby Chic Ideas for Every Room | Latest Home Decor
About the Author
Top Wellington Realtor, Michelle Gibson, wrote: "Shabby Chic Ideas for Every Room | Latest Home Decor"
Michelle has been specializing in residential real estate since 2001 throughout Wellington Florida and the surrounding area. Whether you're looking to buy, sell, or rent she will guide you through the entire real estate transaction. If you're ready to put Michelle's knowledge and expertise to work for you call or e-mail her today.
Areas of service include Wellington, Lake Worth, Royal Palm Beach, Boynton Beach, West Palm Beach, Loxahatchee, Greenacres, and more.