8 Serious Considerations to Take Before Selling Your Home
Over the years, the home selling process is no longer an exciting activity for homeowners as this requires much deliberation and decision-making that will result in whether the house will sell or not. It has become a stressful and inconvenient move that makes many roll up their sleeves to prepare for the upcoming sale, especially when selling off-market. But what does it mean to sell your house off market?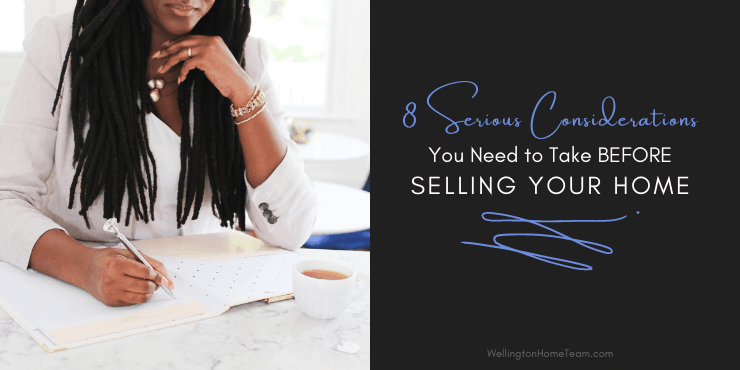 Selling your home entails hard work to develop a reasonable sale price once the sale sign goes up on your front lawn. Whether you're a first-time home seller or have already experienced selling your home for the 10th time, there are a few things you need to take into consideration before putting your home on sale. 
Here are some essential things to consider before selling your home.
1. Hiring a Realtor
One thing home sellers should consider when selling a house is the significance of hiring an incredible Realtor. Don't aimlessly employ a Realtor who recently sent you a flyer or the one your acquaintances hired themselves. 
Instead, do some research to locate a Realtor who is learned, experienced, and knowledgeable about your particular market. Top-performing Realtors have various characteristics and have distinctive ranges of abilities that can market your home. What matters most is that your Realtor should be somebody you feel great working with, whom you trust to sell your home for as much as possible.
2. Do A Pre- Inspection
Try not to skip the pre-inspection process as this can highlight issues that could cause a threat to the deal later on. In the wake of having an expert play out an intensive walk-through, make whatever fixes as could be so potential buyers will be bound to be dazzled by the quality and worth your home offers.
3. Improving Your Home's Curb Appeal
The key to a successful home sale is getting your home organized properly for the buyers. Home stagers will assess your home's current condition and figure out what components may increase present expectations.
Stagers genuinely know the market and what sells, so it's imperative to take their recommendation and not disapprove when they roll out improvements. Their task is to help scrounge up enthusiasm from possible purchasers, which can be uplifting news to the seller. To potential buyers, first impressions have a striking effect. 
4. Choosing a Good Marketing Strategy 
You need to let prospective buyers know you're selling your home by marketing to all possible channels. Various channels can be utilized to advertise properties. Yet the ones you should use for your home sale will rely upon your target buyer. 
You and your agent can include a combination of online and offline platforms. Like putting up signboards on your front lawn, print ads in your local newspaper, letterbox drops, or posting ads on different real estate websites. Choosing the right marketing strategy will give you an opportunity to sell your home rapidly, successfully, and at an ideal cost. 
Avoiding mistakes and recognizing important considerations is significant before selling a home and here are the top 8 to consider. #homeselling #realestate
5. Consider Offering a Home Warranty
A good promo for some when selling a home is offering a home warranty. A home warranty reassures a homebuyer and grants the seller protection against complaints about home flaws that emerge after the deal closes. It usually lasts for a year.
Before selling your home, decide whether or not you will offer a home warranty. When you employ your realtor, ask them their idea regarding whether they feel the warranty's expense is worth it.
6. Estimate the Profit and the Loss 
Before you even start reviewing a buyer's offer, you should assess possible gains or losses before you fully commit to selling your house. Remember that the selling cost will be decreased by commissions of the realtor, closing fees, title fees, home repairs, and other liens and fees. By then, you will be able to estimate your profit after all the fees have been deducted.
7. Check on the Minute Details
The more you live in your home, the simpler it is to become accustomed to things whether or not they are unappealing. Take the time to check on the minute details of your property. Things like a rusted mailbox, kitchen light fixtures, and even the state of your flooring. 
Moreover, don't forget to make your front lawn and backyard look functional. These are essential home tips that will go far in making your home look new and appealing to home buyers.
8. Pricing the Home Right
Pricing is the most significant factor in whether a home sells or not. If you price your home absurdly high, it's not going to sell. So you will need to reduce the price in order to sell. However, this can leave buyers contemplating whether the price reductions were brought about by a problem when actually, nothing was wrong, and the initial list price simply excessively high.
It's imperative to understand the trend in today's home buyers and realize they are extremely wise and knowledgeable. They have vast amounts of information readily available at their fingertips. Frequently, buyers will realize a house is overpriced and decide not to give it a chance.  
Final Thoughts
Avoiding mistakes and recognizing important considerations is significant before selling a home. Added worries may be significantly diminished if the best possible preparation is taken before a home sale. Understanding the significance of things mentioned above can significantly affect your home selling experience.
Please consider spreading the word and sharing; 8 Serious Considerations You to Take Before Selling Your Home
Avoiding mistakes and recognizing important considerations is significant before selling a home and here are the top 8 to consider. #homeselling #realestate
About the Author
Top Wellington Realtor, Michelle Gibson, wrote: "8 Serious Considerations You Need to Take Before Selling Your Home"
Michelle has been specializing in residential real estate since 2001 throughout Wellington Florida and the surrounding area. Whether you're looking to buy, sell, or rent she will guide you through the entire real estate transaction. If you're ready to put Michelle's knowledge and expertise to work for you call or e-mail her today.
Areas of service include Wellington, Lake Worth, Royal Palm Beach, Boynton Beach, West Palm Beach, Loxahatchee, Greenacres, and more.
8 Serious Considerations to Take Before Selling Your Home