7 Valuable Tips For Decorating Your First Home
If you have just moved into your own space or are a proud owner of your first home whether it be a house or an apartment, you might be confused and unsure when it comes to expressing your sense of style. Even the most fashion forward people need a professional hand when it comes to interior decorating and creating a space that makes their heart bloom. Here are some decorating tips and tricks for decorating your first home so you can enjoy both the practical and the aesthetic aspects of your new life.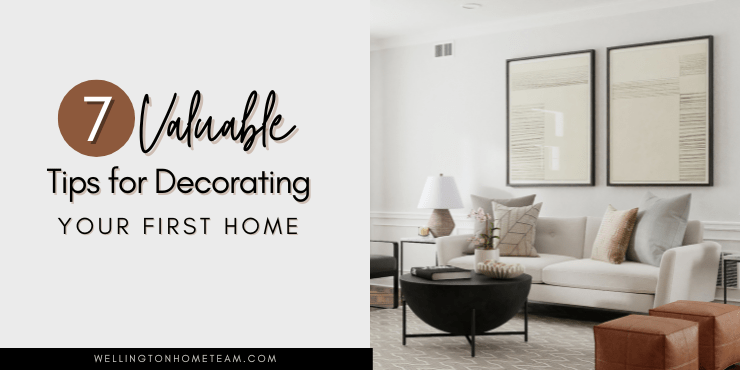 Decorating Your First Home | A How-To Guide
1. The Value Of A Measuring Tape 
When you first set eyes on an empty or uninspiring space (previous owners may have left behind furniture or appliances) you might be tempted to go out and haphazardly purchase furniture pieces like side tables, chairs, or a bed or two. Always take the time to properly measure your room and make allowance for the fact that each furniture piece will ideally need to be smaller than the measured number as you don't want ill-fitting pieces that make navigating around any room difficult. 
Depending on the size of the space you may also need to curb your enthusiasm when decorating your first home with regard to the number of new pieces you can adequately install. If you are doing any additions like a wardrobe etc or having items made to order, a professional will need to come and take the measurements for that purpose.
2. Floor Plans Offer Clarity 

Floor plans are invaluable because they help you view a space from a 360 degree angle and really plan larger and smaller elements together. For example, you may want a large potted plant next to your ottoman sofa but the floor plan will tell you whether that is possible or not depending on the space available and the other claims on it such as having a television or mini fridge. 
Floor plans are another step that prevents you from making rash purchases in a furniture or home décor depot. Just like you shouldn't shop for food when you're hungry, furniture works the same way when you're dealing with an empty home. If you are a bit more skilled, floor planning software can digitize your vision which you can share with a professional or with friends and family. A good piece of plotting paper and a pencil also do the trick.
3. Planning Based On Function First 
If this is your first home and you've never really taken an interest or had the time to decorate properly before this, you may have an unrealistic vision. Some people want a Zen or a bohemian style with natural, relaxing elements or a very sophisticated, modern touch but ultimately you need to have form with function. If your new home does not meet the everyday needs of your lifestyle, just having an aesthetic outlook will not work. 
Break the house and especially large, open living spaces into workable zones that accommodate what you actually do at home. Whether or not you work from home or have more than one kid are all examples of considerations you need to take into account when decorating. Make spaces that satisfy both functionality and artistic beauty so that you are not stumbling into items or feeling unproductive at home. If however, you have a specific style in mind or a design era, you can absolutely adapt it to the needs of your everyday life such as needing your dog portraits hung up for sentimental value! 
Decorating your first home can be very exciting but it can also be overwhelming. This helpful decorating guide is sure to help ease the process! #howto #diy #homedecor
4. Curate Designer Resources
Architectural, housekeeping and interior décor magazines are not only for keeping on the coffee table. Many of them are edited by or have contributions from famous designers and professionals and they can be an invaluable source when you're figuring out your perfect style. You can even copy entire concepts from there with slight variations for an inexpensive designer touch when decorating your first home. Vintage and secondhand stores are a great source to find older, handmade furniture and décor items that are not mainstream or mass-produced. 
If you're emulating a design concept from the past, these types of stores may be even more useful. Instagram and other social media pages or platforms like Pinterest are excellent for giving inspiration with regard to interior design and they can save you a lot of money if you're on a budget and unwilling to hire a professional.
5. The Right Order
Some ride-or-die advice for first-time homeowners is that always decorate in the right order. Structural changes like putting in a fireplace or an antique fireplace during a renovation, changing backsplashes or tiles, painting, polishing doors, or carrying out repairs for water damage for example all need to be done before you go out and shop for furniture or decorative pieces. Once the paint or wallpaper is done then you can choose fabrics, upcycle furniture or even consider full-room carpeting. Making electrical changes like changing out light fixtures or the air conditioner will also happen before the finer touches.
6. Use Color & Texture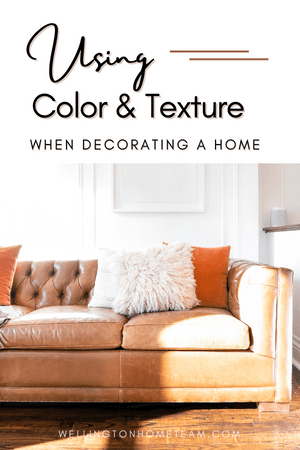 Designer homes are not afraid of subtle nuances like different shades of neutrals from beige to grey and brown or even bright pops of color in an otherwise monochromatic setting. Don't be afraid to mix and match colors because an entirely one-color room looks old-fashioned and dated and you want variety to showcase all the aspects of your personal sense of style.
Texture is another aspect you can use to express yourself by incorporating hanging tapestries, rugs, throw blankets, cushions, floor cushions, plush or velvet upholstery for the couches, and unique fabric choices for the curtains.
7. Less Is More
An unsaid design rule, especially when decorating your first home, is to not over-clutter the space with design elements. A minimalist and 'less is more' approach can often take you further than trying to make too many statements at once. If you have opted for a vibrant, bright element as the focal point in one room, downplay other décor items so that the end effect is not overpowering. At the end of the day, you want your space to radiate the coziness, comfort, and peace of home along with displaying your unique taste and preferences.
Final Thoughts
Decorating your first home should be a fun and exciting time. However, sometimes decorating for the first time can be overwhelming. If you are a new homeowner uncertain about how to decorate your entire house this guide is sure to help! It is chock-full of interior design tips for first home even if you're decorating first home on a budget.
Please consider spreading the word and sharing; 7 Valuable Tips For Decorating Your First Home
Decorating your first home can be very exciting but it can also be overwhelming. This helpful decorating guide is sure to help ease the process! #howto #diy #homedecor
About the Author
Top Wellington Realtor, Michelle Gibson, wrote: "7 Valuable Tips For Decorating Your First Home"
Michelle has been specializing in residential real estate since 2001 throughout Wellington Florida and the surrounding area. Whether you're looking to buy, sell or rent she will guide you through the entire real estate transaction. If you're ready to put Michelle's knowledge and expertise to work for you call or e-mail her today.
Areas of service include Wellington, Lake Worth, Royal Palm Beach, Boynton Beach, West Palm Beach, Loxahatchee, Greenacres, and more.
7 Valuable Tips For Decorating Your First Home