BIG Mistakes New Homeowners Make | Top 10 Costly Errors
Buying your first home is exciting, but this new experience can have its pitfalls. You'll have maintenance to deal with, mortgage payments, and remodeling decisions to make. But it is very easy to make mistakes in any of these situations when you are a new homeowner.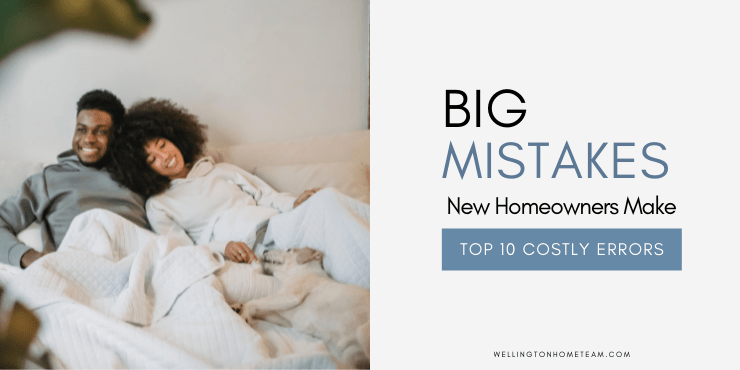 Let's take a look at the biggest mistakes new homeowners make so you can avoid costly errors that you'll regret.
1. Budgeting for Repairs and Replacements
When buying a home, it is easy to overlook future repairs and replacements. While you might be able to afford the mortgage payments, those aren't the only expenses when owning a home.
If you are spending most of your monthly budget on mortgage payments and bills, there isn't going to be much left over to pay for any repairs.
If, for example, the roof is nearing the end of its expected life, you need to be ready to cover the cost of replacement. If the AC breaks, or you need a new dishwasher, do you have the funds available? Knowing how old appliances are can help you prepare for these expenses, though things can break down at any time. This is not only one of the many mistakes new homeowners make it's probably the biggest one for most.
2. Buying a House You Can't Afford
It can be very tempting to spend as much as your lender has preapproved you for, but that could be a serious mistake. Committing to buying a home that stretches your finances to their limit, means you might struggle to afford other monthly expenses or cover unexpected costs when they occur.
Maxing out your pre-approved mortgage amount will also mean you'll need more money for the downpayment, leaving less to cover the closing costs. While you could buy a home at the top of your price range, you may soon come to regret how much this affects your monthly outgoings.
There are countless mistakes new homeowners make and here are the top 10 costly errors every homeowner should avoid. #realestate #homebuying
3. Buying the Wrong Size Home
Buying a home is a big commitment, and moving houses is costly and stressful. You don't want to buy a home that is either too large or too small for your requirements. Otherwise, you could find yourself moving a lot sooner than you anticipate.
If your home is larger than you really need, you will be paying more in bills, property taxes, and mortgage payments. But if it isn't big enough, living in the home won't be as easy as it could be, and you'll be looking to add extra rooms or move.
Buying and selling real estate in addition to the expense of moving can be costly. So try buying the right size home from the start and avoid these types of mistakes new homeowners make.
4. Not Having an Emergency Fund
Since you never really know what is coming around the corner, an emergency fund can help you cope with bills when things go wrong. Failing to save money for an emergency could risk foreclosure if you lose your job or suddenly have a large bill to pay.
If you have the cash for 6 months' mortgage payments and other bills, you will have a lot less to worry about when hard times arrive. This is one of the many mistakes new homeowners make and one you'll want to avoid.
So it's wise not to drain your savings in order to buy a home and make sure to continue to build it up along the way.
5. Ignoring Issues
Owning a home means that you are responsible for all the maintenance. And if you ignore the small things, they have a nasty habit of becoming big problems. Bigger issues are likely to cost more, much more than repairing the issue when it was only a minor problem.
While it is very easy to put off dealing with minor problems around the home, it is something you need to stay on top of.
6. Blindly Hiring a Contractor
When you need to hire a contractor it can be tempting to go with the first contractor you find or the cheapest. If you don't choose carefully, however, you could find things going very wrong on your project.
Before you choose a contractor, make sure you get recommendations and check their customer feedback. It doesn't matter what type of work you are having done, make sure you are hiring someone highly recommended.
7. Over Improving the House
When you eventually sell your home, some improvements you've made might not raise the value or be a good return on your investment. Your home will have an upper limit on what it will be worth, no matter what improvements you make.
When the home is appraised, other properties in the neighborhood will be used to find the fair market value, limiting how much your home is worth. If you were to price the home based on improvements, and this was above all the other homes in the neighborhood, you won't find a buyer easily.
Where adding value is concerned, not all home improvements will give the best return. Kitchens and bathrooms tend to be the best rooms to focus on if you are hoping for the best return on your investment. However, spending $50,000 on a kitchen renovation when the neighborhood really only supports a $15,000 kitchen renovation is another costly error many new homeowners make.
Even if you plan on never selling your home and ok with over-improving it doesn't mean life won't happen. At some point, you may be forced to sell and could see no return on improvements. So this is another one of the many mistakes new homeowners make and one that should be avoided.
There are countless mistakes new homeowners make and here are the top 10 costly errors every homeowner should afford. #realestate #homebuying
8. Overspending on Renovations
You might be eager to renovate to make the home your own, but many things can go wrong including misjudging the costs. This is one of many mistakes new homeowners make.
They can often fall into the trap of underestimating the costs of a renovation project. Perhaps you have a plan to remodel a bathroom, and you know exactly what you want from your new room. But it is very easy for your costs to escalate, and your budget to balloon.
It is almost inevitable that there will be some unexpected costs before you finish the project. You are also unlikely to fully recoup the money you spend when you eventually sell the home.
While this might put you off starting your renovation, there are things you can do to limit the costs. If you have firmer control of the budget, and a more realistic expectation of what can be achieved, it is possible to make the improvements without breaking the bank.
I want to renovate my house where do I start? First and foremost, you need to decide how much you can afford to spend. Sometimes what you can afford and what you want do not go hand in hand. So you need to set your expectations from the start.
Creating a step-by-step home renovation checklist is a great way to stay on track and budget. You'll want to make sure you leave at least 10%-20% set aside for unforeseen issues. If you aren't sure what should be included on your checklist there are plenty of resources online, such as renovating a house checklist and renovating a house cost. Sidenote, make sure to keep a house renovation before and after book with photos for your records along with receipts and warranties.
9. Eliminating Bedrooms and Bathrooms
While you might not need all the bedrooms or bathrooms in the home, reducing the number of rooms isn't a great idea. You could choose to enlarge another room by losing a bedroom, but reducing the number of bedrooms or bathrooms will affect the value. The number of bedrooms and bathrooms are important to resale value, and a can easily lower the sale price.
The same goes for removing bathtubs and turning them into showers. A home with only showers is sure to eliminate buyers who want a bathtub or have small children and need one. This is one of the more popular mistakes new homeowners make these days.
10. Cutting Out the Professionals
Cutting corners when you have a limited budget can be appealing, but you might regret the decision when you look at the results. If you don't have the experience or the knowledge, tackling repairs or remodeling is more likely to go wrong.
When you are done, you might end up wishing you had paid a professional. Not only will the results probably not be as good as they could be, but it might cost more to have the job corrected by a professional.
Certain jobs, like electrical work or plumbing, should always be left to professionals. If you get something wrong with the wiring in your home, it could lead to a fire. And if that happens, you could lose more than just money.
Final Thoughts
It's imperative for homebuyers to do extensive research and find out the true cost of homeownership before they even buy a home. Once they buy a home they then need to avoid all of these mistakes new homeowners make.
Even if you're if you think you're prepared to own a home in a blink of an eye you could find yourself making one of the many mistakes new homeowners make. So make sure to dot your i's and cross your t's, and check and double-check the cost of owning a home.
Please consider spreading the word and sharing; BIG Mistakes New Homeowners Make | Top 10 Costly Errors
There are countless mistakes new homeowners make and here are the top 10 costly errors every homeowner should afford. #realestate #homebuying
About the Author
Top Wellington Realtor, Michelle Gibson, wrote: "BIG Mistakes New Homeowners Make | Top 10 Costly Errors"
Michelle has been specializing in residential real estate since 2001 throughout Wellington Florida and the surrounding area. Whether you're looking to buy, sell or rent she will guide you through the entire real estate transaction. If you're ready to put Michelle's knowledge and expertise to work for you call or e-mail her today.
Areas of service include Wellington, Lake Worth, Royal Palm Beach, Boynton Beach, West Palm Beach, Loxahatchee, Greenacres, and more.
BIG Mistakes New Homeowners Make | Top 10 Costly Errors