9 Costly Home Buyer Mistakes and How To Avoid Them
Buying a home can be an exciting time for buyers, but it can also be a confusing one as well. Not knowing what to do first is a position a lot of buyers find themselves in especially first-time homebuyers. While some will reach out to professionals for assistance others will blindly move forward without any guidance.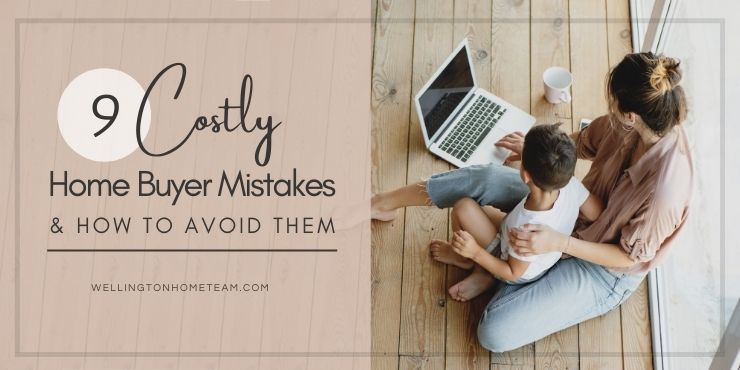 When buyers decide to go at it alone mistakes are almost certain to happen. Some of these mistakes are minor, but others can be extremely costly. Not just time and energy costly but financially costly, a cost that can financially bankrupt a person. So what are the biggest mistakes when buying a home that need to be avoided?
Top 9 Home Buyer Mistakes
Not Having Financing or Funds in Order
It's not uncommon for buyers to want to look at homes and then get pre-approved for a mortgage or move their money around to pay cash. Unlike the great debate of what came first the chicken or the egg, there is no debate here. The mortgage pre-approval or proof of funds absolutely comes before looking at homes for several reasons.
One, just because a buyer can afford the monthly mortgage payments doesn't mean they will be approved for a mortgage. Two, on the flip side, just because a buyer gets approved for a million dollars doesn't mean they can afford to spend a million dollars on a home.
Three, in order to submit an offer the buyer will need to know the terms of their financing; what type of loan, how much they'll be financing, and how long their lender will take to provide loan commitment. Four, sellers want to know they have a ready, willing, and able buyer looking at their home, not a looky lou. A lot of sellers jump through hoops to prepare their home for a showing and if they are selling with kids or pets it's even that much more challenging. It's important home buyer mistakes that'll inconvenience a seller like this be avoided.
Randomly Selecting a Realtor or Lender
Purchasing a home is not the same as purchasing $100 pair of shoes. A huge financial commitment comes along with buying a home, a commitment that can easily last for 30 years.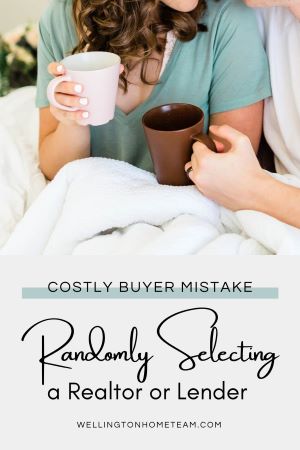 So buyers need to have top professionals, a team if you will, guiding them through the process. Explaining the process and walking them through it from start to finish. Even if a buyer previously purchased a home real estate is constantly changing and they will still need a great team on their side.
Their team should consist of a top Realtor and Mortgage Loan Officer. A Realtor who can educate them about the area, market conditions, and explains the terms of an offer.
A lender who can go over their financing options and financial obligations that come with it. Both parties need to be available to answer questions, on the phone or in person.
Using the first Realtor who answers their phone or opens a door isn't always the best option. This is one of the many home buyer mistakes made. Buyers need to work with professionals at the top of their game, who will look out for their best interest.
Only Speaking with One Lender
Whether a buyer goes directly to their bank or mortgage broker they should contact at least one other lender or broker. By doing so they'll be able to compare their financing options, interest rate, and closing costs. Not all lenders charge the same amount. In fact, some lenders may charge thousands of dollars more than their local competition.
There are 10 questions buyers should ask every lender to ensure they are comparing lenders apples to apples. While one may have a lower interest rate they may have outrageous lending fees, in the end costing them more.
Not Checking Credit Report
Another big mistake home buyers make is not pulling their credit report prior to starting the home buying process. Now, if they plan on paying cash for their new home their credit score will be irrelevant. However, if they plan on obtaining a loan their credit score will play a big role in what loan programs they qualify for if any.
A mortgage lender is going to scrutinize a prospective buyer's credit report when determining if they are approved for a loan, if so what loan program, for how much, and what the interest rate will be. That's why it pays for buyers to make sure their credit report is accurate. If it isn't accurate they will have time to fix it and increase their credit score.
Unrealistic Expectations
Champagne taste on a beer budget is more common than not when it comes to what a buyer wants. This too is one of the many home buyer mistakes made. After all, a buyer will be spending a lot of money and wants the perfect house. Well, unless they are purchasing land and building their dream home odds are they aren't going to find the perfect home.
This is another reason why home buyers need to have their finances in order first. Checking out open houses priced well above what they will qualify is only setting them up for disaster. Setting realistic expectations is key to finding a house that checks as many of the "must-haves" off their list.
There are a lot of mistakes buyers can make during the home buying process and here are the top 9 costly home buyer mistakes to avoid. #homebuying #realestate
Top 9 Homebuyer Mistakes to Avoid (Continued)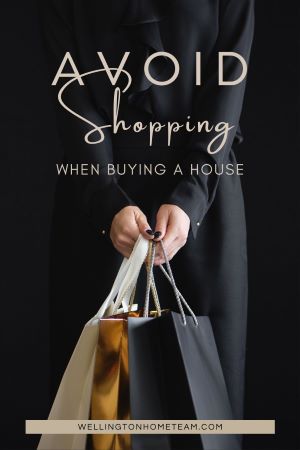 Shopping Before Closing
Money makes the world go around and spending it can easily blow up a buyer's financing. Once a buyer applies for a mortgage and gets pre-approved they need to freeze. They shouldn't change jobs, open up a new credit card, deposit a large sum of money into their bank account, switch banks, or charge up their credit cards.
While it may seem harmless to buy furniture the day before closing it can easily turn an approved mortgage into a rejected one. Lenders will make sure nothing has significantly changed in a buyer's finances right before closing. So that $3,000 purchase at the furniture store before closing could throw a buyer's debt to income ratio offer ending in a loan denial.
Draining Savings
Using all of their money for the down payment and closing costs is one of the biggest home buyer mistakes. A buyer should never drain their savings in order to purchase a home. Life happens, things break, jobs are lost, the list of unexpected costly events and repairs can pop up at any time.
In addition to the down payment and closing costs, buyers should have at least 3-6 months of expenses set aside. They should never live above their means or count on getting that huge promotion at work. Robbing Peter to pay Paul is not a cycle new homeowners want to start, it can turn into a slippery downhill slide.
Underestimating the Cost of Homeownership
Hidden expenses and homeownership can go hand in hand. There are a lot of expenses that come with owning a home besides the mortgage payment. There are property taxes, homeowners insurance, utilities, HOA fees, maintenance fees, such as landscaping, and repair costs. Murphy's Law often happens after closing on a new home. The AC that was working perfectly fine breaks 2 weeks after closing, cha-ching $5,000 out the window.
This is why it's important for buyers to factor in the age of the roof, AC, water heater, electrical, plumbing, and appliances when buying a home and plan accordingly. Sometimes purchasing a home warranty is a great option for homeowners. If the roof is at the end of its life buyers should obtain estimates before moving forward with the purchase. A new roof can easily cost $30,000, is this an expense a new homeowner can afford? If not they should look at homes with newer roofs.
Miscalculating Repairs or Renovations
A majority of homes will need work, the cost of this work can be costly and often miscalculated. Whether a home needs to be painted or a kitchen needs to be completely gutted buyers need to gather numbers first.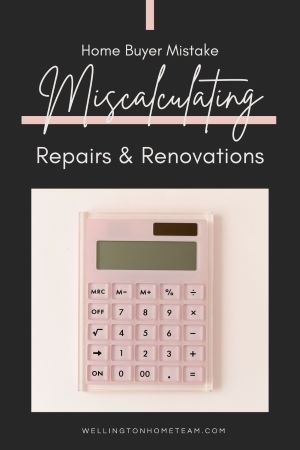 Guessing what it will cost to paint a home or replacing the kitchen is never wise. Even if buyers plan on doing the work themselves they still need to gather costs on supplies and include a buffer for unforeseen expenses.
When it comes to getting estimates buyers should obtain estimates from multiple contractors. Then work off the average, not the lowest estimate received. Once again unforeseen problems can pop up adding to the cost.
The renovation or repair process isn't as cheap, easy, or fast as seen on most home improvement TV shows. It can be a long costly process with a lot of hidden expenses. Therefore, buyers need to do their homework and create a budget. Otherwise, it can end up being one of the many costly home buyer mistakes made.
Final Thoughts
A majority of home buyer mistakes can be avoided. One of the keys to avoiding these common mistakes is working with a top Realtor and Lender. They will be able to guide a buyer through the entire process from start to finish. And this is why buyers shouldn't select a random Realtor or Lender to work with. They need an advisor, someone who can explain things, provide options, and make recommendations.
Please consider spreading the word and sharing; 9 Costly Home Buyer Mistakes and How To Avoid Them
There are a lot of mistakes buyers can make during the home buying process and here are the top 9 costly home buyer mistakes to avoid. #homebuying #realestate
About the Author
Top Wellington Realtor, Michelle Gibson, wrote: "9 Costly Home Buyer Mistakes and How To Avoid Them"
Michelle has been specializing in residential real estate since 2001 throughout Wellington Florida and the surrounding area. Whether you're looking to buy, or sell she will guide you through the process. If you're ready to put Michelle's knowledge and expertise to work for you call or e-mail her today.
Areas of service include Wellington, Lake Worth, Royal Palm Beach, Boynton Beach, West Palm Beach, Loxahatchee, Greenacres, and more.
9 Costly Home Buyer Mistakes and How To Avoid Them