Shopping for a mortgage can be tough if you do not know what you are looking for. And since you will be repaying this loan for a considerable part of your life, it helps to do thorough research and ensure that you understand all the terms and conditions before you sign the dotted line. In this article, we outline the ten critical questions you should ask your prospective mortgage lender before settling on a plan.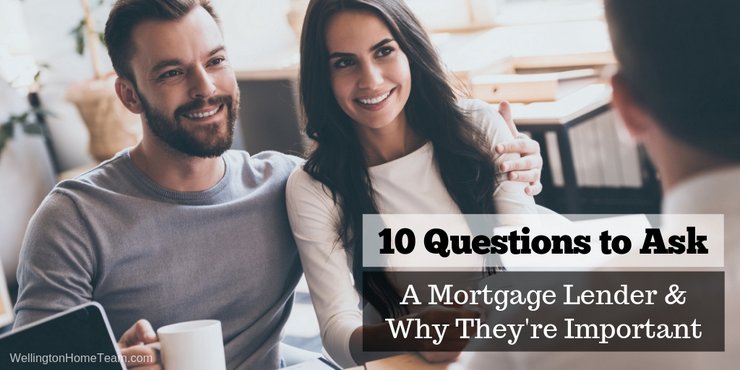 Let's delve right in:
1. Which Mortgage Is Ideal For Me?
This should be the first question to ask any lender, and depending on the answers you get; you will know whether to proceed with a specific lender or not. A good lender should be able to tell you in detail which loan product would be ideal given your financial position. The lender should also inform you about the pros and cons of each loan program and help you decide on the best plan that is both affordable and convenient for you.
Be on the lookout for salespeople who want to sell a loan without considering your financial obligations and ability to repay it. A good lender should do adequate research and be in a position to answer this question conclusively. For information about condo mortgages, read this post.
2. What Is The Interest Rate?
Aside from knowing your ideal mortgage, you also need to be aware of the cost implications that will come with the loan in question. One of these costs is the interest rate. Since this is the rate your monthly payments will be based on, you need to know the total amount of money the interest will translate to.
3. What Is The Annual Percentage Rate (APR)?
Otherwise known as the APR, this is a fee that is usually embedded in a mortgage. This means that it will also affect the total loan amount you pay. Be sure to ask whether the mortgage option at your disposal will have an APR and how this rate will affect your repayments. Generally, the lower the rate, the lesser you will need to pay in terms of loan fees.
Some lenders offer discount points, and you need to know whether these are included in your APR.
4. What Down Payment Will Be Needed?
A 20% down payment is ideal, but you can find a lender with as little as 3% down payment, and in some instances, you can even qualify for a mortgage without a down payment.
For every down payment, there are considerations to be made, and you need to be well informed to make the best decision. Zero down payment option may seem like a good deal, but it is usually more costly when compared to others.
5. Do I qualify for Down Payment Assistance?
There are many down payment assistance programs available both at the local and national level. Your lender should know enough about these programs, and help you get into one successfully should you be interested.
6. How Much Will My Monthly Repayments Be?
You'll also need to know how much you will be paying every month. Your monthly payments should be comfortable to pay. At this point, also find out if there are penalties for paying off the mortgage early. The answer to this should be no.
7. Is There A Mortgage Insurance and How Much Is It?
If you get a loan without putting in a down payment of 20% or more, it is highly likely that you will need to pay mortgage insurance. Even if the program says that the lender pays for the insurance, the cost will somehow trickle down to you. If you have another option, go for a loan without mortgage insurance as this can add up to quite an amount.
8. Does The Loan Have An Origination Fee?
This fee gives additional profit to the lender, and most loans come with this extra fee. If your loan, for instance, comes with an origination fee, make sure to confirm how much it is and if there is a loan program with a minimal origination fee.
9. What Are The Costs Involved?
A mortgage also comes with additional costs from third parties. Some of these costs include appraisal costs, property taxes, title search fee, to mention but a few. Get adequate information on all these costs and go with the most favorable option.
10. Will I Be Updated On The Loan Process?
This will help a great deal when planning your finances. Your lender should be in a position to give timelines on how soon you should expect to hear about your loan application. This way, you are aware of how much time you have to get your finances in order and get all the necessary paperwork.
Final Thoughts
If you don't like the answers you get, you are free to continue shopping for a mortgage lender who will meet your expectations and make you feel comfortable about taking a mortgage with them.
Please consider spreading the word and sharing; 10 Questions to Ask a Mortgage Lender and Why They're Important
Buying a home? If you're obtaining a mortgage to purchase a home you'll want to ask your mortgage lender these 10 important questions. #homebuying #mortgage
Additional Real Estate Advice from Top Professionals
Not only is it important for buyers to understand the mortgage process it's important to understand the purchasing process too. Is the home you fell in love with been on the market for a while? This may be a cause for concern and you'll want to find out why the home hasn't sold. Did it not pass inspection or appraise? If so it could be a red flag for a potential problem if you decide to move forward and submit an offer.
Some home buyers decide to "play" real estate agent and look for homes on their own. However, there are several things real estate agents have that buyers don't. For starters, knowledge of the real estate market and the current condition. Secondly, access to current and past sales. These are just two of the reasons why buyers should hire a real estate agent.
It's not uncommon for homebuyers to make mistakes when purchasing a home. However, if they have a great team in their corner they'll be able to avoid the most common mistakes buyers make. This is why it's so important to work with a top Realtor and Lender who will be able to guide them through the process.
About the Author
Top Wellington Realtor, Michelle Gibson, wrote: "10 Questions to Ask a Mortgage Lender and Why They're Important."
Michelle has been specializing in residential real estate since 2001 throughout Wellington Florida and the surrounding area. Whether you're looking to buy, sell or rent she will guide you through the entire real estate transaction. If you're ready to put Michelle's knowledge and expertise to work for you call or e-mail her today.
Areas of service include Wellington, Lake Worth, Royal Palm Beach, Boynton Beach, West Palm Beach, Loxahatchee, Greenacres and more.