How Did the Wellington Real Estate Market Do In 2020?
2020 was a year most of us will never forget especially if you were a home buyer or Realtor. To say the real estate market in Wellington was crazy is an understatement. While on paper, comparing stats for 2019 to 2020, it didn't seem too different. However, this comparison really doesn't paint a clear picture and reflect what truly happened.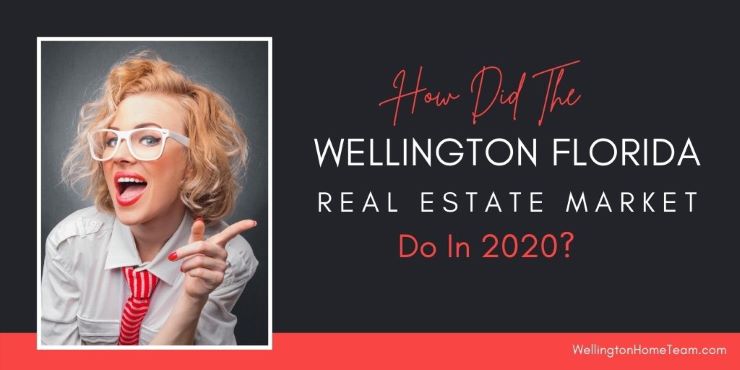 Number of Home Sales
In 2019 a total of 1,251 properties sold in Wellington and in 2020 it increased by 156 sales up to 1,407. 13 more sales a month doesn't seem like a lot, but when you have record low inventory it absolutely is. In January 2020 we started the year off with 546 homes for sale and inventory kept declining month after month and we ended the year with only 357 homes for sale. As of today, January 26th, we have 308 properties for sale.
Not only did we have record low inventory, but 1,407 sales is almost a record high too. In the last 20 years, only one year had more sales, it was 2015 with 1,429 sales.
Financing Profiles
Buyer profiles really didn't change. Cash buyers remained the exact same and accounted for 29% of home buyers. Conventional buyers went down 1%, from 57% down to 56%. While FHA buyers went up 1% from 9% to 10%. The remaining buyers (VA, owner financing, assumable, exchange, and other) accounted for 5%.
Distressed Sales
Distressed sales, bank-owned and short sales, went down 1%, from 3% to 4%. In the last 2 years, the percentage of short sales went down by 1%, from 3% to 2%, but the physical numbers went up from 12 in 2019 to 19 short sales in 2020. While bank-owned home sales decreased both percentage and physical number, from 3% with 42 REO sales in 2019 to 2% with 35 REO sales in 2020.
Median Sales Price
While Wellington home values aren't back to 2005-2006 prices for most we did have a big leap in value this year. The median price increased 7.5% from $395,000 in 2019 to $425,000 in 2020. The previous year's median price only increased 2.75% from 2018 to 2019.
The lowest sale in 2020 was $145,000 while the highest sale was $23,180,909.66, which wasn't much of a change from 2019 where the lowest sales price was $133,000 and the highest was an even $24M.
Days on Market
Days on market going from 49 days in 2019 down to 27 days in 2020 is a better reflection of market conditions, but countless homes priced right at certain price points went under contract within 48 hours after receiving multiple offers.
Wellington Florida 2020 Year in Review at a Glance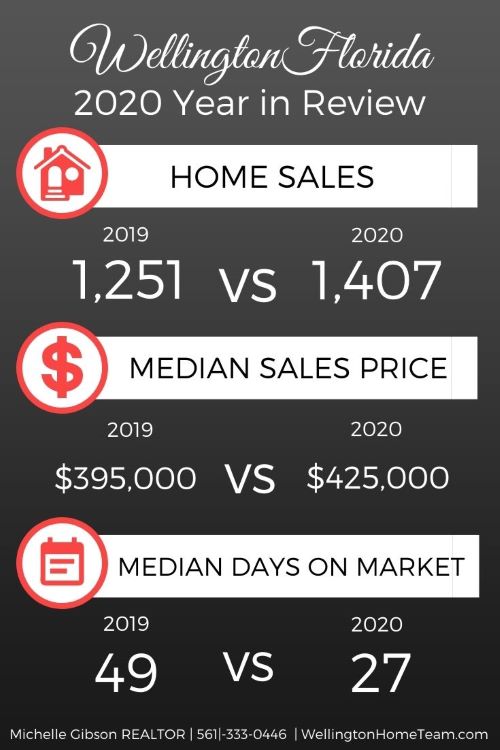 Stay up to date with Wellington Florida's real estate market updates throughout 2021 by checking out our monthly reports at Wellington Florida Monthly Reports.
If you are looking to rent, buy or sell your Wellington home in 2021 call me today at 561-333-0446 or e-mail me at Contact(at)WellingtonHomeTeam.com. I will walk you through the entire renting, buying, or selling process from start to finish and beyond!
Information provided by Beaches MLS on January 26th, 2021, and deemed reliable, but not guaranteed
Please consider spreading the word and sharing; How Did the Wellington Real Estate Market Do In 2020
About the Author
Top Wellington Realtor, Michelle Gibson, wrote: "How Did the Wellington Real Estate Market Do In 2020"
Michelle has been specializing in residential real estate since 2001 throughout Wellington Florida and the surrounding area. Whether you're looking to buy, sell, or rent she will guide you through the entire real estate transaction. If you're ready to put Michelle's knowledge and expertise to work for you in 2021 call or e-mail her today.
Areas of service include Wellington, Lake Worth, Royal Palm Beach, Boynton Beach, West Palm Beach, Loxahatchee, Greenacres, and more.
How Did the Wellington Real Estate Market Do In 2020?