Impact-Resistant Windows Vs Hurricane Shutters
If you live in a part of the country which is prone to serious storms and hurricanes now and again, protecting your home is a very important consideration. If a storm hits, your ordinary windows will be smashed from the high winds and debris catapulted through the air. Fortunately, there are some things you can do to protect your home and your family from these extreme weather conditions. Let's take a look at two of the options.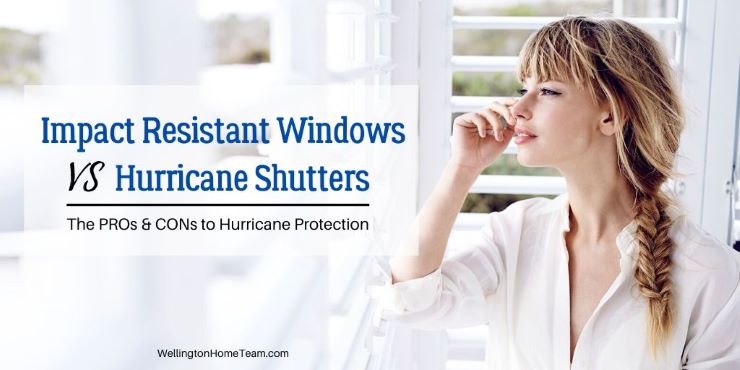 Impact-Resistant Windows
If the windows of your home become broken letting the wind in, there is a risk you will lose your roof. Keeping the integrity of your home complete reduces the chances of the roof being ripped off in severe conditions.
Impact-resistant windows or hurricane windows as they are often known, offer the chance for you to avoid devastation to your property, your life and those of your family. Hurricane windows can resist being broken by flying debris and winds of up to Category 5.
Hurricane windows are a development from vehicle windshields, which were created to prevent injury to the occupants of cars during accidents. Impact-resistant windows are made using laminated glass which isn't going to smash into shards from impact. This type of glass can now help homeowners avoid damage in the event of high winds and provide continual protection.
The Pros of Impact-Resistant Windows
Hurricane windows offer the highest level of protection for your home. They will also make your home more secure from burglars and reduce the effects of outside noise. You also have the benefit of having protection all the time, without any need to prepare in case of a storm. The look of your home will also remain largely unchanged, without the need to store anything to cover your windows.
The Cons of Impact-Resistant Windows
The largest problem with hurricane windows is the cost of them. They are going to be more expensive since new windows and frames have to be fitted in place of your current windows. This option is likely to be more inconvenient to fit to your home than other options. The windows frames have to be much stronger than normal frames so that the glass won't blow in should it be impacted.
Impact-Resistant Windows Vs Hurricane Shutters | Weighing the Pros & Cons
Hurricane Shutters
An alternative to protect against damage is the use of shutters. These can come in a few different types including roll down shutters which are automatic, Bahama, accordion and panel shutters. The shutters are installed over windows to prevent them from breaking when a storm hits.
Shutters are normally constructed of steel and aluminum but wooden types are available. Wooden shutters are cheaper and may fit in with the style of your home better. However, they don't offer the same level of protection found in the more modern metal designs.
The Pros of Hurricane Shutters
Shutters are normally a lower cost option over impact-resistant windows. They are straightforward to install and can be removed if no longer required. There are many different styles available to suit the look of your home and prices start from less than $10 per square foot. You should be able to find shutters that fall within your budget and your needs.
The Cons of Hurricane Shutters
They don't offer the highest levels of protection for your home. If you have ordinary windows behind them, they can still be broken following impacts on the shutters. Some types of shutters can take hours to install unless you have the more expensive automatic roll-down type. Though that can take time too if they aren't operating correctly. Hurricane shutters affixed to the home need regular maintenance to ensure they work when needed.
Which is Best for Your Home?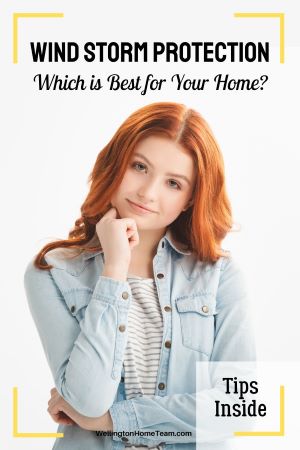 There are so many different types of hurricane protection for your home. While hurricane impact windows can offer a higher level of protection but they come with a cost to match. Whereas shutters can provide better value and there are many styles to choose from. It gives you the chance to add hurricane protection at reasonable prices and is considerably better than having to board your windows up when a storm heads in your direction.
If you can afford to do it, it is possible to choose both impact-resistant windows and shutters since impact windows aren't impact proof. At the end of the day can you put a price on the safety of your family and home if you live hurricane area? You can take your time to evaluate what is best in your situation, considering the risks and planning to deal with them.
Please consider spreading the word and sharing; Impact-Resistant Windows Vs Hurricane Shutters
Additional Wind Storm Protection Resources
Do hurricane impact windows add value to your home? This is a question a lot of homeowners have and while the window company will confidently say yes a Realtor may say otherwise. Hurricane impact windows will always add value in terms of security, but when it comes to financial gain that may not be the case.
Preparing for a hurricane can take time, which is why people should start preparing before hurricane season starts in June. This means having protection for your windows, trimming trees, gathering supplies like gas, batteries, food and water. So if a storm is named and expected to make landfall you're already a few steps ahead.
Will you save more money on your homeowners insurance with hurricane windows over shutters? Insurance carriers look at whether or not a home has wind storm protection. So in a carrier's eyes hurricane impact windows are the same as hurricane shutters even though they are completely different products.
About the Author
Top Wellington Realtor, Michelle Gibson, wrote: "Impact-Resistant Windows Vs Hurricane Shutters"
Michelle has been specializing in residential real estate since 2001 throughout Wellington Florida and the surrounding area. Whether you're looking to buy, sell or rent she will guide you through the entire real estate transaction. If you're ready to put Michelle's knowledge and expertise to work for you call or e-mail her today.
Areas of service include Wellington, Lake Worth, Royal Palm Beach, Boynton Beach, West Palm Beach, Loxahatchee, Greenacres and more.