Does a Kitchen Remodel Boost Your Home's Value?
If you're planning to sell your home soon, one of the crucial questions you'll face is whether to install upgrades before you put it on the market. In many cases, relatively inexpensive upgrades can help you boost the value of your home, ensuring a higher selling price.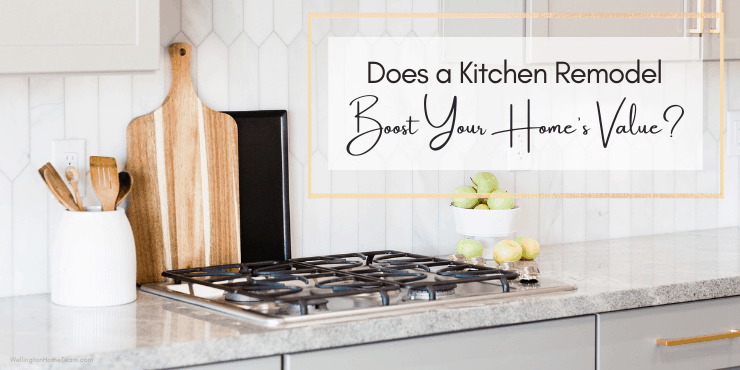 Mid-scale projects that significantly increase your home's value include bathroom and kitchen remodels. Or so conventional wisdom says. But do those investments really pay off? Or are you going to be spending more than the value increase will cover?  The answer depends on a few different factors. Here are the questions you need to ask yourself. 
Top Questions to Ask Before a Kitchen Remodel
What Does the Local Market Look Like?
If you're thinking about remodeling your kitchen prior to a sale, talk to a local Realtor first. They are valuation experts and will know the priorities of buyers in your market. 
For example, a crucial factor in deciding if a seller should remodel is the average condition of the local home inventory. What do the kitchens of other homes for sale locally look like? This is the standard against which potential buyers will measure your property. Consulting a Realtor also reduces the likelihood of remodeling a kitchen in a style that doesn't appeal to the average buyer in your area. 
Is a Remodel Objectively Necessary? 

Don't let your personal taste get in the way of objective remodeling decisions. You may look at your kitchen –  its tile floors and cabinetry – and think that everything needs to go. Then again, you've been looking at the same room for years. 
Remodeling the kitchen might make it suit your taste. But if your existing kitchen would be perfectly fine to a buyer, it's an unnecessary investment in terms of home value. 
However, if you really want to give your kitchen a facelift consider painting the cabinets, changing out the cabinet doors, or hardware. Maybe retile the backsplash. Little changes can make a big impact.
What are the Most Urgent Areas for Improvement? 
More often than not, your kitchen just needs a facelift, rather than a complete remodel.  For the largest increase in value relative to what you spend, focus on ailing areas – and those that look most dated. Replacing linoleum flooring from the 80s or refacing heavy 70s oak cabinets can already completely alter the appearance of the room. These are relatively minor investments. 
Every homeowner wants to increase the value of their home, but will a kitchen remodel boost the value? This guide will help answer that question. #diy #homeimprovement
Which Updates Have the Longest Life Span? 
Especially if you're not planning to sell your home straight away, consider which updates have the longest life spans. Consult a trusted interior designer or a kitchen remodeling contractor to decide on timeless styles that will enchant buyers today as well as in a few years' time. While it may be tempting to follow the latest trends in updating your kitchen, these can quickly look dated. Generally, investing in sleek, elegant designs, and solid, durable materials will pay off most. 
Are You Over-Improving? 
Finally, ask yourself honestly if you are over-improving. No matter how much you invest in upgrades, your home may never fetch more than a certain price.
Location, the local real estate market, and square footage are major limiting factors on how much your home is worth. 
Before you embark on a remodel, be sure to gauge these aspects. The easiest ways to avoid over-improving are to compare existing listings in your immediate area and to talk to realty experts. 
Final Thoughts
Overall, a kitchen remodel definitely has the potential to increase your home's value compared to its as-is state. 
However, to get the best return on your investment, you need to carefully consider the expectations of the local market, the areas that objectively most need improvement, and the style you choose. That way, you'll be able to get a real boost in home value from your kitchen remodel.
Please consider spreading the word and sharing; Does a Kitchen Remodel Boost Your Home's Value?
Every homeowner wants to increase the value of their home, but will a kitchen remodel boost the value? This guide will help answer that question. #diy #homeimprovement
Popular Kitchen Remodeling Questions
Is it worth remodeling a kitchen before selling? Remodeling a kitchen before selling can potentially increase the appeal and value of a home. A well-designed and updated kitchen is often a key selling point for buyers. However, the decision to remodel should be based on several factors, such as the current condition of the kitchen, the local real estate market, and the potential return on investment. It's important to strike a balance between the cost of the remodel and the potential increase in sale price.
Consulting with a real estate professional can provide valuable insight into market trends and buyer preferences in your area. Ultimately, if the kitchen is outdated or in poor condition, a thoughtful and cost-effective remodel may attract more buyers and potentially lead to a higher selling price.
How much does a new kitchen increase house value? The increase in house value due to a new kitchen can vary depending on several factors, such as the quality of the remodel, the real estate market, and buyer preferences. While there is no fixed percentage or precise figure, a well-executed kitchen remodel can typically yield a positive return on investment. However, it may not be dollar for dollar.
It is generally considered one of the most valuable home improvement projects. According to industry estimates, a kitchen remodel can potentially increase a home's value by 10% to 15% or more in some cases.
How to increase home value by $50,000? Increasing home value by $50,000 typically requires a combination of strategic renovations and improvements. Focus on high-impact areas such as the kitchen, bathrooms, and curb appeal. Consider updating outdated features, replacing worn-out appliances, installing energy-efficient fixtures, and enhancing the overall aesthetics of the home.
In addition, creating additional living space, such as finishing a basement or converting an attic, can significantly boost value. Prioritize repairs and maintenance, including addressing any structural issues or necessary updates to plumbing, electrical, or HVAC systems. A top Realtor will be able to identify specific upgrades that could increase your property value.
Does a kitchen island increase value? Yes, a kitchen island can increase the value of a home. Kitchen islands are highly desirable features for many buyers as they provide additional workspace, storage, and a focal point in the kitchen. They often enhance the functionality and aesthetics of the space, making it more appealing and convenient.
However, the impact on home value may vary depending on factors such as the size, quality, and design of the island, as well as the overall market trends and buyer preferences in your area. It's essential to consider the balance between the cost of installing a kitchen island, whether or not it will fit, and the potential increase in value it can bring.
About the Author
Top Wellington Realtor, Michelle Gibson, wrote: "Does a Kitchen Remodel Boost Your Home's Value?"
Michelle has been specializing in residential real estate since 2001 throughout Wellington Florida and the surrounding area. Whether you're looking to buy, sell, or rent she will guide you through the entire real estate transaction. If you're ready to put Michelle's knowledge and expertise to work for you call or e-mail her today.
Areas of service include Wellington, Lake Worth, Royal Palm Beach, Boynton Beach, West Palm Beach, Loxahatchee, Greenacres, and more.
Does a Kitchen Remodel Boost Your Home's Value?