Creating the Ultimate Laundry Room | Helpful Design Tips
No matter where you are or what you do, laundry is probably a big part of your weekly routine. According to recent data, 67% of people across the globe do laundry twice a week.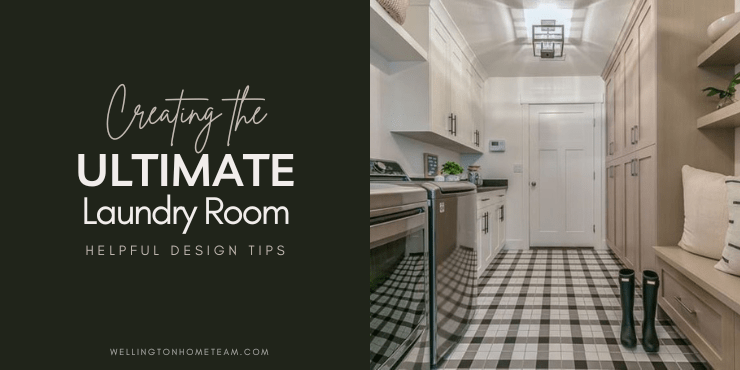 Moreover, while there are thousands of laundromats all over the US, 95% of Americans still prefer to do their laundry at home. This is likely the reason why more people are thinking about having a laundry room since having a dedicated space to wash clothes, bedding, and other washable items makes it easier to do this task. If you're thinking about converting your home's space to make room for a laundry area, here are some design tips to have the ultimate laundry room.   
Laundry Room Decorating Ideas
Most people would put their washing machine and dryer in the garage, basement, or in the bathroom and do their laundry there. But nowadays, more homeowners are starting to see the appeal of having a dedicated laundry room, with almost 55% of people having it in their home. Not only are they making space for it, but they're also investing time and money to make it an aesthetically-pleasing room. 
Scandinavian-Style Laundry Room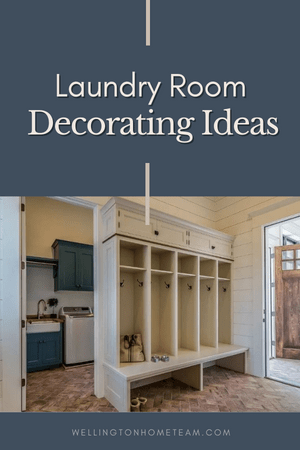 If you need a no-fuss but stylish design inspiration for your laundry area, consider adopting the Scandinavian style. It's a good fit for those who love the minimalist and clean aesthetic of Nordic interior design. Moreover, it's easy to maintain and it makes the space look and feel bigger, so you'll feel comfortable as you wash fabric shoes or sneakers and all your other dirty or stained clothing.
Simply place black and white patterned ceramic tiles on the floor, then paint the walls and cabinets with semi-gloss white paint. Choose a silver or silver gray washing machine and dryer, and have a seating area somewhere in the room so you can rest while doing the laundry. Finally, decorate with a few natural elements, such as a potted plant or two in wicker plant holders, and a large wicker basket to hold freshly dried clothes. 
Mediterranean-Style Laundry Room
For those who want a little more color in their living and working areas, consider having a Mediterranean-style laundry room. There are two ways to achieve this look.
The first one involves a lot of color, so start by laying down some patterned tiles on the floor– the more colorful they are, the better. Look for a washing machine and dryer combo in a color that fits well with the tiles. For a warm feel, consider laundry appliances in burnt orange or deep burgundy. Meanwhile, those who want to use a cool color palette may want to invest in a navy blue or teal washer and dryer. Keep the walls neutral and paint them white or use an eggshell color. 
For a more subdued take on Mediterranean-style, lay down some brick tiles or brick veneers on the floor, then use the same type of tiles to cover one wall of the laundry room. Choose a white washer and dryer combo, and have a few hanging plants in the space. Paint the cabinets in a dark brown color, then accessorize with a chair or a bench made of dark wood. 
Farmhouse-Style Laundry Room
Washing dirty clothes and other items can sometimes be a tedious chore, but doing it in a place that's bright and cozy can make this task more pleasant. For a space that feels warm and comforting, consider a farmhouse style laundry area. This rustic interior design scheme has been popular for years since it's easy to find decorative items that fits this style. For this, you'll need lots of wooden elements, plus some greenery and natural materials to decorate your laundry room.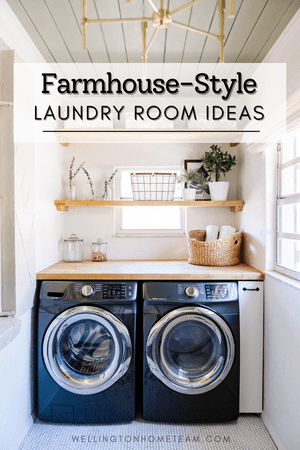 To start, paint the walls with bright white paint, then install some overhead cabinets to store your detergent, fabric softener, and other laundry items. You can paint the cabinets white, but you can also go with sage green or black paint if you want to create some contrast.
For the floor, put down wooden flooring made out of reclaimed wood, then place a striped rug in a neutral color over it. If you'd rather not worry about having water-stained floors, use tiles instead, but look for ones that mimic the look of natural wood. Add some shelves to hold decorative items and some woven baskets to keep your laundry room organized, an organized laundry room is a must.
For the washer and dryer, you can get these appliances in white or black for a clean look, though you can add a nice pop of color with a deep red washer and dryer combo. Decorate with a faux wreath on the wall that mimics the color of your laundry appliances, a potted plant, some farmhouse prints, and a few vintage-style wooden signs.
Maximizing Your Laundry Area
Once you've chosen a style for your laundry room, consider maximizing the space to make the most out of it. If you love to read while doing the laundry, have a small reading nook in the room. It can be anything from a padded bench under a window, a comfy chair, or a beanbag. Meanwhile, for those who need to be constantly on their laptops no matter what they're doing, try installing a murphy table on one wall so you can use it for work while doing your laundry. This is a good solution for a limited space as you can fold it up neatly when it's not in use. 
Another way to enhance your laundry area is to get rid of anything that may ruin the visuals of the room. Hangers should be stored in a cabinet, while liquid or powder detergent and fabric softener can be poured into attractive plastic containers and displayed on wooden shelves. Keep clutter contained in baskets, and do a thorough clean once a week to make sure that your laundry area is spotless and free of mold.
Remember that mold thrives in warm, moist places, so make it a habit to check for mold growth on a regular basis. Finally, don't forget to install good lighting in your laundry area. For small laundry rooms, consider recessed lighting, and use bulbs with crisp white light so you can easily spot stains, tears, or holes in clothing. Add a pendant light at the center of the room for a decorative touch.  
Final Thoughts
Having a laundry room can add value to your home. Consider these laundry room decor ideas to create the laundry area of your dreams so you can wash your clothes and other items in a functional and beautiful space. 
Please consider spreading the word and sharing; Creating the Ultimate Laundry Room | Helpful Design Tips
Laundry is probably a big part of your weekly routine, so why not create the ultimate laundry room? Here's a how to guide with helpful design tips. #homedecor #laundryroom
About the Author
Top Wellington Realtor, Michelle Gibson, wrote: "Creating the Ultimate Laundry Room | Helpful Design Tips"
Michelle has been specializing in residential real estate since 2001 throughout Wellington Florida and the surrounding area. Whether you're looking to buy, sell or rent she will guide you through the entire real estate transaction. If you're ready to put Michelle's knowledge and expertise to work for you call or e-mail her today.
Areas of service include Wellington, Lake Worth, Royal Palm Beach, Boynton Beach, West Palm Beach, Loxahatchee, Greenacres, and more.
Creating the Ultimate Laundry Room | Helpful Design Tips