Selling Your Home? Here are 7 Top Reasons to Use a Realtor
Over the past decade, more homeowners have been exploring a self-managed listing when selling their homes with the intention of cutting costs. However, cheaper isn't always better, especially when dealing with the financial stakes of selling a house.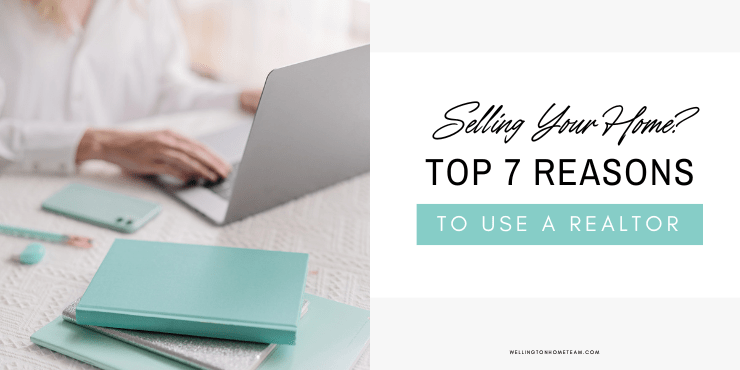 Here are some top reasons to use a Realtor to sell your home.
Better Market Research and Knowledge
Realtors have access to in-depth resources that the average person doesn't. These resources, combined with experience and knowledge of the local market, allow them to find high-quality information about what buyers are looking for and how to price or position your home.
A realtor can compare similar homes in your area that have recently sold to determine the ideal price for your house. They also have insight into why homes like yours stayed on the market for longer and what improvements you can make to get the best possible return on investment. 
It's still beneficial for sellers to do some initial market research and get an idea of their pricing potential. Still, this data isn't as reliable as information sourced by a realtor.
If you're getting ready to sell your home but aren't sure if you should hire a Realtor here are the top 7 reasons to use a Realtor when selling. #homselling #realestate
Time Management and Opportunity Cost
Selling a home is incredibly time-consuming— even when working with a realtor. It takes hours of work to schedule showings, engages in marketing activities, field calls, and process paperwork. It's also one thing to handle all this extra work and another to do it well. If you have a full-time job, consulting the most suitable realtor is a necessity. 
Many realtors also work with a team to ensure no calls or opportunities are missed. Selling a home is time sensitive, and you don't want poor time management to be the reason you miss out on a potential buyer.
Better Buyer Trust
Many buyers aren't interested in looking at a home for sale by the owner, which is one of the many reasons to use a Realtor. Licensed real estate agents are upheld by a code of conduct and ethics. They're obligated to ensure the disclosure is fully vetted, and paperwork is handled properly. Many buyers and buyers' agents are hesitant to work with sellers who don't have a realtor guiding the process.
Working with an agent will help build buyer trust and cast a wider net when trying to sell your home. Otherwise, your house could stay on the market for a long time and end up selling for less than you could have gotten.
More Expansive Networks and Connections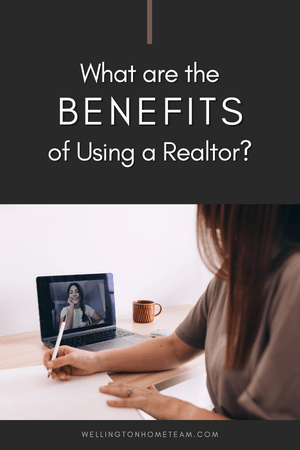 Realtors have a huge network of community connections to help you find someone interested in your home. They're more likely to see a feature of your home and remember a colleague who mentioned a client looking for that feature. A realtor can call a colleague and say, "do you have anyone looking for a house with these features?"
In essence, a realtor can help find a qualified buyer faster. They also have contacts in house inspections, real estate law, contracting, etc., to help you get work done if needed. Many realtors also have agreements with local contractors and companies to get you a small discount for using their services.
Less Risk of Costly Errors
Selling a home and processing a mortgage requires a ton of paperwork and legal documentation. Realtors are required to learn the nuances of these contracts and ensure they're completed properly during a sale. If you do not complete the paperwork properly, it could derail a sale in the final stages and cost you lots of time, money, and stress.
Yes, realtors sometimes make mistakes. However, if a realtor messes up your contracts and paperwork, they're obligated to fix it and cover the damages. If you handle this yourself, you bear the burden. Additionally, realtors have the training and experience that makes mistakes far less likely than someone taking a DIY approach to nuanced legal documents.
Better Negotiation Skills and Expertise
Realtors are skilled negotiators, which is one of the biggest reasons to use a Realtor. Negotiating the price and conditions of a sale isn't just about haggling over dollars; it's about knowing what you can reasonably ask for and when you should refuse. A skilled realtor knows when to relent and when to push back. 
Failing to work with a realtor could dramatically cut your profits or lead you to fix issues in your house that have minimal resale value. They can also help you navigate contingencies to cover your bases as you negotiate your price and conditions.
Less Emotional Collateral
One of the biggest benefits of working with a realtor is that they have no emotional attachment to your home. Many sellers struggle with sentimentality when putting their homes for sale. The emotional value of a home often far surpasses the financial value of the house, which can make rational decision-making a challenge.
A realtor won't struggle with the sentimental aspect of moving house. Yet, they still care a lot about the sale, as it directly impacts their income. This is the perfect balance of passion and logic.
Working with a realtor to sell your home comes with a significant price tag. However, having a professional handle this complex process is well worth the investment. Reach out to a trusted realtor when you're ready to sell your house.
Final Thoughts
These are just some of the top reasons to use a Realtor. However, there are many more reasons, which should be taken into consideration. A top agent won't only obtain top dollar they'll be able to do so in the shortest amount of time.
Please consider spreading the word and sharing; Selling Your Home? Here are 7 Top Reasons to Use a Realtor
If you're getting ready to sell your home but aren't sure if you should hire a Realtor here are the top 7 reasons to use a Realtor when selling. #homselling #realestate
About the Author
Top Wellington Realtor, Michelle Gibson, wrote: "Selling Your Home? Here are 7 Top Reasons to Use a Realtor"
Michelle has been specializing in residential real estate since 2001 throughout Wellington Florida and the surrounding area. Whether you're looking to buy, sell or rent she will guide you through the entire real estate transaction. If you're ready to put Michelle's knowledge and expertise to work for you call or e-mail her today.
Areas of service include Wellington, Lake Worth, Royal Palm Beach, Boynton Beach, West Palm Beach, Loxahatchee, Greenacres, and more.
Selling Your Home? Here are 7 Top Reasons to Use a Realtor