10 Reasons Gutter Cleaning is Important to Your Homes Health
Gutters aren't an "accessory" or an "upgrade" to your home but are the silent, often unnoticed heroes protecting your house from potentially tens of thousands of dollars of damage with every rain storm.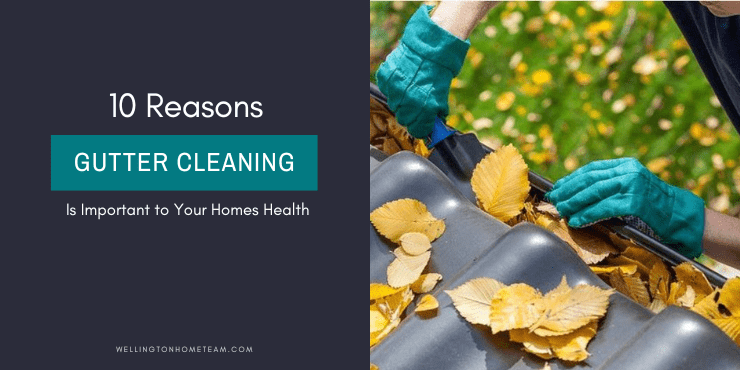 Those single stretches of aluminum prevent a number of issues invading every homeowner's worst repair nightmares and maintaining them with a good gutter cleaning twice a year helps to keep them functioning exactly as they should – saving your home and your bank accounts from utter devastation. 
10 Reasons to Clean Your Gutters
Here are just 10 of the reasons to complete routine gutter cleaning and gutter repair (as needed) and hold onto more of your hard-earned cash.
Prevents Soil Erosion 
The soil around your home's foundation, when it was initially built, was situated to slope slightly away from your home to help guide any water falling below the gutter line away from the house. Over time, exposed soil wears away and when gutters aren't maintained and kept free from debris, the erosion rate increases – leaving your foundation subject to cracking, settling, and throwing your home's features off track. 

Avoids Landscaping Damage 
Gutters trap and channel water away from your surrounding landscaping but when dirty gutters push that rainwater up and over the gutter side, overwatering and water velocity can damage your expensive landscaping foliage, wash away mulch, and flood your flower beds.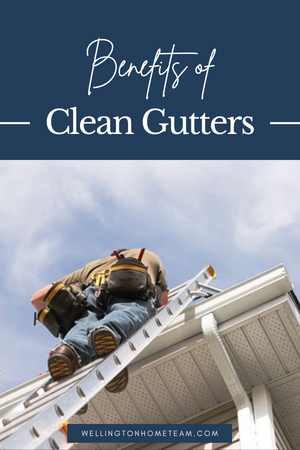 Prevents Basement Flooding
Water allowed to settle near the foundation is absorbed through the stone or concrete foundation walls and seeps through to your basement.
Remediation of excess water accumulating on the subterranean floor of your home could cost a massive amount – especially if it goes unnoticed for any period of time. 

Prevents Mold and Mildew 
Warmth and water are the two best ingredients for mold and mildew to grow and spread in your basement, attic, and any other place water can penetrate. Gutter buildup can push water under your roofing shingles or can seep through the foundation and cause mold in your home's ventilation system. Mold and mildew can take a mere few days to grow and can cause or inflame respiratory illnesses – especially in the elderly or very young. 

Prevents Mosquitos 
If your yard is infested with mosquitoes but you're not sure where they're coming from – it's time to look up. Debris buildup in your gutter system that remains damp is the perfect breeding ground for the blood-sucking pests. With a fast lifecycle from larvae to mosquito, it only takes a week or so to allow a mosquito invasion – but could have been prevented with semi-annual gutter cleaning.
Gutters aren't just an accessory, they have an important purpose and need to stay clean. Here are the top reasons gutter cleaning is so important. #guttercleaning #homemaintenance Click to Tweet

Protects Siding and Other Exterior Surfaces 
Damaged, detached, and separating gutter sections often leak and drip down onto siding, stone, paint, or other exterior wall surfaces and over time can cause rot and decay – not to mention the staining. Rot allows the perfect entrance for critters such as mice, spiders, termites, carpenter ants, and other unwelcome house guests. 

Prevents Roof Damage and Ice Damming
Whether you have a slate, shingle, or metal roof, it's constructed with the goal to protect your home from water damage and channel that rain into the gutters below but when those gutters are chocked full of leaves, dirt, branches, and other debris, water tends to bounce back upward toward the underside of the roofing material. Where water settles, water damage ensues. Your home's structural support is at risk of rot and massive damage. 
During snowy winter months, unkempt gutters prevent melted snow from being guided away through gutters and downspouts but refreeze when it hits the gutters causing ice dams. The excess weight of the ice places extreme pressure on the roof and is then subject to damage or total collapse. Roof repairs or replacement during the cold winter months can cost upward of $20,000 or more depending on your roof. Ice damming can be avoided with a thorough gutter cleaning.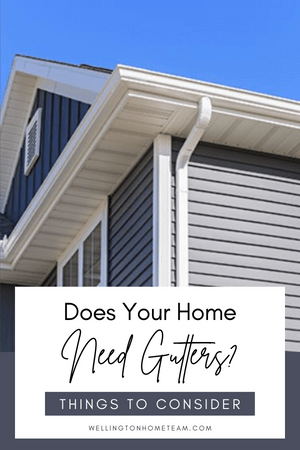 Prevents Fascia Rot 
Your home's facia is the section under the roof where your gutters attach to your home and over time, if gutters are full of junk, the water can come into continuous contact with that fascia board.
If made of wood and not covered with metal, it will wear away at any paint or material and will absorb the rainwater. Rotting of the fascia can damage the structural integrity of the roof, allow the gutters to detach or become loose, and allow water to drip down between the gutters and the fascia – leaving you with more staining and rot! 

Prolongs the Life of Gutters 
When gutters are regularly cleaned and maintained, they will last longer and continue to protect your home from any impending water damage for years to come. Seasonal inspection highlights any current or potential problems so gutter repair activities can be completed before they present a more massive issue. Repairing small gutter issues is much less expensive than a full gutter replacement – which may be necessary if gutters are left in a damaged state. 

Improves Curb Appeal 
With homeowners concerned about their home's value, maintaining or improving the curb appeal can help to increase that number. Clogged gutters and downspouts, tree branches hanging out over the gutters, eroded soil with damaged flower beds, and detached gutters from rotten fascia boards that resulted in siding stains are NOT doing your home's curb appeal any favors. 

Conclusion
Create a regular twice-per-year inspection schedule to clean your gutters – taking preventative measures on gutter repair and avoiding costly (and unsightly) problems from occurring at your humble abode. If this isn't something you can tackle on your own there are plenty of gutter cleaning companies to choose from, but gutter cleaning prices can greatly vary, so you'll want to meet with more than one company.
Please consider spreading the word and sharing; 10 Reasons Gutter Cleaning is Important to Your Homes Health
Gutters aren't just an accessory, they have an important purpose and need to stay clean. Here are the top reasons cleaning your gutters is so important. #guttercleaning #homemaintenance
About the Author
Top Wellington Realtor, Michelle Gibson, wrote: "10 Reasons Gutter Cleaning is Important to Your Homes Health"
Michelle has been specializing in residential real estate since 2001 throughout Wellington Florida and the surrounding area. Whether you're looking to buy, sell or rent she will guide you through the entire real estate transaction. If you're ready to put Michelle's knowledge and expertise to work for you call or e-mail her today.
Areas of service include Wellington, Lake Worth, Royal Palm Beach, Boynton Beach, West Palm Beach, Loxahatchee, Greenacres, and more.
10 Reasons Gutter Cleaning is Important to Your Homes Health