Buying a home with a swimming pool is a dream for a lot of homebuyers. It can offer a great way to entertain friends, exercise, and relax, but there are many things to consider when buying a home with a pool. Along with the good points, a pool in your back yard does come with a lot of negative things that you should be aware of before taking the plunge.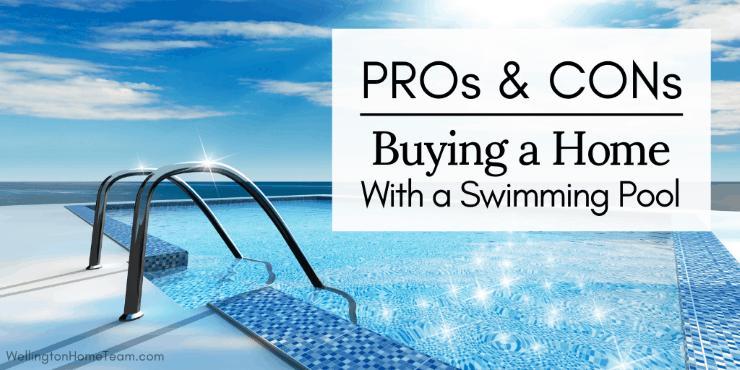 The PROs
There are many benefits to having a home with a pool, let's take a look.
Entertaining
When you are entertaining guests, a pool can really add to the experience. Whether you are having a party, BBQ, or hosting a birthday, a pool will make the event even better. Your home will be a place your friends want to visit more often.
Exercise
Swimming is a great form of exercise. You use your whole body without putting any stress on your joints, building strength, endurance, and cardiovascular health. If you have an injury or other condition that makes exercise difficult, swimming could be the perfect way to exercise.
Swimming is a good way of burning calories too. Even at a gentle swimming pace, you can burn over 400 calories per hour. This is better than many other activities, like walking or yoga.
Relaxing
Having a pool gives you the opportunity to take a dip and refresh after a stressful day at work. Your pool will allow you to easily decompress when you need it. Instead of soaking in the bath to relax, you can jump in the pool.
Cooling Off
On a hot day, what is better than taking a plunge in your very own pool? In the hot summer months, your pool will be something you value a lot to cool yourself down.
Adding Value
Owning a home with a swimming pool can increase the value of the property. This is particularly true in warmer parts of the country, where a pool can add $20,000 to the value of the home. It is also a feature that can make the home easier to sell, and a desired option in warmer climates.
Thinking about buying a home with a pool? If so you'll want to weigh the PROs and CONs before jumping in! #realestate #homebuying
The CONs
Owning a pool does, unfortunately, come with quite a few downsides.
Maintainance and Repair
A swimming pool does require a lot of maintenance. You have to have regular maintenance and repairs to make sure the pool is safe to use. This could mean spending money to have the pool cleaned, as much as once a week, in the height of the summer.
Repair bills can be considerable too. If there is a leak in your pool, you are looking at a bill costing $1,000 upwards to get it properly repaired.
Causing Illness
If a pool isn't sufficiently maintained, it can lead to problems. The pH levels need to be kept within a safe range through regular testing. If the alkalinity is higher or lower than it should be, the chlorine may not be doing its job, or the water could be too acidic to be safe.
If the chlorine levels are wrong, germs can contaminate the water. This can cause ear infections, respiratory conditions, and rashes, not to mention diarrhea.
Safety Risk
As well as the potential to make people ill, the pool is a drowning hazard. Unfortunately, hundreds of young children die every year when falling into back yard pools.
If you have children, this should be a great concern. Fencing can remove the risk, as long as the kids aren't able to find another way into the pool area.
In addition, children should be taught about pool safety from a young age and be taught how to swim, this includes babies and toddlers.
Insurance
Your normal homeowner's insurance may not be enough if you have a swimming pool. There is a risk of being sued if someone is injured, or worse, killed. Extra coverage will protect you from attorney fees and costs if you are found liable.
Taking Up Space
A pool and its safety fencing are going to take up a lot of room. This could leave almost no room for anything else in your back yard on a small lot. You may have to choose between a yard or a pool, but not both.
Electricity Bills
Even if your pool isn't heated, you will have to spend hundreds extra per year to run the pumps. Heated pools increase this cost considerably, with heating potentially costing $600 per month.
Attracting Insects
It isn't only your friends that will be attracted to your pool, insects will love it too. Bugs and mosquitoes will need to be removed frequently from the surface to avoid the problem getting out of hand.
Other wildlife can also find their way into your pool, leaving you to scoop their carcass out of the water in the morning. While this might not be a big problem, it will certainly detract from your morning swim.
Pros & Cons of Buying a Home with a Swimming Pool #homebuying #realestate
Final Thoughts
Buying a pool home comes with a lot of pros, but it comes with some cons too. So it's important you weigh both the pros and cons to buying a home with a pool.
Please consider spreading the word and sharing; Pros & Cons of Buying a Home with a Swimming Pool
Additional Resources for Buying a Home with a Pool
It's easy to create a backyard oasis when you have a private swimming pool. Oftentimes, it becomes the main focus of the backyard, a place where everyone wants to be. So if you entertain often having a pool home will be something everyone will enjoy.
Buying a home with a pool or adding one after the fact can add value. However, there are several home improvement makes homeowners make and an above ground pool is one of them. There is a BIG difference between a custom in-ground pool and an above ground pool. One can easily add value while the other can deduct value. If you're going to buy a home with a pool or add one make sure it's not an above ground pool.
If you plan on buying a vacation property, depending on the area, odds are it'll have to have a pool. Vacation rentals and private swimming pools go hand in hand. It's a sure-fire way to keep your vacation rental booked all year long.
About the Author
Top Wellington Realtor, Michelle Gibson, wrote: "Pros & Cons of Buying a Home with a Swimming Pool"
Michelle has been specializing in residential real estate since 2001 throughout Wellington Florida and the surrounding area. Whether you're looking to buy, sell, or rent she will guide you through the entire real estate transaction. If you're ready to put Michelle's knowledge and expertise to work for you call or e-mail her today.
Areas of service include Wellington, Lake Worth, Royal Palm Beach, Boynton Beach, West Palm Beach, Loxahatchee, Greenacres, and more.