Home Selling Tips for Picture Day! 17 Must Dos
What's the old say "A picture is worth a thousand words?" Well, in real estate not only is a listing picture worth a thousand words it can also make or break a home sale. Decades ago a home buyer's first impression of a home was usually when they drove up, but today it's usually the photographs and description in the MLS listing, so you'll want to make sure your home is staged and ready for photos. Below are home-selling tips and how to prepare your home for picture day!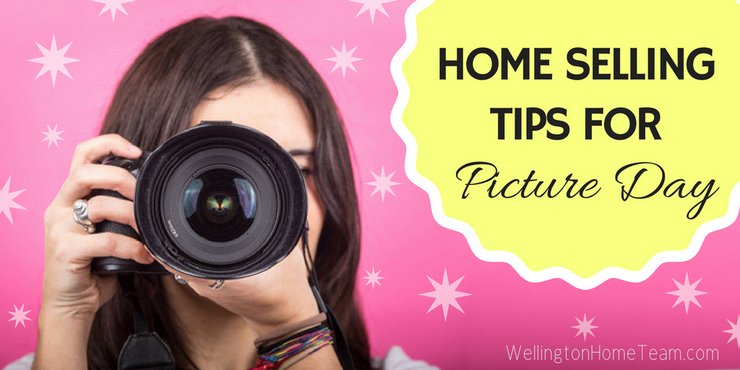 Interior Home Selling Tips for Picture Day
1. Lighting
The proper lighting will produce the best photographs, so it's important to make sure all lights throughout your home are turned on while it's being photographed. It's also important to replace any burned-out light bulbs. This includes lamps, fans, and recessed lighting.
2. Remove Throw Rugs
If you have small throw rugs or runners in the kitchen, bathroom, entryway, or hallway you'll want to remove them for picture day. Having small area rugs or runners on the floor can make a room look smaller and cluttered in photographs. Once the photographs have been taken it's ok to put them back, if they're clean and in good condition.
3. Remove Furniture
If you have an overabundance of furniture you'll want to remove some pieces. Not only for picture day but for showings too. Rooms overflowing with furniture often appear smaller and buyers are looking for spacious rooms, not cramped.
Rule of thumb, most walkways should be around 3 feet. So if your dining room table is 2 feet away from the wall in every direction it's wise to remove it and/or replace it with a smaller table.
4. Remove Remote Controls
So many people have a remote for everything these days, TV, DVD, lighting, fans, the list goes on and on. If you have remote controls laying around in the living room, bedroom, or kitchen you'll want to hide those items on picture day.
5. Clear Countertops
You'll want to clear all countertops for picture day! In the kitchen make sure to remove all small appliances like the coffee maker or toaster along with the knife block and paper towel holder.
In the bathroom make sure to remove toothbrushes, soap, and other personal care items or knick-knacks that are sitting on the counter. Cluttered counters tend to look messy and unflattering.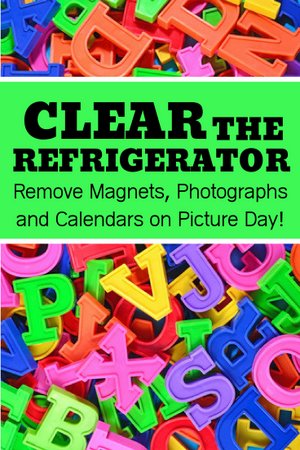 6. Clear Refrigerator
Make sure your refrigerator is clear and doesn't have items like magnets, photographs, or calendars on it.
Not only do we recommend doing this for picture day, but we recommend keeping it that way while selling your home. Items, no matter the size, hanging on a refrigerator can make things look cluttered.
7. Clear Showers
In addition to clearing bathroom counters on picture day, you'll also want to clear the shower. This means removing shampoo bottles, soap, razors, and any other accessories or bottles that are sitting or hanging in the shower.
Even if you only have two bottles they can be distracting in photographs, empty and clean spaces are usually best for photographs.
8. Toilet Seats Down
While most photographers will probably put the toilet seat down not all agents who take photos of their listings will. So you'll want to make sure the seats are down on picture day.
9. Remove Trash Cans
A lot of people have their trash cans out in the open whether it's in the kitchen, bathroom, bedroom, or office. On picture day trash cans should be hidden or removed from spaces, including the exterior if you have trash cans or recycling bins outside your home.
10. Make Beds
Not only should beds be made on picture day, but also every day your home is being shown. If you don't have any "fancy" bedding or pillows no worries, crisp white clean bedding with a few pillows are best and very affordable to buy if you don't already have them.
11. Clear Nightstands
Just like clearing your countertops, you'll also want to clear your nightstands. So if you have any books, candles, or clocks you'll want to remove these items on picture day. The same holds true if you have what can be considered cluttered on your dressers too.
12. Remove Pets
Remove pets and pet belongings on picture day! Some buyers will not look at a home if it's evident in the photographs that a pet lives there. It's highly recommended to remove these items for showings as well. If it's too much to remove items like beds, make sure they are limited and freshly washed regularly.
Exterior Home Selling Tips for Picture Day
13. Freshen Up Landscaping
You'll want to enhance your home's curb appeal on picture day, so make sure the grass is mowed, trees are trimmed and flower beds are mulched and weeded.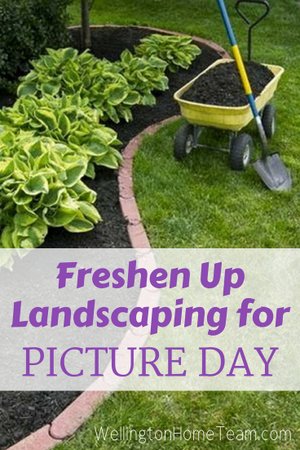 14. Clear Driveway
Make sure all vehicles are removed from the driveway on picture day along with any other items that can be removed, like basketball hoops, bikes, and motorcycles.
15. Remove Garbage Cans
If your garbage cans are usually left outside on the picture day you'll want to hide them in your garage. If you don't have a garage you can always temporarily place them across the street while exterior photos are being taken.
16. Remove Toys
Remove all toys from the front, side, and backyard. This includes bicycles, skateboards, and any other sporting equipment.
17. Remove Pool Equipment
If your home has a pool you'll want to hide all of the pool equipment and pool chemicals in addition to any pool toys. You'll also want to make sure the pool is clean and sparkling blue.
Final Thoughts
Preparing your home for picture day when selling is a crucial step in attracting potential buyers and maximizing your property's appeal. While a professional real estate photographer can do wonders to highlight any home's features. However, the home itself has to look its best, so it needs to be decluttered, depersonalized, and staged.
By presenting a clean, inviting, and well-organized home, you can make a lasting impression on prospective buyers, which will increase the likelihood of a successful sale and a smooth real estate transaction.
If you think this article, Home Selling Tips for Picture Day! 17 Must Dos, was an interesting read and helpful, please share it across your social media platforms!
Popular "Picture Day" Questions
Do I need professional listing photos? Great real estate photographs can be the difference between selling your home and it sitting on the market. Listing photos are oftentimes the first impression a buyer or agent has of your home. While many agents might be capable of producing incredible photographs it's usually best left to professional real estate photographers. Yes, not just any professional photographer, a real estate photographer. They will know the best angles and best images to highlight your home.
What pictures to take when selling a house? When selling a house, high-quality photos should be taken of key areas such as the exterior (front and back), living room, kitchen, master bedroom, bathrooms, and any unique features like a pool or a patio. Spaces should be well-lit, clutter-free, and staged to showcase the property's best attributes when being photographed, this will help create a positive first impression for potential buyers.
How to stage a house for real estate pictures? To stage a house for real estate photographs it's important to declutter and depersonalize the space to create a clean, neutral backdrop. Arrange furniture in a functional manner, making sure there are large walking paths. Use neutral colors and add tasteful decor to create a welcoming ambiance, making the property more appealing to potential buyers. Additionally, ensure the space is well-lit and consider adding fresh flowers or greenery for a touch of freshness.
How many photographs should my house listing have? The number of photographs a listing should have will depend on the property; the size, location, and overall features. Some houses only need 25 photographs to highlight the property while others may need 50+. A top real estate photographer and Realtor will know how many photographs it'll take to showcase your home.
About the Author
Top Wellington Realtor, Michelle Gibson, wrote: "Home Selling Tips for Picture Day! 17 Must Dos"
Michelle has been specializing in residential real estate since 2001 throughout Wellington Florida and the surrounding area. Whether you're looking to buy, sell, or rent she will guide you through the entire real estate transaction. If you're ready to put Michelle's knowledge and expertise to work for you call or e-mail her today.
Areas of service include Wellington, Lake Worth, Royal Palm Beach, Boynton Beach, West Palm Beach, Loxahatchee, Greenacres, and more.
Home Selling Tips for Picture Day! 17 Must Dos