3 BIG Mistakes Sellers Make When Picking a Real Estate Agent
Hiring a listing agent to sell a home can be a complicated and confusing process. Who should a seller hire, the agent who suggests the highest list price, the one charging the lowest commission, or the neighborhood expert? The answer to this question very well could be none of them!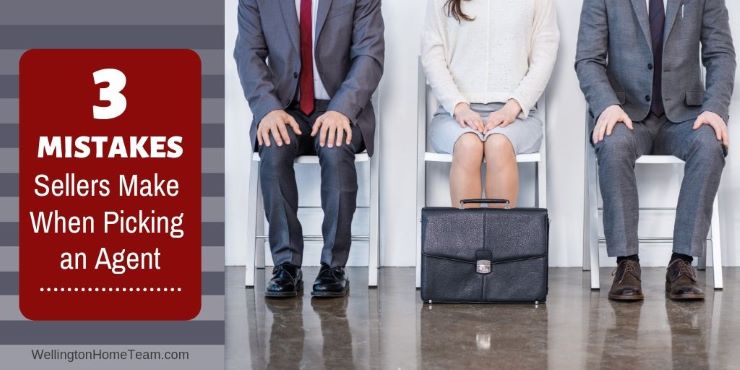 Hiring a listing agent based solely on the list price they recommend, the commission they charge, or because they send out a flier saying they're the neighborhood expert are three of the biggest mistakes sellers make when hiring an agent. Below you will be able to read in great detail why these are three of the biggest and most common mistakes sellers make when picking a real estate agent.
Top 3 Mistakes Sellers Making When Hiring an Agent
1. Highest List Price
Hiring a listing agent merely because they provided the highest list price is a big mistake. In fact, it's one of the biggest mistakes sellers make. The real estate market will dictate what a home is worth, not the listing agent. Now, a great listing agent will be able to recommend a list price based on their experience and comparables. They might also suggest home improvements that can increase a home's value.
However, if an agent walks in and throws out the highest number, but can't back it up with documentation odds are they're trying to "buy" the listing. "Buying" a listing is when an agent tells the seller what they want to hear, "I can get you more money than any agent." When in reality they will never be able to obtain that price because overpriced homes will sit on the market. So agents who use this strategy will then suggest a price reduction. At this point, they already "won" the listing and have a signed listing agreement, which often locks the seller in for 6-12 months.
So if the seller wants to sell they are forced to reduce the price to market value or be held hostage until the listing agreement expires. However, unless property value increases during this period they'll still have to reduce their list price even with a new listing agent.
Home sellers can easily make a mistake hiring a real estate agent to sell their home, here are the top 3 mistakes sellers make. #realestate #homeselling
2. Shopping by Commission
Another one of the biggest mistakes sellers make is hiring the agent who is charging the lowest commission. Just like most things in life sometimes you get what you pay for. It is imperative sellers know exactly what they're getting for the commission they're paying.
Will they cooperate with other brokers and enter the listing into the MLS?
Is the total commission split 50/50 between the listing brokerage and the selling brokerage?
Is the selling agent being offered the "going rate"?
Will professional photographs be taken?
What type of paid marketing does the agent do and for how long? Some agents will enter a listing in the MLS and rely single-handly on syndication, no additional marketing will be done. Then there are those that do pay for marketing, but only initially, not until the house sells.
Who will the seller be dealing with? Will they be passed around from the listing agent to an assistant to a transaction coordinator and back to another agent?
3. The Neighborhood Expert
Sometimes hiring the "neighborhood expert" especially those who have other active listings in the neighborhood could easily be one of the biggest mistakes sellers make. It's not uncommon for listing agents to push other agents and buyers towards the listing they've had for a while that needs to sell, not the new listing they just took. Also, what does a neighborhood expert mean?
Do they live in the neighborhood?
Do they know everything there is to know about the neighborhood; community amenities, fees, restrictions, and/or regulations?
Have they sold the most homes?
Do they have the best list-to-sales price ratio in the neighborhood?
Do they have the lowest DOM (days on market) for homes they've sold in the neighborhood?
Knowing a listing agent's experience selling real estate in the neighborhood is important. And sellers should never rule out agents who haven't sold in their neighborhood before. Sometimes they have better market knowledge, marketing, and negotiation skills than the "expert."
Final Thoughts
Sometimes choosing an agent who recommends the highest price is the best agent for the job. The same goes for those offering a discounted commission or who specialize in the neighborhood. However, sellers need to do their homework and know exactly who they're hiring.
The goal for most sellers is to choose a real estate agent who's going to obtain top dollar for their home in the shortest amount of time. Saving a couple of grand in commission could end up costing a seller tens of thousands of dollars. Some agents are about providing top-quality service and charge accordingly while others are all about quantity; take as many listings as possible, provide minimal service, and sell a home at any cost. Sellers need to decide if they're looking to make money or save money when choosing a Realtor.
Please consider spreading the word and sharing; 3 BIG Mistakes Sellers Make When Picking a Real Estate Agent
Home sellers can easily make a mistake hiring a real estate agent to sell their home, here are the top 3 mistakes sellers make. #realestate #homeselling
Additional Real Estate Advice from Top Professionals
Pricing a home to sell is a crucial part of the home-selling process. Overpriced listings will sit on the market while those priced right will sell, even in a buyer's market. Sellers need to remember one thing, if a buyer is obtaining financing the home must appraise. An appraiser is going to use recent comparables to determine the true value of a home, not what the buyer is willing to pay. It's these comparables home sellers should be going over in great detail before deciding on a list price.
While home sellers can make mistakes when hiring a Realtor they can also make several other mistakes. Mistakes like not preparing a home for sale, not making repairs, and declining showings to name a few. First impressions are a huge part of successfully being able to sell a home for top dollar, so make sure that impression is a good one.
Selecting a list price is the seller's decision, not their agent's. An agent may turn down a listing if the seller doesn't list at their suggested price, say a price well above market, but it is the seller's decision. With that being said the seller needs to make an educated decision. Sellers shouldn't have to look for signs that their home is overpriced.
About the Author
Top Wellington Realtor, Michelle Gibson, wrote: "3 BIG Mistakes Sellers Make When Picking a Real Estate Agent"
Michelle has been specializing in residential real estate since 2001 throughout Wellington Florida and the surrounding area. Whether you're looking to buy, sell, or rent she will guide you through the entire real estate transaction. If you're ready to put Michelle's knowledge and expertise to work for you call or e-mail her today.
Areas of service include Wellington, Lake Worth, Royal Palm Beach, Boynton Beach, West Palm Beach, Loxahatchee, Greenacres, and more.
3 BIG Mistakes Sellers Make When Picking a Real Estate Agent