Purchasing a home can be the single biggest purchase and investment a person makes in their lifetime. So before buying a home they should have a home inspection. The outcome will help them determine if they're going to move forward and/or request repairs if it's an option. However, before they pick up the phone to schedule the home inspection they need to be prepared to ask questions.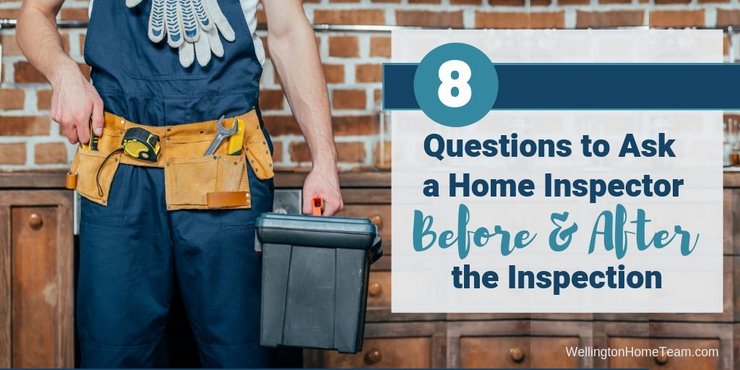 8 Questions to Ask a Home Inspector Before & After the Inspection
Before the Home Inspection
How much does a home inspection cost?
Home inspections can be costly, sometimes to the tune of $500 to $1,500 and none of it is refundable or credited back. Some home buyers question if a home inspection is really necessary especially on a newly constructed home, it is. The purpose of a home inspection is to know exactly what a buyer is purchasing and getting themselves into. Depending on the contract they may be able to have items repaired or cancel the contract altogether. So regardless of the cost a home inspection is a must and something buyers need to budget for.
What items are inspected?
Homebuyers should never assume an inspector is going to inspect the house from top to bottom and inside and out. Some home inspectors may check appliances, plumbing, electrical, windows, and roof, but not the swimming pool or septic. If a buyer needs a termite report for their lender or a wind mit for their homeowners insurance they need to ask for them. Most home inspectors offer these services at an additional cost, but not all are licensed to perform them. So it's important a buyer knows exactly what they're paying for and whether or not they need to hire additional inspectors.
Do I have to be at the home inspection?
Most inspections take place during a weekday at a time when a lot of buyers are working, so they wonder if they really need to take off of work and be there. The answer is, it depends on the buyer. Some buyers want the inspector to go over the full report in person and physically point out issues. While other buyers are fine with reviewing the report on their own, which will contain detailed descriptions and photographs. If a buyer is free and available it wouldn't hurt for them to attend the inspection.
How long will the inspection take?
Inspection times can vary, a small condo may only take 90 minutes while an estate home could take 6 hours. Yes, 6 hours, so unless a buyer wants to sit around doing nothing there is no need for them to be there the entire time. If a buyer decides to attend the inspection they can come towards the end with 30-45 minutes left. This will give them enough time to take a second look and measure, if necessary. Now, if they have contractors coming to provide estimates then they may need to be there the entire time. Once again, if they now how long the inspection will take they'll be able to plan accordingly.
There are several questions homebuyers need to ask the home inspector before the home inspection is conducted in addition to questions immediately after. #homeinspection #realestate
After the Home Inspection
What were your findings?
While most home inspectors won't provide a detailed report on site they should be able to provide a summary of their findings. Most inspectors will start with major issues and work their way down from there. Oftentimes, if it's a minor issue, like caulking, they won't mention it at the inspection, but it will be in their final report along with photographs. Although when they find major issues, like a roof leak or mold they will go into great depth of what they found.
Do I need an expert to further inspect?
Home inspectors are not superheroes, they can't see through walls nor are they experts in every single field. They may find certain issues they've seen a thousand times and can identify, so further inspection won't be necessary. While other times they may find an electrical issue they can't identify and that's when a buyer needs to ask if they should have a licensed electrician further inspect the problem. On the flip side if the inspector feels the roof needs to be replaced the buyer should get a second opinion from a licensed roofing contractor. Once again home inspectors don't know everything and some may even act like an expert when they aren't.
What items need immediate attention?
Odds are the inspector will find a laundry list of issues, some big that need immediate attention, and other items that can wait. Hazardous items need to be taken care of immediately, in some cases before a buyer even moves in.. While other items, like a leaky faucet, can wait until after moving in.
Although some home buyers plan on repairing everything found on the inspection report, but get busy, forget, and never do. Well, those little inexpensive items can turn into large expensive items. So if a buyer is a procrastinator they should have everything repaired prior to moving in. Then there are items that aren't functional at all and will need to be replaced. Depending on the item it can take days or weeks, so buyers need to plan accordingly.
What are the estimated costs for these repairs?
The costs of repairs and replacements can add up quickly when purchasing a home. So it's important home buyers know what they're in for. A majority of inspectors will be able to provide an estimate of how much it will cost to repair or replace an item. However, once again home inspectors aren't perfect, so buyers will want to get estimates for some of the more costly items.
8 Questions to Ask a Home Inspector Before & After the Inspection #homeinspection #questions
Final Thoughts
A home inspection is a must when purchasing a home!
Additional Real Estate Advice from Top Professionals
There are several things, both buyers and sellers, need to know about home inspections. From how to hire a Home Inspector to how to negotiate repairs after the inspection. An experienced Realtor will be able to guide buyers and sellers through the inspection process.
A Home Inspector will always find something during a home inspection even if the home is brand new. Some of these findings may be costly while others might be inexpensive. In addition to repair expenses, homebuyers also need to factor in other common expenses that come up after buying a home, like moving expenses.
Buying a home has many moving pieces, which will always generate questions. Some of these questions might be about financing, such as can I get a mortgage with bad credit? while other questions may be about the home inspection. Regardless of the type of question a top Realtor will be able to provide an answer. Not all agents will know the answer to every question, but they'll certainly be able to find the answer.
About the Author
Top Wellington Realtor, Michelle Gibson, wrote: "8 Questions to Ask a Home Inspector Before & After the Inspection."
Michelle has been specializing in residential real estate since 2001 throughout Wellington Florida and the surrounding area. Whether you're looking to buy, sell or rent she will guide you through the entire real estate transaction. If you're ready to put Michelle's knowledge and expertise to work for you call or e-mail her today.
Areas of service include Wellington, Lake Worth, Royal Palm Beach, Boynton Beach, West Palm Beach, Loxahatchee, Greenacres and more.