Moving Trucks VS Moving Containers | The Pros & Cons
Moving can be hectic especially if you're the one packing, moving and unpacking your belongings. Not everyone is in a position to hire a professional moving company to do this for them. So when you're in charge of your own move you might be wondering how you're going to get your belongings from point A to point B.
Decades ago the only option was to rent a moving truck or borrow a friends truck if you didn't have one. However, did you know there is now another option? Well, there is, instead of renting a truck you can rent a moving container. When faced with these two options, which one do you choose? Is a moving container better than a moving track? Which one will make your work easier?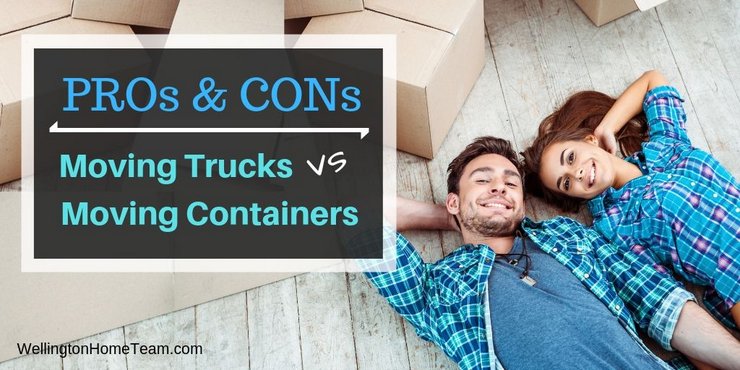 Below we take at a detailed look at these two moving options and highlight the pros, cons, and features that each one offers.
Moving Trucks
Moving trucks are perfect if you are looking to move a short distance from your current location. Packing your stuff into a truck is also easy, especially if you don't have a lot of things. In addition, it helps that moving trucks are available in different sizes, so it is easy for you to find a truck that matches your needs. The only catch is that you have to be wary of time because moving trucks are charged by the hour, which means that if you take longer to pack and unpack, you will definitely pay more at the end of the day.
Other moving truck pros and cons: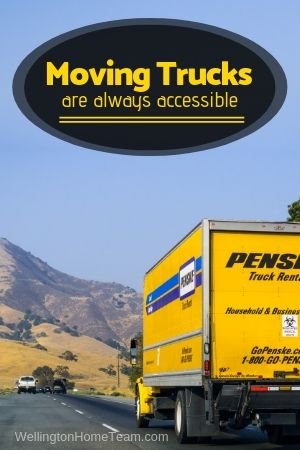 PROs
Readily available | There are countless companies that offer moving trucks for rent. From U-Haul to  Home Depot you will have several options to choose from.
Cheap | If you are on a tight budget renting a moving truck might be the way to go. You'll be able to save a lot of money packing, loading and transporting your belongings.
CONs
Cost of Damages | If the truck is damaged while you're renting it you'll be responsible to pay for damages.
Need a Driver? |  If you are not a good truck driver, you may have to hire someone to drive the truck for you. Even if you have experience with driving trucks, doing so in the middle of traffic can be quite hectic.
Accessibility | Moving trucks give a lot of accessibility, meaning that you can get to your things when and if you need them.
Hidden Costs | Moving trucks may come with hidden costs that range from gas to charges for an extra pair of hands.
Less convenient | Loading and unloading must be done within the shortest duration possible to minimize the costs.
Moving trucks and moving containers are two popular moving options, but each one comes with its own challenges. Find out what the Pros & Cons are here! #movingtrucks #movingcontainers
Moving Containers
Moving containers generally offer greater flexibility when compared to moving trucks for a number of reasons. First, you can take as much time as you want to pack your stuff into the truck. The container can be dropped at your home beforehand so you have days or even weeks to pack everything in the container.
On the same note, you can take as much time as you need to unload the container. So you won't have to rush to unpack, as is the case with moving trucks.
On the downside, moving containers are more expensive when compared to renting a moving truck. If you are hiring the container for some time, you will pay more for the additional days.
Other moving container pros and cons:

PROs

No Fuel | You won't have to worry about spending money and refueling a moving container.
No Driving | You also won't have to worry about driving a large vehicle or hiring someone to do so.
Ground Loading | Unlike a moving truck that has a lift or ramp you will be able to load everything into a moving container at ground level.
CONs
Parking Permit | Not all cities or communities will allow a moving container without a permit, which may have an additional expense.
Restrictions | Not all communities will allow moving containers and if they do the amount of time might be limited.
No Access | Once a container is closed they will be inaccessible until they get to their final destination.
Final Thoughts
From the above points, it is clear the choice between renting a moving truck and a moving container boils down to cost and convenience. So, it is up to you to make a choice based on your budget and what you are looking for in terms of convenience.
Please consider spreading the word and sharing; Moving Trucks VS Moving Containers | Pros & Cons
Moving trucks and moving containers are two popular moving options, but each one comes with its own challenges. Find out what the Pros & Cons are here! #movingtrucks #movingcontainers
About the Author
Top Wellington Realtor, Michelle Gibson, wrote: "Moving Trucks VS Moving Containers | Pros & Cons."
Michelle has been specializing in residential real estate since 2001 throughout Wellington Florida and the surrounding area. Whether you're looking to buy, sell or rent she will guide you through the entire real estate transaction. If you're ready to put Michelle's knowledge and expertise to work for you call or e-mail her today.
Areas of service include Wellington, Lake Worth, Royal Palm Beach, Boynton Beach, West Palm Beach, Loxahatchee, Greenacres and more.
Moving Trucks VS Moving Containers | The Pros & Cons