Can a Refrigerator Work Without a Water Filter?
Can I run my refrigerator without a water filter? Of course! A refrigerator can work without a water filter, but it is not recommended. Without a filter, contaminants and sediments can build up in the water lines, causing the water to taste bad and potentially causing additional problems with the ice maker.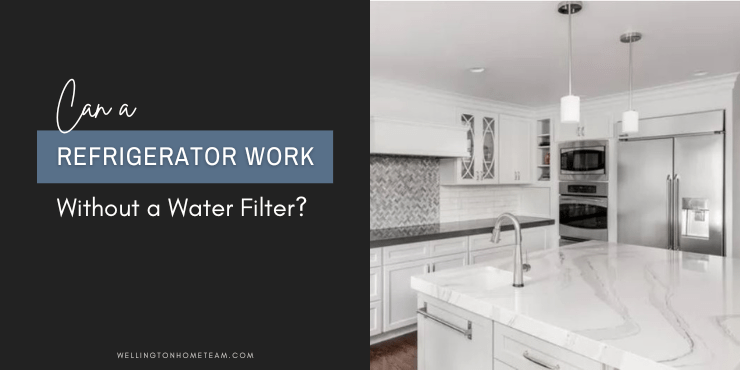 Not sure what filter your fridge uses? Sears water filters for refrigerators are one of our popular selections, which rely on activated carbon filters to filter out impurities. Check out our vast collection of refrigerator filters! We'll help you the perfect filter for your refrigerator model.
What is a Refrigerator Bypass Plug?
A bypass plug is a small device that helps divert the water from the fridge's filtration system. Without filters, water and ice water may contain contaminants, bad taste, and odor. There are certain occasions when skipping the filtration process is necessary. For instance, if you have a whole-house water filtration system that filters water long before it gets into your refrigerator.
Also, if your filters aren't making that much difference or your unit is old, you may consider skipping the refrigerator filters altogether. While it is possible for a refrigerator to operate without a filter, we do not recommend it, as it could lead to contamination of your drinking water and ice.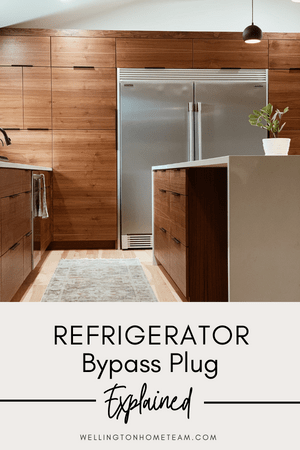 Bypass Plug Models
Most refrigerators have a water filter that can be removed to bypass filtration.
On models with a bypass plug, the plug is usually located in the refrigerator compartment and can be inserted into the filter housing to dispense unfiltered water.

Non-Bypass Plug Models
Some refrigerators do not need bypass plugs or water filters.
On models without a bypass plug, the filter is located in the base grille. The cap on the end of the removed filter can be installed onto the opening in the base grille to dispense unfiltered water.
Why and How Often Should I Change My Refrigerator Water Filter?
The refrigerator water filter is an important component of a well-functioning appliance, ensuring it continues to provide clean, clear, and safe drinking water. However, since it's responsible for filtering out sediment and other contaminants in the water, the filter will eventually become clogged. 
When this happens, a replacement filter should be installed to keep the water running cleanly and tasting as good. That begs the question, do I need to replace the refrigerator water filter? Generally speaking, manufacturers recommend changing your refrigerator filter every six months, depending on how frequently you use the filtered water setting on your fridge. 
To get an exact timeline for when to change the filter in your appliance, consult your refrigerator's manual. If you're unable to find a specific recommendation for frequency, changing it at least once a year can ensure you always have access to safe drinking water.
Are Refrigerator Water Filters Necessary?
Do I need a water filter for my refrigerator? The short answer is yes. When it comes to the question of whether or not refrigerator water filters are necessary, there are two schools of thought. On the one hand, proponents of refrigerator filters tout their ability to reduce contaminants such as lead and mercury, making drinking water safer.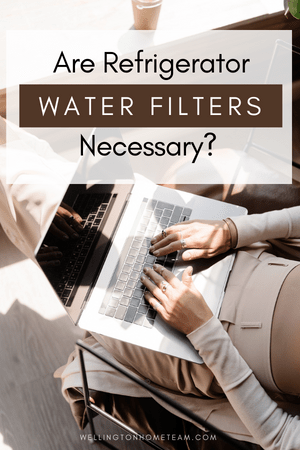 On the other hand, some people argue that a regular number 10 screened filter on the faucet provides an adequate level of filtering and that refrigerator filters are superfluous and overpriced. 
Can you run the refrigerator without a water filter? Ultimately, this decision boils down to personal preference or financial means; however, for those who want purer drinking water without the foul odors found in poorly-maintained municipal systems, filters for your refrigerator are worth considering. The bottom line is that having pure drinking is important for us all, and whatever method it takes to get there could provide many tangible benefits.
Final Thoughts
Aside from possible health implications due to contaminants in non-filtered water, it will definitely make beverages much more enjoyable knowing you're drinking clean water!  Regardless of preference or need, though, it's always a great idea to filter your drinking water to prevent potential health risks.
Please consider spreading the word and sharing; Can a Refrigerator Work Without a Water Filter?
Wondering if you can run your refrigerator without a water filter and are water filters necessary? Follow the link to read our article and find the answers! #refrigeratorfilter
About the Author
Top Wellington Realtor, Michelle Gibson, wrote: "Can a Refrigerator Work Without a Water Filter?"
Michelle has been specializing in residential real estate since 2001 throughout Wellington Florida and the surrounding area. Whether you're looking to buy, sell or rent she will guide you through the entire real estate transaction. If you're ready to put Michelle's knowledge and expertise to work for you call or e-mail her today.
Areas of service include Wellington, Lake Worth, Royal Palm Beach, Boynton Beach, West Palm Beach, Loxahatchee, Greenacres, and more.
Can a Refrigerator Work Without a Water Filter?