Top 6 Home Pricing Myths Sellers Need to Avoid
When you put your home on the market, you want to get the highest amount of money for it, as well as sell it quickly. But there are a few home pricing myths you may have fallen for. You wouldn't be alone in thinking these things, however, with many home sellers believing the same. Though if you buy into these myths about pricing a home, you could find that selling your home is more difficult and in some cases not possible.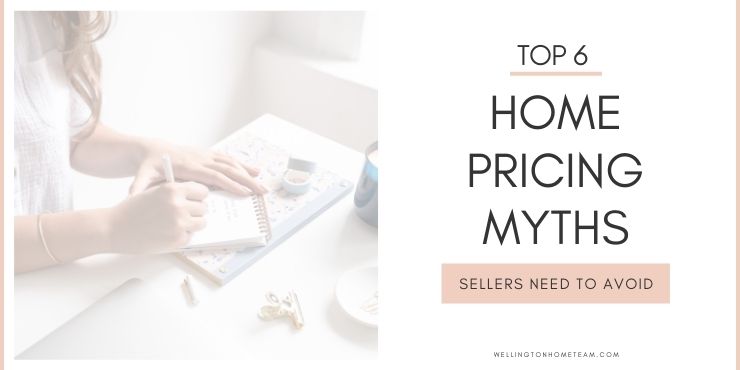 Home Pricing Myths Sellers Should Avoid
1. Receiving Offers Quickly Means the Home was Priced Too Low
If your home attracts offers quickly, it's easy to think this is a sign that it's priced too low. However, this is normally not the case.
Quickly after your home is listed, it could be seen by hundreds or even thousands of potential buyers. If your home has been priced correctly, it will attract a lot of interest straight away. Thanks to this, you could get offers on your home quickly.
This will be particularly true in a seller's market, where buyers are waiting for homes that meet their requirements, being sold at the right price. If your home has been priced competitively to attract buyers, you will start getting offers quickly.
As a seller, you are looking to get multiple offers. This puts you in a position where buyers will have to compete to get your home. This could drive up the price, but only if the starting price attracts buyers in the first place.
2. If You Wait Long Enough, a Buyer will Appear
It can be easy to assume that it doesn't matter how long your home stays on the market. After all, you will eventually find a buyer willing to purchase for the price you want if you just wait long enough, won't you? The truth, however, is the other way around. Sitting around waiting is another common home pricing myth.
The longer your home sits on the market without getting the right offer, the more difficult it is to sell. Potential buyers will look at the listing seeing that it's been on the market for a long time, and naturally assume that there's something wrong. They might conclude that it has a serious problem or that it is priced too high, either way, this is going to put them off inquiring further.
Not only that, the longer the home remains on the market, the less likely it is going to get offers the seller wants. Buyers will assume that the seller is more likely to negotiate or take lower offers because they are more desperate to sell.
Don't pin your hopes on the right buyer coming along that will pay more than the home is really worth either. This is unlikely to happen, and even if it does, you may find the sale doesn't get to closing. Since the lender will want a home appraisal, the sale could fall apart when they assess the value lower than the offer price. This will only work if a buyer is paying cash and doesn't have a home appraisal contingency.
3. Pricing Your Home Higher will Help it Sell for More
Thinking that listing your home for more than it is worth will lead to selling for a higher price, is understandable but it doesn't work. It is more likely to leave your home sitting on the market for a long time. Even a few thousand dollars over the market value can put off buyers.
Another factor can be how buyers search for properties. If your home is priced above an often chosen round number, like $300,000, and your home is on the market for $305,000, your home will be less visible to buyers. So even if your home is valued higher, it might not be advisable to list it at exactly the market value, let alone push it higher.
When it comes to pricing a home for sale there are several home pricing myths that several sellers believe and will be costly, here are the top 6. #homeselling #realestate
4. Ignoring Comparable Sales Because You Feel Your Home is Worth More
Falling into the trap of believing your home is worth more than the valuation, is another big home pricing myth. Since your home is special to you, you aren't the best person to judge its value.
A comparative market analysis carried out by your real estate agent will show what similar homes sold for. This will help provide an understanding of how much your home sale could achieve.
However, the findings of this analysis have to be adjusted to the differences of your home. Since your home probably isn't exactly the same as the others in the analysis, the price should be changed accordingly. Your property could sell for more if it has better features, more bedrooms, more bathrooms, or be on a larger lot, for example.
Your home could sell for more if there is less competition to the comparable sales. If there is more demand from buyers, you can get more for your home than it would otherwise be worth.
5. Paying Too Much Attention to Online Valuations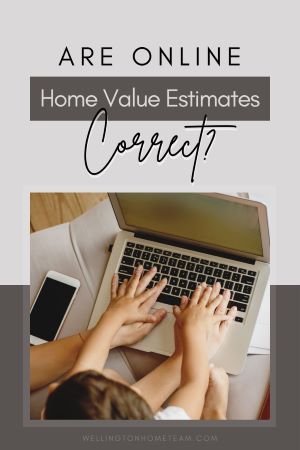 With online valuations easily available, you may think your home is worth far more than it really is. An automated valuation that uses your location and some information about your home, is never going to be that accurate, however. It isn't going to come close to the comparative market analysis from your real estate agent.
Online valuations can raise your expectations above what is realistic, leaving you unhappy with the comparative analysis. Your real estate agent will consider many more factors when finding the best price for your home.
These types of valuations can give you a general idea of what your home could be worth, but you shouldn't pay too much attention to the results.
6. Expecting the Cost of Upgrades and Renovations to Add to the Price
Another common home pricing myth is assuming the cost of renovations will completely be paid back in the sales price. You shouldn't expect the full cost of improvements you've made to be fully represented in the price you sell the home for.
While some home improvements can add value to your home, you might only find a fraction of the amount you've spent actually added to the value. Some renovations can actually have a negative effect on the price of the home, however.
Final Thoughts
It's easy to believe some of these home pricing myths, but since this is a highly important factor in selling, you need to listen to the experts. Get too drawn into some of these myths and you could find your home remaining on the market for much longer than it needs to be. In fact, it could remain on the market until your listing agreement expires and never sell.
Please consider spreading the word and sharing; Top 6 Home Pricing Myths Sellers Need to Avoid
When it comes to pricing a home for sale there are several home pricing myths that several sellers believe and will be costly, here are the top 6. #homeselling #realestate
About the Author
Top Wellington Realtor, Michelle Gibson, wrote: "Top 6 Home Pricing Myths Sellers Need to Avoid"
Michelle has been specializing in the residential real estate market since 2001 throughout Wellington Florida and the surrounding area. Whether you're looking to buy, sell, or rent she will guide you through the entire real estate transaction. If you're ready to put Michelle's knowledge and expertise to work for you call or e-mail her today.
Areas of service include Wellington, Lake Worth, Royal Palm Beach, Boynton Beach, West Palm Beach, Loxahatchee, Greenacres, and more.

Top 6 Home Pricing Myths Sellers Need to Avoid