Navigating Home Showings: Who Should Attend and Why?
When searching for a new home, attending showings is an essential part of the home-buying process. The decision of who should be present for showings holds significant importance, as it directly affects the ability to make an informed and confident decision.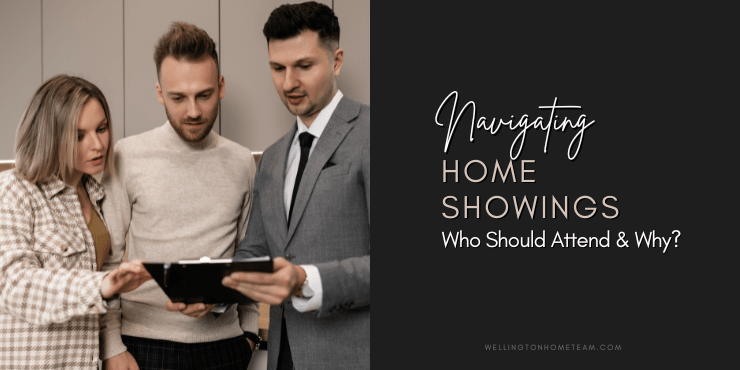 Whether you are an individual searching for your dream home or a couple embarking on this exciting journey together, understanding who should attend showings is also an important part of the home-buying process. So let's take a closer look at who should attend home showings and why.
Who Should Attend Home Showings?
Home showings provide prospective buyers with an opportunity to physically experience a property, envision themselves living in it, and evaluate its suitability. However, to ensure an optimal environment for buyers to thoroughly explore homes for sale without distractions, it is crucial to limit the attendees. Therefore, the following individuals are the only ones who should be at home showings.
Prospective Homebuyers
Home buyers should always attend showings, after all, they are the ones purchasing the property. Viewing a home in person can never be replaced with photographs or a short listing description. Remember, listing agents, are trying to get buyers through the door and sell the property. So in most cases, they are only going to highlight and market the selling features of the property, not any drawbacks it may have.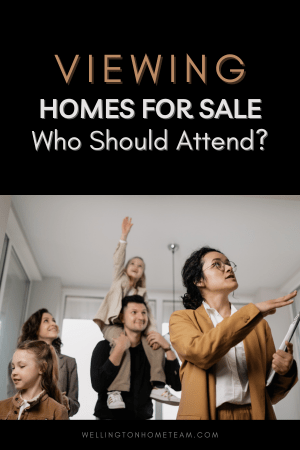 By being present for showings buyers will gain firsthand knowledge of the property. They'll have an opportunity to ask questions, seek clarifications, and address any concerns they may have. Additionally, they'll be able to physically see the layout, size, condition, and overall appeal of the property. Plus, if there is a funky smell they'll be able to smell it, which is not something that can be done by looking at photographs or a virtual tour.
Attending showings also gives buyers the chance to see exactly where the home is located, the lot, the neighborhood, and the surrounding area. Even if they are familiar with the area physically touring the home and area will help them make a confident decision when it's time to submit an offer.
Buyers Real Estate Agent
Having a trusted real estate agent by their side during home showings is highly beneficial for home buyers. Real estate agents bring professional expertise, market knowledge, and negotiation skills to the table. They will guide buyers through the entire process from start to finish.
Experienced agents also understand what to look for during showings and can point out both the positive aspects and potential drawbacks of a property. They may notice crucial details about the property's condition, layout, or neighborhood that might escape the average homebuyer's attention.
Additionally, agents can act as a buffer during showings, ensuring that conversations remain focused and professional. They can facilitate communication with the listing agent or seller's representative and help navigate negotiations, making the overall homebuying process smoother and more efficient.
Discover who should be present during home showings and the reasons behind it with this helpful home showing guide. #realestate #homeshowings
Who Shouldn't Attend Home Showings?
Home showings are an integral part of the home-buying process. They offer prospective buyers the opportunity to explore the property and soak it all in. However, the more distractions around the less likely they'll be able to truly envision themselves in the home. This could easily make a buyer less interested in a home they might have otherwise considered. Now that we've taken a look at who should attend home showings, let's look at who shouldn't attend showings.
Young Children
While it's understandable that families may want to involve their children in the home-buying process, it's usually best to leave them behind for home showings. Young children can easily get bored touring homes and may start touching things or recklessly running around.
Either way, that type of behavior is unacceptable. A seller is opening their doors to prospective buyers expecting them to respect their home. They don't expect to come home and find something broken, dirty, or worse yet missing. Yes, kids have been known to take toys or small trinkets that don't belong to them because their parents are too busy paying attention to the home and not their kids.
So it's highly recommended that buyers leave their children at home when viewing homes for sale. This will allow prospective buyers to devote their full attention to evaluating the property without any distractions. However, if leaving the kids behind isn't possible then one parent should consider staying in the car with the kids while the other parent tours the home and then switch. Obviously, it's best for both parties to view the home at the same time and discuss things as they walk through but that may not be an option.
Uninvolved Family or Friends
Bringing family and friends along to look at homes for sale might sound like a great idea but in most cases, it usually isn't. Sure Aunt Ethel may have bought a home 27 years ago but does she really understand the home-buying process and know what type of home will work best for you?
It's important for buyers to form their own opinion when touring homes for sale. After all, they are the ones who will be living in the home, so the only opinion that truly matters is their own. Having uninvolved family, friends, or acquaintances attend showings can lead to conflicting opinions and unnecessary confusion.
Plus, dragging people who aren't part of the process through a seller's home is flat-out rude. Private showings are not open houses where anyone and everyone is welcome. Buyers need to focus, explore homes at their own pace, and make a decision based on their own preferences and needs, not somebody else's.
Pets
While our furry companions are an essential part of our lives they need to stay at home when viewing homes for sale. Even if the buyer has an emotional support dog, therapy dog, or service dog, which may not be considered a pet, they should never assume it's ok to bring them along for showings because it might not be.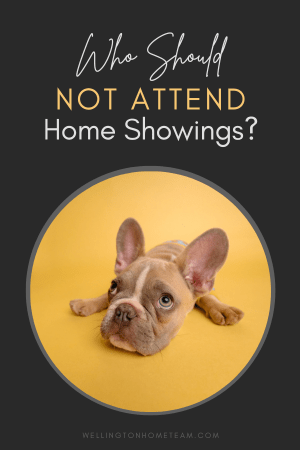 Some sellers may have severe pet allergies, so regardless of the circumstances, they may not want a dog in their home. Plus, the seller may have a pet and another pet entering their space may create issues, even if they don't meet face to face.
Sure, a buyer may truly need their service dog, but prior to scheduling an appointment it needs to be discussed and approved by the seller. This isn't a store where all service dogs are welcome, this is someone's home and their service dog might create health problems for the people who reside there.
If the buyer's dog wasn't trained to be a service dog and complete a specific task they need to stay home or outside in the car. A discussion shouldn't even be had with the seller about whether or not a buyer's pet can be brought into their home, it's an unnecessary liability.
Home Sellers
When it comes to home showings, home sellers should never be present, it can create an uncomfortable and awkward atmosphere for potential buyers. Even if the seller isn't following the buyer around they may still feel hesitant to explore the property freely.
A seller's presence can also make it challenging for buyers to envision themselves living in the space and envisioning their own personal touches. Furthermore, it can prevent a candid discussion between buyers and their real estate agents. When a seller isn't around buyers won't feel pressure to hurry up and they'll be able to focus on the home, not where the seller is.
Listing Agents
While some sellers think their listing agent needs to be there for every showing to "sell" the home and give prospective buyers a tour in most cases they are not needed and should not be in attendance. Just like sellers being present for showings, when listing agents are present for showings they can prohibit buyers from exploring the property freely and openly discussing it with their agent.
Plus, when the listing agent needs to accompany all showings the seller could easily lose out on showings because their agent isn't available when the buyer and their agent are. Unless the property is unique or a luxurious estate where features need to be pointed out and shown there is no reason for the listing agent to be in attendance.
Curious Onlookers or Casual Visitors
Home showings should be reserved for individuals who are actively engaged in the home-buying process. Curious onlookers or casual visitors, who have no genuine intention of purchasing a home, should avoid attending showings.
Most sellers go to great lengths to prepare their home for a showing, they should not be jumping through hoops for someone who has zero intention of buying their home. Not only can a casual visitor be disruptive to the sellers day to day life, but the seller may lose an appointment with an actual buyer because a looky lou decided to book an appointment. Folks who want to explore properties without actually buying should stick to attending open houses or looking at model homes.
Final Thoughts
Attending home showings is an essential part of the home-buying process, and the presence of key individuals is crucial for a successful experience. Prospective homebuyers and their agent should be in attendance for all showings, so they can gain firsthand knowledge of the property and make an informed decision.
All other parties need to sit this one out and not attend showings, this includes young children, family members, friends, pets, the seller, and the listing agent. Buyers need to be able to freely walk through the property with no distractions, so they can envision themselves living there and deciding if it's going to work for their specific needs and wants.
Please consider spreading the word and sharing;  Navigating Home Showings: Who Should Attend and Why?
Discover who should be present during home showings and the reasons behind it with this helpful home showing guide. #realestate #homeshowings
Popular Questions About Home Showings
If a Realtor shows me a house do I have to use them? No, in most cases, you are not obligated to use the Realtor who showed you a house. While the Realtor may have provided you with information and assistance during the viewing, you have the freedom to choose any Realtor or real estate agent you prefer to work with. With that being said it's important to communicate your decision clearly and respectfully to the Realtor if you decide to go with another agent, as professional courtesy is appreciated in such situations.
Should my Realtor be showing my house? Whether or not your agent should be showing your house depends on your home. Is it a standard home or is it a luxury estate? Also, what is common in your real estate market?
In most cases, listing agents or sellers being home for showings is frowned upon. Plus, it's one more person to coordinate a showing with. So when some buyer's agents see the showing instructions stating "list broker must accompany showings" they may skip that listing if they are trying to coordinate multiple showings. However, for more luxurious or unique homes it may be best for the listing agent to attend showings.
When is the only time you can refuse to show a property to a potential home buyer? A home seller can refuse showings whenever they like. However, it can be impossible to sell a home if the seller refuses to allow showings.
About the Author
Top Wellington Realtor, Michelle Gibson, wrote: "Navigating Home Showings: Who Should Attend and Why?"
Michelle has been specializing in residential real estate since 2001 throughout Wellington Florida and the surrounding area. Whether you're looking to buy, sell, or rent she will guide you through the entire real estate transaction. If you're ready to put Michelle's knowledge and expertise to work for you call or e-mail her today.
Areas of service include Wellington, Lake Worth, Royal Palm Beach, Boynton Beach, West Palm Beach, Loxahatchee, Greenacres, and more.
Navigating Home Showings: Who Should Attend and Why?