11 Tips for Creating a Timeless Baby Nursery
For most first-time parents to be, decorating the baby nursery is going to be an exciting, but daunting prospect. You want to create a room that is a welcoming, safe, and cozy environment for your newly born. Where do you start? What should you buy? Should you create a theme or keep it simple?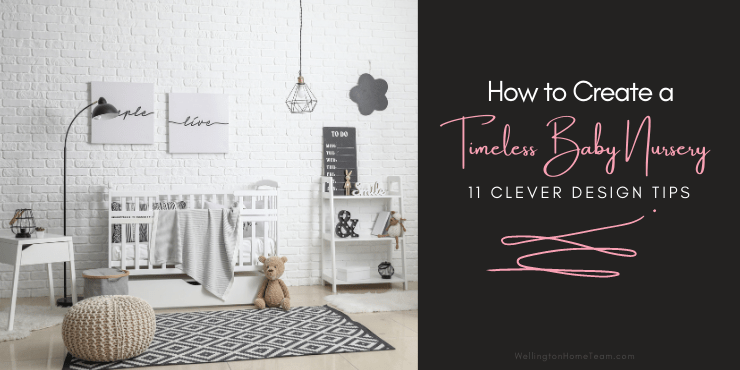 Designing a baby nursery can be overwhelming. However, here are some tips that will help you create a nursery with timeless appeal. A nursery your baby will be able to grow into.
Painting the Baby Nursery
Choosing the color of your nursery isn't the only important decision, you need to make sure you buy the right paint. The room should be painted in non-toxic paint, and the same should go for the crib. In fact, anything else that could be chewed by your child needs to be painted in a safe coating.
You should choose a neutral color for the nursery, instead of selecting bubble gum pink or blue. Color can affect all of our moods, and this includes your baby. Avoid strong colors like red that could increase aggression or lots of yellow that can over-stimulate babies. Neutral colors can be more soothing for your infant. Decals on the ceiling will give the baby something to focus on while they are lying in the crib.
Neutral Themes
While it can be fun to create your nursery with a theme, it is often better to keep things neutral. You can add accessories to make the room more fun for the baby, and it will then be easier to make changes to reflect the growing child's interests.
You can make the room more interesting with the use of artwork, accent decor, or furniture. If your baby nursery seems a little bland, some colorful furniture, rugs, bedding, or accessories can make a huge difference.
Choosing a Crib
There is more to consider when choosing a crib than you might imagine. Buying a crib that adapts to the child's growth will save you money. Some cribs will allow one side to be removed and replaced with a toddler rail. This should prevent your toddler from falling out of bed while still allowing them to get up to use the bathroom.
Some cribs offer multiple conversion options, allowing you to gradually convert the crib into a full-size bed. This may require purchasing conversion kits, but it will be cheaper and easier than buying a completely new bed frame as your child grows.
Cribs that allow the adjustment of the mattress height can help when the baby begins to stand. This will let you change the height so the child can't make an escape. Don't purchase crib bumpers, though they may seem like a good idea to protect your baby, they have been linked to increased risk of SIDS.
Don't Go Changing
While it will be tempting to buy a changing table, it isn't worth a purchase for the little amount of time you will use it. A majority of changing tables cost between $100-$300, and their only use is for changing your baby.
Since your baby will outgrow the need for it quickly it will be better to invest money into a regular dresser and use a changing pad. You may even notice the dresser options for nurseries is becoming more and more geared towards this option.
Lighting the Nursery
Something that can be easily overlooked, is the effect lighting can have on your baby. Choose soft lighting in the nursery, with dimmers for the main light, and lamps that can create some ambient light.
With less harsh lighting, you will find it easier to get your baby back to sleep after they've woken you up in the early hours of the morning. A nightlight can also provide comfort to a child that is scarred by monsters in the dark.
How to Create a Timeless Baby Nursery | 11 Clever Tips #babynursery #homedecor
Somewhere to Sit
Buying a rocking chair or glider to go in your nursery gives you somewhere to nurse or bottle-feed. It should be comfortable, adding to the cozy feel of the room. It gives you somewhere suitable to sit with your newborn and can be moved to another room of the house later on.
Crib Mobiles
Babies love to have some movement to focus on, so position a mobile near the crib. Make sure it is out of reach so there isn't a risk of them pulling it, and it breaking. This could lead to a choking hazard since they will inevitably put it in their mouth. When fitting a mobile, make sure it is held strongly to the ceiling without the chance of it falling.
You don't necessarily need to buy a mobile, anything eye-catching that can move will work just as well. If you have a ceiling fan, as well as regulating the temperature and reducing the chance of SIDS, your baby will like watching it spin.
Window Treatments
If the room benefits from direct sunlight, you will especially need curtains or blinds to help your baby sleep and prevent the room from becoming too warm. Roman shades are an ideal choice, but be wary of blinds with strings as they can be a strangulation risk.
Avoid curtains or drapes that are positioned where your baby might attempt to climb them. Also, don't choose curtains with decorative cording that could be pulled off. Whatever window treatments you choose, make sure they are properly installed so that they can't fall on your child.
Soft Floors
You can make the room better for your baby with a soft rug on the floor. This will become somewhere for them to play on and a different texture to the rest of the floor. Choosing a woolen rug is a good choice, as it will be easily cleanable with a low pile. You can also add cushions and some sheepskins to increase the softness of the baby nursery.
Creative Storage
If you are a first-time parent, you will quickly discover that you need a lot of things for the baby. There will also be many toys, and all of these things need to be stored somewhere.
The more creative you can get with your storage space, the better. From closet organizers to furniture pieces with multiple purposes, you'll need the extra space.
How to Create a Timeless Baby Nursery | 11 Clever Tips #babynursery #homedecor
Making Things Baby Proof
Once your baby starts to crawl, you will need to make sure you've made the room safe for them. Anchor furniture to the wall if it can be pulled over by a climbing baby, and the same goes for anything heavy that is on the furniture. Childproof locks on drawers can help reduce the danger.
Furniture with glass doors isn't ideal, and cupboard doors or chest lids that could slam shut should be removed or locked.
Purchase electrical outlet covers to prevent your baby from finding out what will happen if they stick their fingers into the outlet. Make sure electrical cords are out of the way and can't be pulled on.
Final Thoughts
Designing a calm timeless baby nursery doesn't have to break the bank or be stressful. Just remember to think ahead because babies grow fast and before you know it they'll be in elementary school. So unless you plan on redesigning their room often you'll want to follow the 11 clever design tips we provided.
Please consider spreading the word and sharing; How to Create a Timeless Baby Nursery | 11 Clever Tips
Decorating a baby nursery is exciting but can be a daunting prospect. You want to create a welcoming, safe, and cozy environment for your baby. Here's a how-to guide for creating a timeless nursery. #babynursery #howto
About the Author
Top Wellington Realtor, Michelle Gibson, wrote: "How to Create a Timeless Baby Nursery | 11 Clever Tips"
Michelle has been specializing in residential real estate since 2001 throughout Wellington Florida and the surrounding area. Whether you're looking to buy, sell, or rent she will guide you through the entire real estate transaction. If you're ready to put Michelle's knowledge and expertise to work for you call or e-mail her today.
Areas of service include Wellington, Lake Worth, Royal Palm Beach, Boynton Beach, West Palm Beach, Loxahatchee, Greenacres, and more.