Awesome 9 Step Guide for Submitting an Offer on a Home
You finally found the perfect home and want to submit an offer, but aren't sure what to do next. If you're working with a top Realtor they will certainly guide you through the process. However, it never hurts to understand the process and be prepared for the steps it takes to submit an offer.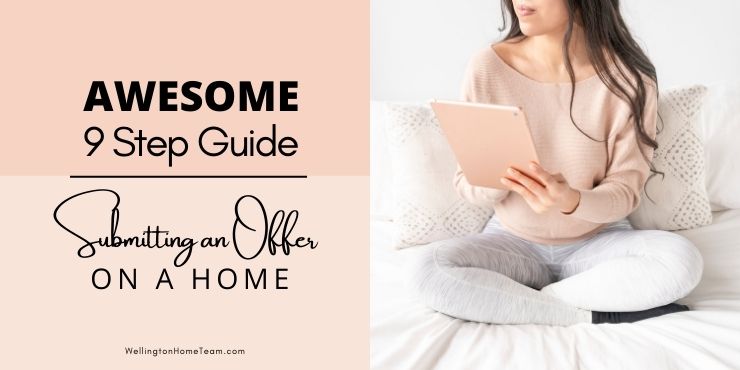 9 Steps to Submitting an Offer
Step 1: Proof of Funds
Whether you are paying cash or obtaining a loan you will need to submit proof of funds with your offer. If you're paying cash a letter from your bank or a bank statement showing you have the funds available should be acceptable. If you're obtaining a loan you will need a written mortgage pre-approval letter, not pre-qualification.
Odds are your real estate agent requested your pre-approval letter or proof of funds prior to showing you homes. However, you should still have it readily available regardless if your agent has a copy of it.
Step 2: Legal Names
Legal names for all parties who will be purchasing the home need to be provided and listed on the offer. Not everyone goes by their legal name and if you're one of those people you need to let your agent know. Otherwise, they may not prepare the offer correctly. So make sure to provide them with your legal name listed on your drivers license or state id.
Step 3: Purchase Price
How much do you want to offer? While your agent may recommend an offer price the decision is ultimately up to you. So you should review recent comparables, take the current market conditions into consideration, and come up with an offer price that you're comfortable with. A number you won't lose sleep over or kick yourself if you lose out to another buyer.
In some cases, you may have days to prepare and submit an offer. While other times the market is so hot you may have to make a decision on the spot as you're looking at the home.
Step 4: Escrow Deposit
An escrow deposit will need to accompany your offer or be collected shortly after if it is accepted. The amount of money buyers put in escrow varies from area to area, but the average is 2%-3% of the purchase price. If you are in a competitive real estate market you may want to put even more money in escrow.
The reality is even if you're obtaining 100% financing you'll still need to pay closing costs, which can easily be 2% – 3% of the purchase price. So showing the sellers you have the funds and putting this small percentage in escrow shouldn't be an issue.
If you don't have the funds for your closing costs or down payment when you make the offer, but expect to receive them in time for closing you should rethink looking at homes. Sellers want ready, willing, and able buyers, not buyers who may or may not have the funds to purchase their home.
Step 5: Inspection Period
One of the most crucial parts of the home buying process is having a home inspection. Every real estate contract will have a section dedicated to the inspection period, which most will have a default time period. However, you can shorten or extend this period.
If you are in a competitive real estate market shortening a contingency period, like the home inspection period, might just set your offer apart from the others. While it's never wise to skip the home inspection, most buyers don't need 15-30 days to have the inspection, review the report, and obtain estimates, and/or second opinions. You should definitely have a home inspection checklist to ensure everything gets done in a timely and efficient manner.
If you're entering the real estate market at some point you'll have to submit an offer and here is a detailed 9 step guide for submitting an offer. #homebuying #realestate
Step 6: Financing Period
Will you be paying cash or obtaining financing? If you're obtaining financing you'll have the option to make your home purchase contingent on obtaining a loan. The average loan contingency period is 30 days, but this is something you'll want to discuss with your loan officer. The last thing you want is a 14-day loan commitment and your lender not be able to meet this due date.
Just keep in mind the longer the contingency period the longer you're protected, but in a seller's market the longer the contingency the more likely you'll lose out to another buyer. Once again this is where you can rely on your loan officer and Realtor to educate and guide you.
Step 7: Closing Date
When do you want to close on your new home? While in some parts of the country you will have the option to put "on or about/before" in other parts you'll have to put a specific date.
Once again if you're in a competitive real estate market it's always wise to accommodate the seller's preferred closing date. However, if you're obtaining a loan you'll need to make sure your lender can meet the closing date.
Step 8: Additional Inclusions and Exclusions
Every real estate contract will have some automatic inclusions in the sale, such as the kitchen range and dishwasher. It's important to understand what appliances and fixtures are included and which ones are not. If there is something you want, like the pool cleaning equipment, make sure to include it in your offer. Never assume something is included.
Also, don't forget to include items like garage remotes or HOA docs. While most sellers will leave them, some may not even have them and it could cost you hundreds of dollars to replace. So once again if there is something you want to be included in the sale spell it out. This way you will avoid any surprises at your final walkthrough.
Step 9: E-Mail Address
The last step in submitting an offer is to sign the offer. A majority of agents will use electronic signing programs, such as DocuSign, so they will need an e-mail address for every signer. You certainly can sign the offer with a pen, but unless you are sitting next to your agent you will have to print, sign, scan, or fax back, which can take time and be an inconvenience.
Final Thoughts
Buying a home will be one of the most exciting times in your life, but it can always become one of the most stressful things you do. So it's always wise to be prepared and educated as much as possible prior to starting your home search. By doing so you will avoid a lot of unnecessary anxiety and stress.
Please consider spreading the word and sharing; Awesome 8 Step Guide for Submitting an Offer on a Home
If you're entering the real estate market at some point you'll have to submit an offer and here is a detailed 9 step guide for submitting an offer. #homebuying #realestate
About the Author
Top Wellington Realtor, Michelle Gibson, wrote: "Awesome 8 Step Guide for Submitting an Offer on a Home"
Michelle has been specializing in residential real estate since 2001 throughout Wellington Florida and the surrounding area. Whether you're looking to buy, sell, or rent she will guide you through the entire real estate transaction. If you're ready to put Michelle's knowledge and expertise to work for you call or e-mail her today.
Areas of service include Wellington, Lake Worth, Royal Palm Beach, Boynton Beach, West Palm Beach, Loxahatchee, Greenacres, and more.
Awesome 9 Step Guide for Submitting an Offer on a Home