How to Sell Your Home Fast in 2021 | 9 Ultimate Tips
Are you getting ready to list your home for sale in 2021? If so you probably want to sell your home quickly and for top dollar because who really wants to be inconvenienced with showings and strangers walking through the home? The answer is nobody and here are 9 tips for how to sell your home fast without leaving money on the table.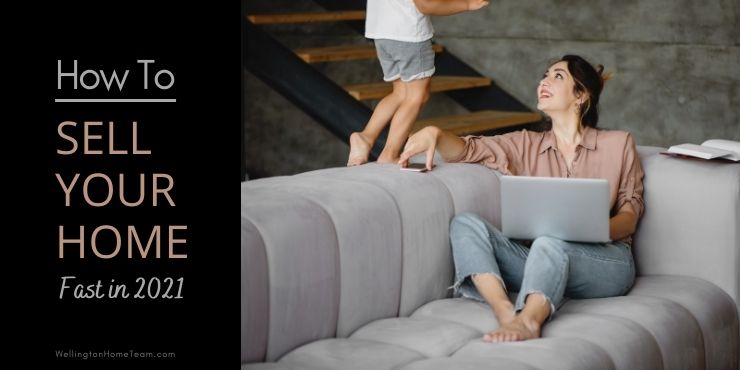 How To Sell Your Home Fast | 9 Tips for a Quick Home Sale
Make Repairs
Prior to listing your home for sale address any repairs you've been putting off. If a home buyer sees repairs that need to be made they might start questioning how well your home has been maintained and wondering what they're not seeing.
If you aren't sure what items need to be repaired you may want to have a pre-listing home inspection. By repairing items ahead of time it can eliminate possible repair issues with homebuyers. However, if you decide to go this route just keep in mind every home inspector is different, so their findings will be different. Also, you will have to disclose all major issues like plumbing or roof leaks.
Stage to Sell
First impressions are everything so it's imperative your home shows like a model. Deep clean, declutter, depersonalize, organize, and rearrange or remove furniture is a must. Buyers will look in closets and cabinets, so make sure they can see the space. If you can't walk into your walk-in closet it's time to start packing.
If your walls are drab and dingy or every room is a different color you may want to consider painting your interior a neutral color throughout. Paint is one of the most inexpensive ways to improve the appearance of your home, even if you hire a professional. Making your home move-in ready is key to selling for top dollar!
Hire a Top Realtor
How to Sell Your Home Fast in 2021 Tip #6. Who you hire will be one of the biggest factors in how quickly your home sells along with the amount. You want to hire a top Realtor who is experienced, a master negotiator, knows the real estate market, has an incredible marketing plan and pricing strategy. Everyone knows at least one Realtor or will know someone who can refer you to one.
However, unless you've previously worked with an agent and know they are at the top of their game you will want to interview multiple agents, including the ones you know or have been referred to you.
Don't shop by commission! Are you looking to save money or make money? A top Realtor will pay for themselves. You need to focus on what's included in the real estate commission, look at the agent's track record, their experience, and know how hands-on they will be. Are they the front person and going to pass you off to an assistant or will you be dealing with them the entire time?  Oftentimes you get what you pay for in real estate.
Getting ready to list your home for sale in 2021? If so here are 9 tips on how to sell your home fast and for top dollar. #homeselling#homeselling #realestate
Pricing
The number one mistake home sellers make year after year is overpricing their homes. Statistically overpriced homes will not only take longer to sell but will also sell for less money. Just because you "want" or "need" to sell your home for a certain amount doesn't mean a buyer is going to pay it or even care about your wants or needs.
In a hot real estate market, which most areas are currently experiencing, it is impossible to underprice your home for most. In fact, if you have a great pricing strategy in place your home will receive multiple offers, which will drive the price up, and in some cases well above comparable sales. This is a great position to be in and you'll be in the driver's seat, not the buyer.
MLS Listing
The MLS listing for your home is most likely going to be the first impression for buyers and agents. So it needs to be captivating and get buyers through your front door.

Your home should have professional photographs, regardless of the price point. The MLS description for your home also needs to be detailed and enticing to prospective buyers. A "4 bed, 2 bath pool home" doesn't cut it. The description needs to make buyers feel like they're walking through your home and know what the area has to offer.
How close are the schools? How about shopping? The interstate? Beaches? Does your home have a new roof? New appliances? The more details the better!
Professional photographs and a detailed description will be part of any top Realtors marketing plan at their expense. Oh, if rain is delaying your photoshoot wait!!! Do not list your home with no photos, it's another costly mistake.
Easy Access
How to Sell Your Home Fast in 2021 Tip #6. If a buyer can't see your home they certainly can't buy it. So two things need to happen. One, your agent needs to make it easy for agents to obtain showing instructions. Two, you need to make it easy to show. The more restrictions the more showings you will lose.
Having your listing agent accompany showings isn't necessary unless you're at a certain price point or have a custom home that needs explaining. It's difficult enough for a buyer's agent and a buyer to coordinate their schedule let alone add a 3rd party. Agents don't need other agents to point out where the linen closet is, we can see that. Nor do we need them to tell us how old the appliances are, that should be in the MLS.
Plus, there's Covid-19, it's hard enough to show a home to a couple, another obstacle isn't necessary. If you want your agent there purely for security reasons because your valuables or guns laying around remove them prior to listing. If you have pets, take them with you, board them, or make other arrangements.
Also, don't advertise time restrictions. A lot of sellers need 24-hour notice especially if they are selling with kids and/or pets, but advertising 24-hour notice can cost you showings. Say you have a showing on Tuesday at noon and another agent wants to show Tuesday at 12:30 pm, but it's 6:00 pm on Monday. Guess what? They may abide by the 24-hour notice and not even try to schedule it. If your agent uses an online system they most likely can't try scheduling an appointment because 24-hours will automatically be blacked out.
Leave for Showings
In addition to your agent not being around for showings, you need to disappear as well. Buyers need space, they need to envision themselves living in your home. Sellers and listing agents usually make buyers uncomfortable. So they will rush through your home, missing features, or too busy paying attention to you, not your home. Plus, they won't speak freely with their agent.
Skip Shoe Removal
Do you want agents and buyers to remove their shoes before entering your home? If so provide them with shoe covers and a place to sit so they can put them on. While your home may be super cleaned, it may not be considered clean to others.
I've encountered dirty homes where shoe removal was required and nobody wants their clean feet to walk on dirty floors. Also, some people have holes in their socks, ugly, or smelly feet, and will be embarrassed if they're forced to remove their shoes.
Entertain All Offers
If you receive an offer on day one for 20%  your knee-jerk reaction will probably be "NO!!!!" and ignore the offer. Well, that offer could be "the" offer and come up in price. Sometimes buyers don't listen to their agent's recommendations and want to "try" at a certain price. So remove the emotion, don't be offended, and counter, even if it's a full-price counter. I've received so many low ball offers as a listing agent and in some cases that low offer turned into the winning offer.
Final Thoughts
How to sell your home fast doesn't have to be difficult. By following these tips you'll improve your chances of selling your home fast and for top dollar. One of the biggest keys is hiring a top Realtor, a trusted advisor, who will guide you through the process from start to finish. They know what homebuyers are looking for, what improvements you should make, provide staging advice, pricing recommendations, and more!
Please consider spreading the word and sharing; How to Sell Your Home Fast in 2021 | 9 Ultimate Tips
Getting ready to list your home for sale in 2021? If so here are 9 tips on how to sell your home fast and for top dollar. #homeselling#homeselling #realestate
About the Author
Top Wellington Realtor, Michelle Gibson, wrote: "How to Sell Your Home Fast in 2021 | 9 Ultimate Tips"
Michelle has been specializing in residential real estate since 2001 throughout Wellington Florida and the surrounding area. Whether you're looking to buy, sell, or rent she will guide you through the entire real estate transaction. If you're ready to put Michelle's knowledge and expertise to work for you call or e-mail her today.
Areas of service include Wellington, Lake Worth, Royal Palm Beach, Boynton Beach, West Palm Beach, Loxahatchee, Greenacres, and more.