How to Prepare Your Home for a Real Estate Photo Shoot
When selling your home, the presentation is all-important. First impressions are lasting and will have a significant effect on how quickly your home sells. The first thing a potential buyer will see is the photographs taken of your property. Based on these images alone many buyers will decide if they want to see your home or skip it, so it's imperative to know how to make your house look good in photos.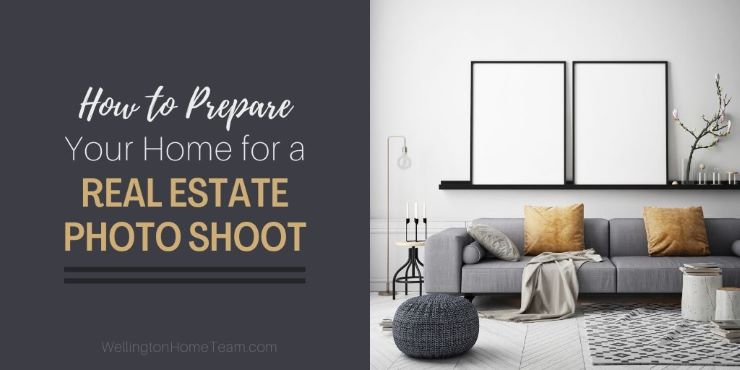 Valuable Staging Tips for Real Estate Photos
Preparing for picture day is something easily overlooked, especially for sellers who maintain a tidy home. However, just because a home is immaculate doesn't mean it's photo-ready. There are certain steps that need to be taken in order to produce the highest quality real estate photographs. Let's look at the things you need to think about when staging a home for real estate photos.
Throughout the Home
There are some general things you need to attend to throughout the home:
Clean the windows; the photographer might want to shoot the view out of the window. Even if this isn't the case, the windows will appear in a lot of your photos.
De-clutter; having too much furniture in a room will make it look smaller than it really is and it won't photograph well. Remove furniture and make sure your normal household clutter isn't left lying around to make the place look untidy.
Remove throw rugs and runners from the kitchen, bathrooms, and entryways to make the home look less cluttered.
Go around the home checking for burned-out light bulbs as these will need to be turned on for the photos.
Hide any electrical cords as best you can. They will stand out and look untidy in the photos.
The Exterior of the Home
Depending on the outside space your home has, this could be a very important area to focus on:
You should make sure your vehicles aren't parked on the driveways or directly in front of the home.
Hide the garbage cans from view as they aren't going to attract buyers.
Make sure garden tools, including hoses and sprinklers, are put away.
Don't leave children's toys, bikes, and other items, in the driveway or yard.
If you have a pool, clear away any toys or cleaning equipment.
Mow your lawn and make sure it is neat.
Sweep your patio and driveway.
First impressions are everything when it comes to selling a home, so make sure the real estate photo shoot counts because photographs matter. #realestate #homestaging
The Kitchen

It is one of the most important rooms in the home, so you need to make sure it looks good for the photo shoot:
De-clutter; removing the smaller appliances and anything that makes the room look untidy. Things like toasters, coffee pots, knife blocks, and anything extra in the kitchen that doesn't need to be there should be put away.
Remove anything you have stuck on the front of the refrigerator. It may look homely, but it also looks untidy.
Clean the appliances on the day of the photo shoot; the refrigerator, oven, and range hood. You don't want dirty marks showing up in the photos.
Bathrooms
Potential buyers are going to expect to see clean and sparkling bathrooms, don't disappoint them:
Remove your personal items from countertops; toothbrushes, soap, tissues, lotions, makeup, and anything else that need not be there.
Don't leave soap, shampoo, or other products in the shower or bathtub.
Don't forget to put down the toilet seat lid in every bathroom.
Make sure to clean the mirrors.
Place fresh towels neatly folded in the bathrooms.
The Living Area and Family Room
They may be the parts of the home you like to relax in most, but you don't want them to look too relaxed and untidy in the photos:
Remove any newspapers and magazines.
Hide the remote controls and make sure any cables are concealed as well as possible.
De-clutter your bookshelves, tables, and cabinets.
Remove your trash cans, hide them away in a closet.
The Bedrooms
You should obviously make sure the beds are made before the photographer arrives on picture day, but there are a few other things you need to check:
Put your clothes away, so they don't make the room look untidy.
Tidy your shelves and clear your bedside tables of everything.
Organize your closets, and depending on the number of items you have it might be wise to pack away at least half of your belongings. Closet and storage space is important to a majority of home buyers.
Final Thoughts
While all this might seem like a lot to do, you don't need to do everything on this list. But if you follow as many of these suggestions as possible, you will reap the benefits of a successful photo shoot with better photos that really sell your home to its full potential.
Properly preparing your home for the day of the photo shoot is extra work at an already busy time, but when it could make a positive difference in selling your home, it could be worth thousands of dollars to you.
Please consider spreading the word and sharing; How to Prepare Your Home for a Real Estate Photo Shoot
First impressions are everything when it comes to selling a home, so make sure the real estate photo shoot counts because photographs matter. #realestate #homestaging
Additional Home Selling Resources
Are professional real estate photographs necessary to sell a home? Not only does the appearance of a home matter but so do the photographs. A home can be picture-perfect, but none of that perfection will be captured with a camera phone. Professional real estate photographers are just that, pros at what they do. From knowing the best time of day to do a photo shoot to lighting to furniture placement to the perfect angle, this is their area of expertise. So yes, in most cases, professional real estate photographs are a must.

While professional photographs are a must they are just the tip of the iceberg when it comes to selling a home for top dollar. 12 top listing agents share their secrets to selling homes, secrets every seller needs to know about. From deciding on the correct price to hiring the right agents there are many decisions you'll need to make. These decisions can positively or negatively impact your home sale.
Sellers should never underestimate the value of staging a home. In addition to professional photographs staging your home is another key component. Furniture placement matters for photographs along with the overall staging, which there are plenty of ugly staging mistakes sellers can make. Prior to picture day walk through your home with your listing agent to see if there is anything else you need to do.
About the Author
Top Wellington Realtor, Michelle Gibson, wrote: "How to Prepare Your Home for a Real Estate Photo Shoot"
Michelle has been specializing in residential real estate since 2001 throughout Wellington Florida and the surrounding area. Whether you're looking to buy, sell or rent she will guide you through the entire real estate transaction. If you're ready to put Michelle's knowledge and expertise to work for you call or e-mail her today.
Areas of service include Wellington, Lake Worth, Royal Palm Beach, Boynton Beach, West Palm Beach, Loxahatchee, Greenacres, and more.
How to Prepare Your Home for a Real Estate Photo Shoot