When a seller finds out they received an offer on their home they are usually excited. However, sometimes that excitement quickly fades when they find out it's a low ball offer. Some sellers are so disappointed or angry they refuse to counter or even reject the offer. Although sellers need to realize a written offer is the start of negotiations. It doesn't mean the buyer isn't willing to come up to a purchase price that's acceptable to the seller.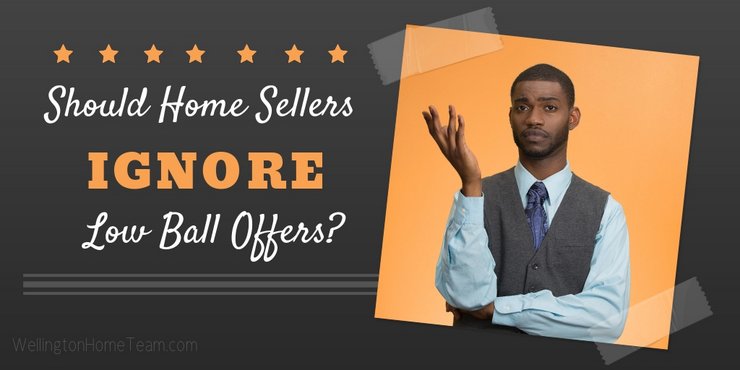 So should a home seller ignore low ball offers? No, and here are a few things sellers should ask themselves before ignoring or responding to a low ball offer.
Pricing
Is your home overpriced? If so the offer may not be a low ball offer at all. This is where a top listing agent comes into play, they will be able to educate you about the current market conditions; review recent sales in addition to the current competition. Just because your neighbor sold for a certain amount doesn't mean you'll get the same or more because you think your home is "better." There are so many factors that determine what a home is really worth, but when it comes down to it a home is only worth what a buyer is willing to pay and/or appraise for if the buyer is obtaining financing.
Losing Time
Countering only takes a few minutes, so what do you have to lose by countering? Some buyers want to "try" submitting a low offer hoping to get a deal, but sometimes a counter, even if it's a full-price counter will open their eyes. It's not uncommon for buyers who submit low offers to significantly increase their offer to market value and sometimes even higher.
Emotions
Are you being irrational? What you consider a low ball offer might not be a low ball offer at all. So it's best to set your emotions aside and look at the facts. Sure, over the years you've spent money making improvements to your home.
But it doesn't necessarily mean a buyer is willing to pay more for your improvements. In fact, some home buyers may deduct for your improvements because they don't like them and will have to spend money making renovations. While it's certainly easier said than done sellers need to remove emotion when responding to an offer.
Final Thoughts
If you receive an offer, regardless of the price, take a deep breath and come up with a game plan with your listing agent. Oftentimes sellers discount a lowball offer thinking it's a waste of their time when in reality that lowball offer might turn into their best offer.
Please consider spreading the word and sharing; Should Home Sellers Ignore Low Ball Offers?
It's not uncommon for sellers to ignore low ball offers, but is this something you should do when selling your home? Consider these 3 things first. #realestate #homeselling
Additional Real Estate Advice from Top Professionals
The above real estate article "Should Home Sellers Ignore Low Ball Offers?" was written by Michelle Gibson of Wellington Florida Real Estate. Specializing in residential real estate since 2001 in Wellington and the surrounding area. Michelle Gibson is experienced in assisting buyers, sellers, landlords, and tenants. She would love to share her expertise and guide you through the entire real estate process.
We service the following areas; Wellington, Lake Worth, Royal Palm Beach, Boynton Beach, West Palm Beach, Loxahatchee, Greenacres, and more. If you are considering selling your home, we welcome the opportunity to work with you and list your home with a top Realtor in Wellington Florida