8 Places to Find Moving Boxes Near You for Free and Paid
Moving boxes are an essential part of the moving process. They provide a convenient and secure way to pack and transport your belongings to your new home. With so many options available for obtaining boxes, it can be overwhelming trying to determine where to get them from. This article will explore the various options for obtaining moving boxes, including free and paid options, to help you find the best solution for your needs.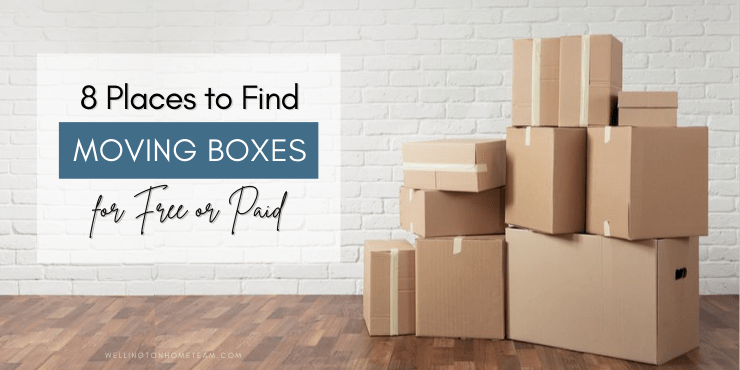 Free Moving Boxes Near Me
Obtaining moving boxes for free is a great way to save money when moving. However, it's going to require a little legwork on your part. Here are some popular places to obtain boxes for free near you.
Big Box Stores
Most businesses receive regular shipments of products in boxes and are often willing to give them away. Places like grocery stores, liquor stores, and big-box retailers, like Target, are good places to start. You may want to call ahead to ask if they have any boxes they are willing to give away, but if you're in the area it never hurts to stop by and ask customer service. You might be surprised at how many businesses are happy to help you out.
Online Classified Ads
Another great way to obtain moving boxes for free is to use online classifieds. Websites like Craigslist.org, Facebook Marketplace, and OfferUp are great resources for finding people who have recently moved and are looking to get rid of their boxes.
Simply search for "moving boxes" in your area on any of these websites, and you should be able to find a list of people who are offering boxes for free. If your initial search doesn't return any results continue trying daily. Free items on any of these platforms tend to go immediately, so it's something you'll have to search for regularly.
Local Businesses
Aside from big box retailers you may want to try some local businesses, such as paint stores, electronics stores, or clothing stores. They too tend to receive regular shipments and have boxes they may be willing to give away for free.
Recycling Centers
A lot of recycling centers collect and sort boxes of all shapes and sizes, and may have boxes available for free. This is a great option for those who are looking to save money and who are environmentally conscious, as you will be giving a second life to boxes that would otherwise may end up in a landfill.
Finding free or inexpensive boxes for moving can be a challenge, but here are the top 8 places to find free and inexpensive moving boxes. #realestate #movingboxes
Cheap Moving Boxes Near Me
If you don't have the time and energy to find free moving boxes there are plenty of places where you can obtain moving boxes for cheap.
Home Improvement Stores
Some improvement stores, such as Home Depot or Lowe's, carry boxes and supplies for moving. In fact, stores like Home Depot have a wide range of moving boxes, including small, medium, and large boxes, as well as specialized boxes for items such as clothes, dishes, mirrors, and TVs. Their boxes are made from durable corrugated cardboard, which are designed to withstand a rigorous move, and are offered at a competitive price.
Online Retailers
Another option for obtaining moving boxes is to purchase them online. Online retailers, such as U-Haul or Amazon, offer a wide range of boxes and supplies that can be delivered directly to your door.
This option is especially convenient for those who are short on time or live in areas where moving supply stores aren't readily available. Online retailers typically have a large selection of boxes, and you can compare prices and read reviews from other customers to help you make an informed decision.
Office Supply Stores
Office supply stores, such as Office Depot or Staples, carry boxes and moving supplies as well. However, a majority of their box selection is geared towards office spaces, so you'll find a large selection of banker boxes. These types of boxes have removable lids and pre-cut holes on the sides for your hands, making them a great option for transporting your breakable items. There is no question about which way is up with these types of boxes and the pre-cut handles make them easy to carry.
Self-Storage Facilities
Self-storage facilities are in the business of storage, therefore, they will have moving and packing supplies. Much like your local home improvement stores self-storage facilities will have an array of box sizes along with packing supplies. Inventory will vary from location to location, so you may want to call ahead to see if they have the type and size of boxes you're looking for.
Factors to Consider When Obtaining Moving Boxes
When deciding where to obtain your moving boxes from, there are a few additional factors to consider.
Consider the size and shape of the boxes you will need.
Consider the quality of the boxes, you'll want something strong and durable enough to withstand the rigors of moving.
Consider the number of boxes you'll need. How many belongings do you have and what's the weight of these items?
Consider the cost of boxes. While it may be tempting to go for the cheapest option, it is important to consider the value of your belongings. Using high-quality boxes will ensure that your belongings are protected during your move.
Popular Questions about Moving Boxes
Does Walmart give free moving boxes? Typically if you go to customer service they will give you boxes they have on hand for free, but if they don't have any boxes at the time they have a great selection of affordable moving boxes.
How do I get moving boxes fast? The fastest way to get moving boxes is to head over to a local store that sells them. However, with online retailers, like Amazon, you can probably receive boxes within 48 hours of placing an order.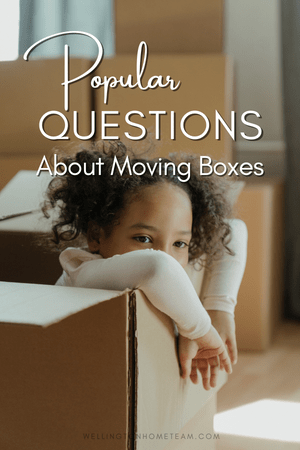 What to use instead of boxes when moving? Popular alternatives to moving boxes are reusable plastic containers, storage tots, laundry baskets, duffel bags, suitcases, backpacks, furniture drawers, and trash bags.
Where can I buy moving boxes for cheap? Places like Home Depot, Wal-Mart, and Amazon tend to have the most affordable boxes for moving.
What packing supplies do I need? Boxes, packing tape, permanent marker, bubble wrap, and old newspapers.
Can cardboard moving boxes be reused multiple times? Yes, if the box itself is a great quality it will hold up for multiple moves.
Where can I get free empty boxes? The 4 places mentioned in this article are going to be your best opportunity to score boxes for free.
Final Thoughts
There are countless places where you can find free and paid moving boxes. So if you are one of the many home buyers or sellers wondering where can I get large moving boxes for free? we hope this article was helpful. While free boxes are readily available if you put the time and energy into obtaining them sometimes they aren't the right size or in the best condition. If that is the case, there are several places to purchase inexpensive boxes that are good for moving.
Please consider spreading the word and sharing; 8 Places to Find Moving Boxes Near You for Free and Paid
Finding free or inexpensive boxes for moving can be a challenge, but here are the top 8 places to find free and inexpensive moving boxes. #realestate #movingboxes
About the Author
Top Wellington Realtor, Michelle Gibson, wrote: "8 Places to Find Moving Boxes Near You for Free and Paid"
Michelle has been specializing in residential real estate since 2001 throughout Wellington Florida and the surrounding area. Whether you're looking to buy, sell or rent she will guide you through the entire real estate transaction. If you're ready to put Michelle's knowledge and expertise to work for you and make a move to Wellington call or e-mail her today.
Areas of service include Wellington, Lake Worth, Royal Palm Beach, Boynton Beach, West Palm Beach, Loxahatchee, Greenacres, and more.
8 Places to Find Moving Boxes Near You for Free and Paid