What is a Property Survey and Why Do I Need One?
Are you looking to purchase a home or property to build one on? It's critical that you have a property survey completed before you sign anything on the dotted line. Imagine building a beautiful brand new home and then finding out it's on your neighbor's property. Avoid this mistake and many more by having a survey completed. In this article, we'll discuss:
What is a Property Survey?
Why and when you should have your property surveyed?
Why this is important?
What is a Property Survey?
To put it simply, a property survey is conducted by a professional property surveyor who will begin by researching the history of the land in question. They'll also look into the deed and all legal matters. After this background work is completed, the surveyor will come to the property and create a sort of map of the land. This map includes boundaries, any existing buildings, and all other elements on the property. You'll also be given a written description of the property, which includes things like:
Boundary lines
Address of the property
Adjacent properties
Right-of-ways
Easements
Allowable Improvements
A survey on average will cost you anywhere from $250-$1000. If you're buying a property, check with your realtor about whether you or the seller are responsible for the cost. It's also advised that you request quotes from several surveying companies before committing to a price.
3 Reasons for a Property Survey
So now that we have a background on what a property survey is, let's discuss reasons for having one.
Buying a Home
Mortgage companies and/or title companies generally require a prsurvey to be completed before approving you. This rule is put in place for your protection as well as theirs. There have been far too many instances of people thinking they own a piece of land when in fact they don't. They build a home on this land and come to find out down the road that this land belongs to their neighbor.
Now, what happens? Technically the homeowner owns the building, but the neighbor owns the property it's built on. The only solution is to take it to court. Avoid all of this by having a survey completed.
Home Additions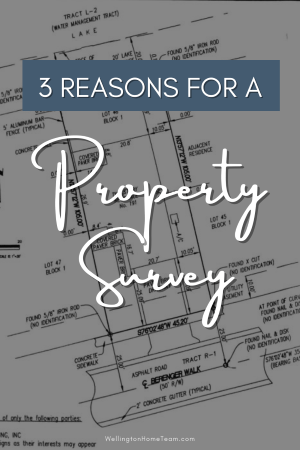 If your addition is within the confines of your already existing home i.e. a basement remodel, you don't need to have a survey completed. However, if the addition is adding to the exterior of your home, then you made need to hire a surveyor. They will inform you of things like how close you can build to the property line or fence.
They'll also let you know if there are any height restrictions in your area. Do you plan to add a fence, swimming pool, or gardening shed? Be sure to check that they are within your property lines before beginning construction. It would be a shame to build a beautiful swimming pool only to find out the land doesn't belong to you.
Once you complete an addition, you can have it inspected by a surveyor. They will certify that all changes are not in violation of any restrictions or laws. If there are any discrepancies with your additions, your surveyor will give you a notice detailing what needs to change
Property Line Disputes
Do you have a feeling your neighbor is encroaching on your property line? Property line disputes are one of the most common reasons to have a survey completed. Before making any changes like building a fence, be sure to know the exact bounds of your property. More often than you would think, a survey reveals that neighbors have using incorrect property lines. Your ability to have it all squared away is a gift not only to you but also to your neighbor. They likely had no idea they were doing anything wrong in the first place.
Why is a Property Survey Important?
To summarize, a copy of property survey gives the potential buyer or homeowner all of the information necessary to make informed decisions. It's an added measure of security before making what could be one of the biggest purchases of your life. Just like hiring a home inspector, you will not be wasting your time by having a survey completed. Take the time to find a good, reputable company, and protect your property today.
Additional Property Survey Questions
How much do property surveys cost? The cost of a property survey can vary depending on various factors, which include the location, size, complexity of the property, and the scope of the survey. Generally, property surveys can cost a few hundred dollars to several thousand dollars.
Smaller residential properties with straightforward boundaries may be on the lower end of the price range, while larger or more complex properties, such as those with difficult terrain or multiple structures, may require more extensive survey work and thus have a higher cost. Additionally, factors such as local market rates and the reputation and experience of the surveyor can also influence the pricing.
What is a survey of a property called? A survey of a property is typically called a "property survey" or a "land survey." These terms are commonly used interchangeably to refer to the process and documentation of determining and mapping the boundaries, dimensions, and characteristics of a specific parcel of land. A property survey is conducted by a professional surveyor who uses specialized equipment and techniques to accurately measure and define the boundaries and features of the property.
Are property surveys public record? Property surveys are not always automatically considered public record. While some aspects of a property survey, such as the legal description and property boundaries, may be included in public records maintained by government agencies, the full survey report or map is typically not readily accessible to the public. Property surveys are typically commissioned and owned by the property owner or the party who requested the survey.
However, certain circumstances may require the survey to be submitted as part of a development or construction project, in which case it may become part of the public record. Additionally, local laws and regulations regarding the availability and accessibility of property surveys may vary as well.
Can you get a free property survey for your home? The town or county where your home is located usually has property survey records for every home built. However, it may not be something they will provide, but if they do they might charge a small fee.
Can I get a copy of my property survey online? If you're wondering "how to find a survey of my property online" the first place to start is the website for the municipality where your home is located. Many villages, towns, cities, and counties are now keeping this information readily available online.
What can be determined by a survey of the property? A survey of the property can provide valuable information about various aspects of the land and its boundaries. It helps determine the exact property lines, indicating where your land begins and ends. The survey can also identify any easements, rights-of-way, or other restrictions that may impact the use and development of the property. Additionally, a survey may reveal the location of existing structures, improvements, or natural features on the land.
What does a property survey look like? A property survey typically consists of a detailed map or drawing that illustrates the boundaries and features of a specific piece of land. It includes various elements such as the property lines, dimensions, and measurements. The survey may also show neighboring properties, nearby roads, and any relevant landmarks.
In addition to the physical boundaries, a property survey can include information about easements, encroachments, or other legal rights affecting the property. It may also include additional details such as topographic features, contours, or flood zones. Property surveys can be presented in different formats, ranging from simple diagrams to more comprehensive reports with accompanying legal descriptions. The exact appearance and level of detail can vary based on the surveyor, the specific requirements, and the jurisdiction in which the survey is conducted.
Please consider spreading the word and sharing; What is a Property Survey and Why Do I Need One?
There are several reasons a person needs a property survey, but what is a property survey and why does anyone need one? Find out now! #propertysurvey
About The Author
Top Wellington Realtor, Michelle Gibson, wrote: "What is a Property Survey and Why Do I Need One?"
Michelle has been specializing in residential real estate since 2001 throughout Wellington Florida and the surrounding area. Whether you're looking to buy, sell or rent she will guide you through the entire real estate transaction. If you're ready to put Michelle's knowledge and expertise to work for you call or e-mail her today.
Areas of service include Wellington, Lake Worth, Royal Palm Beach, Boynton Beach, West Palm Beach, Loxahatchee, Greenacres, and more.
What is a Property Survey and Why Do I Need One?