A homes upgrades can play a big role when it comes to selling, but what is considered an upgrade can be subjective. However, whether or not certain upgrades add value is pretty black and white especially when it comes to a real estate appraisal. While a home seller may have spent a lot of money on what they consider an upgrade, like granite countertops, it doesn't mean it will add any value to their home. In fact, some home buyers may walk-in and feel the counters need to be replaced because they don't like the material, color, or finish. So what are the 8 upgrades that are not necessarily upgrades?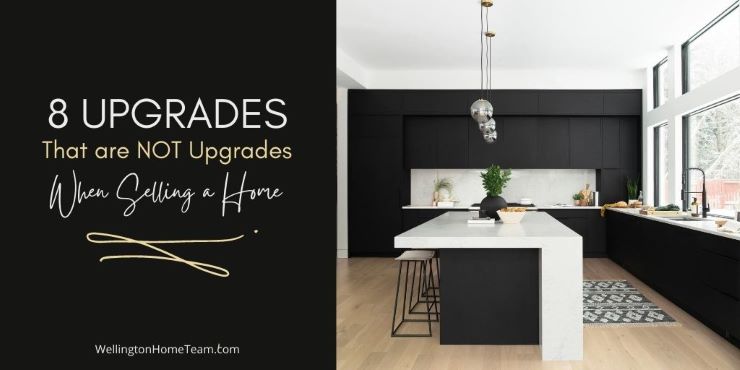 8 Home "Upgrades" that are NOT Upgrades
Granite Counters
There are so many different types of countertop material these days and most buyers have a preference on what type of countertop they want. While some want granite or corian others want concrete or quartz. While granite may be considered an upgrade that comes with a hefty price tag a buyer probably won't pay more for them.
Stainless Steel Appliances
At one point stainless steel appliances seemed to be all the rage. A majority of home buyers had to have them, but these days stainless steel appliances are a dime a dozen. A lot of buyers seem to care more about the age and brand of the appliance than color.
Custom Window Treatments
Plantation shutters, custom blinds or custom drapery are extremely taste specific. Unless a buyer has the exact same taste these "custom" upgrades may just end up in the garbage. So these items won't add value to a home for most buyers.
Crown Molding
Crown molding can get extremely costly especially if a homeowner starts trimming out walls or ceilings. However, not every buyer thinks it's an upgrade and in some cases, it's almost expected at certain price points.
Then there will be homebuyers who dislike crown molding and other custom moldings altogether.
UPGRADES, most buyers want them and some even expect them, but what is considered an upgrade, and do they add any value? #realestate #homeselling
Wood Floors
Hardwood floors are beautiful and oftentimes costly to install, but not all home buyers like wood floors and don't see them as an upgrade. In fact, they know it'll be an expensive, messy, and timely project if they want to replace them.
Designer Wallpaper
While wallpaper has certainly come along way since the 1970's not all home buyers like it, want it, and certainly don't see it as an upgrade. Some actually see it as a negative and costly to remove.
What Else Are No Longer Upgrades?
Shiplap & Barn Doors
One of the latest fads is shiplap and barn doors, which seem to be going out of style just as fast as it came in. While these accents add style they don't add value.
Smart Homes
Believe it or not some people do not want a smart home. For some, it's because they're not tech-savvy and for others, they just don't want it. So while some smart home features are great for security and can even save money it's unlikely a buyer will be willing to pay more for it.
On the flip side, some homebuyers may expect a "smart home" therefore it not adding any value to the home at all.
Final Thoughts
While these 8 upgrades can make a home more appealing to some home buyers and help it sell faster they usually don't add any value. Items that add value are usually big ticketed items. Such as new windows, new roof, new AC, pool, fenced yard, lot location, number of bathrooms, bedroom, and garages. The 8 upgrades listed above are purely for decor and based on a person's taste, they are not necessary. However, windows and roofs are, so a seller should not expect to sell their home for $20,000 more than their neighbor because they had custom window treatments and their neighbor didn't.
Please consider spreading the word and sharing; 8 "Upgrades" That Are Not Upgrades When Selling a Home
UPGRADES, most buyers want them and some even expect them, but what is considered an upgrade, and do they add any value? #realestate #homeselling
Additional Home Selling Resources
Bill Gasset shares everything people need to know about appraisals. And if you're a home buyer or seller it's well worth the read.
If you're going to sell your home Kyle Hiscock shares some Low-Cost Home Improvements that home sellers should do prior to listing their home.
It's not uncommon for sellers to make mistakes that negatively impact their home value. Sharon Paxson shares 8 Costly Mistakes Homeowners Make and can easily be avoided.
About the Author
Top Wellington Realtor, Michelle Gibson, wrote: "8 "Upgrades" That Are Not Upgrades When Selling a Home"
Michelle has been specializing in residential real estate since 2001 throughout Wellington Florida and the surrounding area. Whether you're looking to buy, sell or rent she will guide you through the entire real estate transaction. If you're ready to put Michelle's knowledge and expertise to work for you call or e-mail her today.
Areas of service include Wellington, Lake Worth, Royal Palm Beach, Boynton Beach, West Palm Beach, Loxahatchee, Greenacres and more.