8 "Upgrades" That Are Not Upgrades When Selling a Home
The type of upgrades a home has can play a big role when it comes to selling, but what is considered an upgrade can be subjective. However, whether or not certain upgrades add value is often black and white especially when it comes to a real estate appraisal.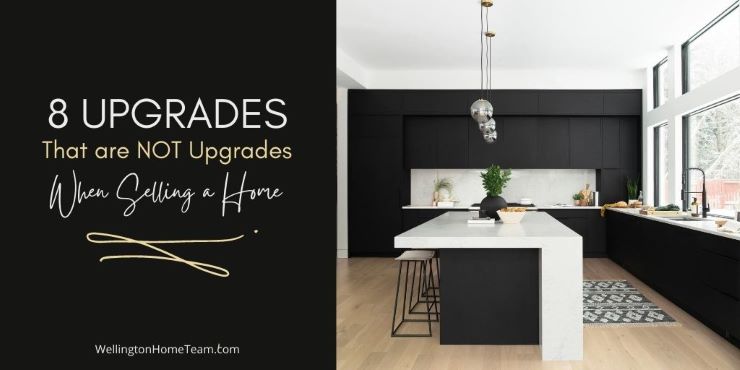 While a home seller may have spent a lot of money on what they consider an upgrade, like granite countertops, it doesn't mean it will add any value to their home. In fact, some home buyers may walk in and feel the counters need to be replaced because they don't like the material, color, or finish. So what are the 8 upgrades that are not necessarily upgrades?
8 Home "Upgrades" that are NOT Upgrades
1. Granite Counters
There are countless types of countertop materials to choose from these days. Most buyers will have a preference on what type of material they prefer. Some buyers may want granite or corian countertops while others want concrete or quartz countertops. Stylistically what's "in" and what's "out" is constantly changing.
Granite comes up with a hefty price tag especially when compared to an inferior countertop, like Formica. However, it is unlikely a buyer will pay more for a home that has granite countertops. In some cases a buyer will want to replace it immediately and in others, it's expected and not viewed as an upgrade at all.
2. Stainless Steel Appliances
At one point stainless steel appliances seemed to be all the rage. A majority of home buyers had to have them, but these days stainless steel appliances are a dime a dozen. Once something becomes commonplace it becomes expected and is no longer seen as an upgrade. So now a majority of buyers care more about the agent and brand of the appliance rather than the color.
3. Custom Window Treatments
Window treatments can be costly, and if they're custom the price tag can easily double. While some homeowners will assume adding plantation shutters, custom blinds, or custom drapery will add value to their home, that may not be the case.
Custom window treatments of any kind can be extremely taste specific. So unless a buyer has the exact same taste these "custom upgrades" may end up in the garbage. If that's the case custom window treatments won't add any value to the home nor will it be considered an upgrade.
4. Designer Wallpaper
Wallpaper has come a very long way since the 1970s and 1980's but wallpaper is not an upgrade, even if it's "designer wallpaper." Just like faux paintings, stencils, or murals on a wall wallpaper is very taste-specific.
Plus, unlike paint wallpaper is not easy to remove unless it's peel-and-stick wallpaper. Even then it can still cause damage to a wall and if the wallpaper has been glued to the wall it will be costly to remove.
UPGRADES, most buyers want them and some even expect them, but what is considered an upgrade, and do they add any value? #realestate #homeselling
5. Crown Molding
Crown molding and molding of any kind can be extremely costly especially if a homeowner starts trimming out walls and ceilings. While this design feature might be seen as an upgrade to some if a buyer doesn't like the molding it can actually decrease the value and appeal of the home.
In order to remove molding from a wall or ceiling it can cause extreme damage to those areas, which will then need to be fixed and odds are the entire space will need to be painted.
6. Wood Floors
Most people can agree real hardwood floors are beautiful and oftentimes costly to install. However, depending on where the home is located hardwood floors may not be considered an upgrade. Some buyers will expect hardwood floors at certain price points. While other buyers don't want hardwood floors due to their location or personal taste.
Unlike floating engineered wood or laminate floors, real hardwood floors are glued down. So if a buyer wants to remove them it can be very costly and time-consuming much like removing ceramic tile. There is always the option of refinishing and staining the floors but that too can be very costly.
7. Shiplap & Barn Doors
One of the most popular fads is installing shiplap and barn doors to a home, which already seems to be going out of style in some cases. While these items are pretty neutral it's unlikely they'll deduct value from a home but they certainly aren't seen as an upgrade. Sure they can add overall appeal to a home if done tastefully but sellers should never expect to obtain more money for their home because they installed shiplap or barn doors.
8. Smart Homes
Energy-efficient smart homes are all of the rage, right? After all, many home builders are no longer including these items as options they're already included. However, believe it or not, some people do not want a smart home.
For some, it's because they're not tech-savvy and don't have the time or energy to learn. While others just don't want more technology in their life. So while some smart home features are great for security and can even save money it's unlikely a buyer is going to pay more money for a smart home. In fact, some buyers may expect all of these smart home bells and whistles.
Final Thoughts
While these 8 "upgrades" might make a home more appealing to a potential home buyer they can also make it less appealing. Plus, some of these upgrades are expected and not considered upgrades at all but what's expected in a home at that price point.
Items that tend to add value and are considered an upgrade are usually big-ticketed items, such as new windows, a new roof, a private swimming pool, or renovated kitchens and bathrooms. However, just because a homeowner spent $70,000 installing a private swimming pool doesn't mean their home will be worth $70,000 more because that is highly unlikely.
So when a home seller is coming up with a list price for their home they need to really understand what they may consider upgrades may not be upgrades at all.
Please consider spreading the word and sharing; 8 "Upgrades" That Are Not Upgrades When Selling a Home
UPGRADES, most buyers want them and some even expect them, but what is considered an upgrade, and do they add any value? #realestate #homeselling
Popular Home Selling Questions
What are cheap upgrades to increase home value? To potentially increase your home's value on a budget there are a few things you can do. Start with decluttering your home, followed by a deep clean, and then give the entire interior a fresh coat of neutral paint.
Upgrade more inexpensive items, such as lighting, faucets, and cabinet hardware for a more up-to-date look. Last, focus on improving your overall curb appeal. Trim trees and bushes, pressure clean everything from the roof to the walkways, and add potted plants along with flowers and fresh mulch.
What are home upgrades that add value? There are several upgrades that can add value to your home. One of the most popular upgrades is a kitchen renovation. However, it's very easy to overspend and over-improve this space. So while it adds value it can also not pay off if you spend too much.
Another valuable upgrade is adding an extra bedroom or bathroom. Adding square footage will always add value along with adding another bathroom. Additionally, creating an outdoor living area, such as a deck or patio, can expand your home's usable space and enhance its appeal to potential buyers. These are by far the most common home upgrades that are worth it.
What is the difference between renovation and upgrade? Renovation and upgrade are both related to improving a property, but they differ in their scope and objectives. Renovation typically refers to the process of restoring or repairing a space. It can include activities such as fixing structural issues, replacing outdated features, or updating aesthetics, like renovating a kitchen or bathroom.
On the other hand, an upgrade involves enhancing a property by adding new or improved elements that go beyond the existing standard or level of functionality. Upgrades often involve introducing advanced technologies, incorporating energy-efficient systems, or installing high-end materials to enhance the overall quality or performance of a space. While renovations focus on restoring or improving what already exists, upgrades aim to elevate a property's capabilities or features to a higher level.
About the Author
Top Wellington Realtor, Michelle Gibson, wrote: "8 "Upgrades" That Are Not Upgrades When Selling a Home"
Michelle has been specializing in residential real estate since 2001 throughout Wellington Florida and the surrounding area. Whether you're looking to buy, sell or rent she will guide you through the entire real estate transaction. If you're ready to put Michelle's knowledge and expertise to work for you call or e-mail her today.
Areas of service include Wellington, Lake Worth, Royal Palm Beach, Boynton Beach, West Palm Beach, Loxahatchee, Greenacres, and more.
8 "Upgrades" That Are Not Upgrades When Selling a Home