Congratulations your offer was accepted and you're now under contract! However, if you're obtaining a mortgage you're not out of the woods yet. There are numerous things that can blow up your financing and below are the top 8 mistakes homebuyers make during the loan process that can blow up their financing.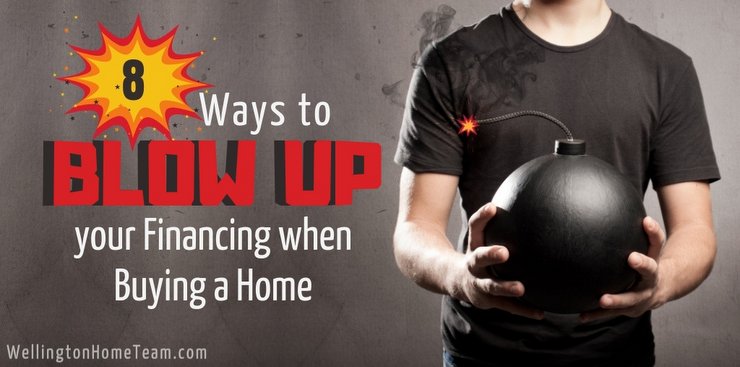 8 Ways to Blow Up your Financing when Buying a Home
Job Change
Do not change jobs, quit your job, or work fewer hours decreasing your income. If you plan on changing jobs or get fired contact your loan officer immediately to discuss options.
Big Expenses
While it may not seem like a big deal buying big-ticketed items, like a new car or furnishings for your new home, doing so can easily blow up your financing. So you'll want to avoid putting any major expenses on your credit card or taking out a new loan.
Credit Check
Do not let anyone pull your credit, every time your credit is pulled it may lower your credit score and impact your loan eligibility. The only one who should be pulling your credit is your loan officer.
Just because you're pre-approved for a mortgage doesn't mean it's a done deal! Here are 8 things to avoid, so you don't blow up your financing. #homebuying #realestate
Credit Charges
Do not charge up your credit cards until after closing, it too can negatively impact your debt to income ratio and loan eligibility. You'll also want to keep all of the credit cards you have. Don't open or close credit accounts.
Savings
Do not spend money you saved for closing even if you plan on replacing it prior to closing. Moving money around can cause some major issues during the underwriting process.
Deposits
Do not deposit any cash or large deposits into your bank account. In this case, cash isn't king, your "money trail" needs to remain the same. So if you want to deposit cash into your account do it prior to starting your home search or after closing.
Bill Pay
Do not pay bills late during the mortgage process because it may lower your credit score and again affect your loan eligibility. Set up auto-payments or pay bills in advance to ensure they get paid on time and there are no issues.
Switching Banks
Do not change banks. It doesn't sound like a big deal, but it can become a huge problem. Once again your money trail matters.
Final Thoughts
In order to make it to the closing table, you need to make sure you don't make any of the mistakes mentioned above. If for some reason you need to make a large deposit or switch banks discuss the best route with your loan officer.
Please consider spreading the word and sharing; 8 Ways to Blow Up your Financing when Buying a Home
Additional Resources

Top Wellington Realtor, Michelle Gibson, wrote: "8 Ways to Blow Up your Financing when Buying a Home"
Michelle has been specializing in residential real estate since 2001 throughout Wellington Florida and the surrounding area. Whether you're looking to buy, sell or rent she will guide you through the entire real estate transaction. If you're ready to put Michelle's knowledge and expertise to work for you call or e-mail her today.
Areas of service include Wellington, Lake Worth, Royal Palm Beach, Boynton Beach, West Palm Beach, Loxahatchee, Greenacres, and more.