Is Air Duct Cleaning a Waste of Money or Worth It?
Are you a homeowner? If so, you've probably been approached by companies offering to clean your air ducts. These companies make big claims that they can remove all dust and debris. In addition to restoring your HVAC system to its full capabilities. Now the question is, is having your air ducts cleaned actually beneficial, or is it just a poor use of your hard-earned money? We'll take a look at exactly what air duct cleaning is, why it is performed, and how to avoid potential air duct cleaning scams.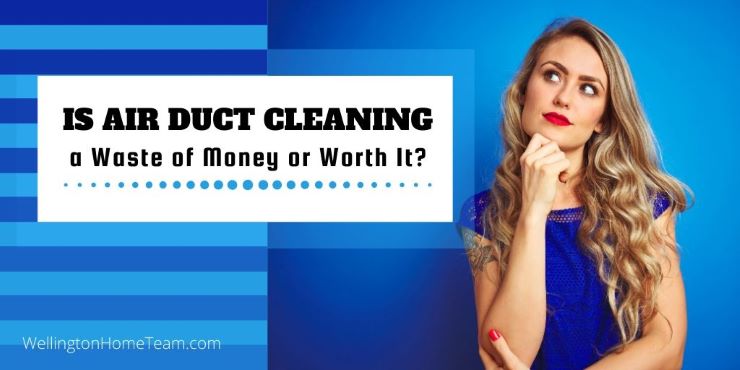 What is Air Duct Cleaning?
With an increase of dirty polluted air outside, homeowners are seeking ways to ensure the air inside their home is safe and clean. Companies are popping up all over offering to clean your forced air, heating and cooling system components. Service prices can range anywhere from $450 to $1000. That price is dependent upon what services are completed and other factors like the size, age, and accessibility of your HVAC system.
Air duct cleaning is usually performed by freeing the dirt and debris from the walls of your air ducts. Then sucking everything out with a vacuum. This is the standard procedure but some companies suggest further preventative measures like spraying a chemical layer to make sure all of the bacteria has been removed.
Some also suggest spraying a chemical sealant throughout your system to prevent the growth of mold or the spread of bacteria. It's important to know that there is no conclusive research proving that spraying of these chemicals will be beneficial to your home. Not only that, but you should be made fully aware of exactly what chemicals are being put into the ducts responsible for the air in your home.
It's also worth noting that there are reputable companies whose sole purpose is to fix leaks in air ducts. They have special sealants and techniques to make sure your system is working efficiently. This is very different from a company offering to spray a sealant into your system.
Why Air Duct Cleaning?
If you visit any air duct cleaning company's website, you'll be provided with a list of reasons as to why you should utilize their services. These reasons include: removing mold, cleaning out after renovation, vermin, clogged ducts, and alleviating severe allergies or breathing problems.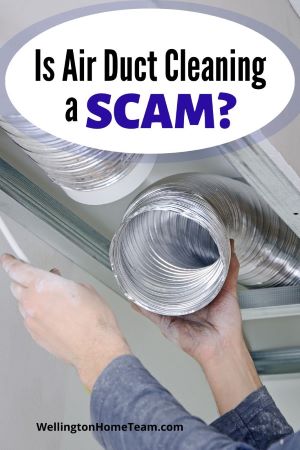 If someone in your home is suffering from extreme allergies or having difficulty breathing, it is important to consult with your physician. It might not be related to your home at all.
Mold is one of the main reasons why people have their ducts cleaned. However, if mold is found in your air ducts, then simply removing it is not solving the issue. You need to find the root of the cause and may even have to have parts of your air ducts replaced.
So before going down what could be a very pricey path, ask for a sample of the mold. Have the sample tested at a lab to make sure it really is mold. Sometimes, it's just thick dust and not mold at all. Better to be sure, than to spend money you don't need to.
What to Watch Out For
Reputable cleaning services for air ducts does exist and there are several things to watch out for when seeking a quality company.
Qualifications
While the EPA doesn't certify any air duct cleaners, the National Air Duct Cleaners Association does exist and they have set certification standards. Also, note that the NADCA and the EPA warn against using chemical sprays in your air ducts. There are no chemicals approved by the EPA that should be utilized in your HVAC system.
Reviews
While Yelp can oftentimes be a bunch of complaining, it is important to know what other people's experiences were like with these companies. Do you have any friends or coworkers who recently had their ducts cleaned? Ask them what their experience was like, was it worth it? Do you notice any benefits in your home?
Scare Tactics
If a company's marketing is doom and gloom, they might be relying on fear to obtain clients. Companies should promise good results and pride themselves in a positive and trustworthy relationship. Not telling you your dirty air ducts are equivalent to smoking x amount of cigarettes a day.

The Complete Job
A partial cleaning of your HVAC system could actually make things worse by dislodging the dirt into your airways and then spreading it throughout your home. Don't agree to any service that only offers a partial job. Either have your whole system cleaned or nothing at all.
Ask for a Price Quote
Don't allow a company to begin work before giving you a price. Your pocketbook could potentially wind up very empty without a price upfront. Furthermore, it is more than okay to ask for price quotes from multiple companies. By doing so you'll be able to see the average cost of air duct cleaning and what you're actually paying for.
Final Thoughts
According to the U.S. Environmental Protection Agency, there hasn't been enough research done to determine if duct cleaning is really worth it. There's no conclusive evidence showing any increased health benefits. It is a fact that dust particles do exist in your home. However, it's not necessarily because of dusty air ducts.
Your dirty air ducts are only one of many factors contributing to the dust and debris inside of your home. Walking around with your shoes on, opening and closing doors, cooking, all of these things can bring pollution and bacteria into your home. So if you see a brochure that states your health is at risk due to your air ducts, rest assured that there is little proof that your air ducts are causing any sort of risk to you and your family.
However, if you do decide you'd like to do maintenance and upkeep on your home by cleaning out your air ducts, that's perfectly fine. Just be sure to follow the above guidelines to avoid a scam.
Please consider spreading the word and sharing; Is Air Duct Cleaning a Waste of Money or Worth It?
A big question homeowners having your air ducts cleaned a ripoff or worth every penny? Our cleaning guide for air ducts tells you everything you need to know. #airductcleaning #homeimprovement
About the Author
Top Wellington Realtor, Michelle Gibson, wrote: "Is Air Duct Cleaning a Waste of Money or Worth It?"
Michelle has been specializing in residential real estate since 2001 throughout Wellington Florida and the surrounding area. Whether you're looking to buy, sell or rent she will guide you through the entire real estate transaction. If you're ready to put Michelle's knowledge and expertise to work for you call or e-mail her today.
Areas of service include Wellington, Lake Worth, Royal Palm Beach, Boynton Beach, West Palm Beach, Loxahatchee, Greenacres, and more.
Is Air Duct Cleaning a Waste of Money or Worth It?