Is Buying a Tankless Water Heater for Your Home Worth it?
After moving into your new home, you may be thinking about what to change and upgrade. New tiles, new kitchen outlets, bigger deck. The list goes on. Eventually, you might start thinking about your water heating options. Lo and behold, you stumble upon tankless water heaters – the heaters that offer endless hot water (unlike traditional tank solutions).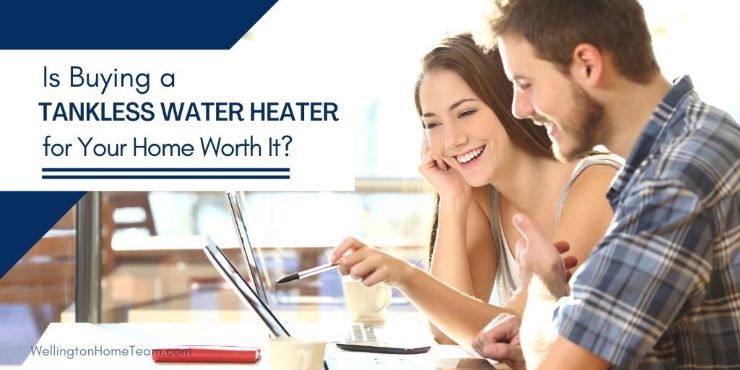 However, getting one for your property can be quite expensive. They generally cost $500 – $2000 upfront with another $1000 or more for installation. This can be more than double a traditional tank water heating system. So, you may be wondering to yourself, is it worth the investment? The short answer to that question is yes. And we will explain why.
Tankless Water Heaters Last Longer
Firstly, they last longer and are more energy-efficient. Tankless water heaters can last more than 20 years. In fact, with the right maintenance, you can push them beyond 30 years. Compared to standard tank water heaters, this is about 10 – 20 years more life!
Energy efficiency is also quite high. This is because they do not suffer from 'standby loss' that plague tank water heaters. They only heat water when you need it rather then keeping the water warm for when you might need It. Over a year of usage, you'll save more energy and more money on your electricity or gas bill.
In fact, the Department of Energy states that homeowners can save more than 20% on their energy usage than a conventional water heater (depending on how much water they use). This can easily lead to over $100 in savings per year.
A tankless water heater will typically pay itself off after 20 years or so, but you can expect instant savings versus a tank water heater as soon as you install and start using the unit. 
Increase Properties Energy Rating
They also increase a property's energy rating. It's known that eco-friendly, green, or high-energy-rated homes sell quicker and for a premium. Across many countries, the retail value of an eco-friendly home can be boosted by 5 – 10%.
A high-energy-rated home is simply one that is very efficient in using input energy. In essence, the utilities you use will require less energy for greater output. Through a variety of fixtures such as water-saving faucets and solar panels, your energy bills will be significantly lower compared to a standard house. A tankless water heater is a great way of adding to your home's energy rating and boosting the resale appeal.
You Got a Tankless Water Heater, Now What?
So I've decided to get a tankless water heater…what next? Well, before buying a tankless water heater, there are a couple of things you can do to ensure that you save even more money so the investment pays itself quicker.
Gas or Electric?
If you've decided that tankless water heaters are the way to go, you need to decide between a gas or electric-powered one. Whilst electric tankless water heaters are cheaper to buy, they are also more expensive to run. They generally have a 0.98 or higher thermal efficiency rating, so most of the electricity is being used to heat the water, with little wastage.
Conversely, gas units are more expensive initially. Gas units are rated around 0.8 – 0.85 in thermal efficiency. They use more energy to heat the water and so are not as green as electrical units. However, because gas is cheaper than electricity, they will actually be more affordable to operate. They are also more powerful and are a great option for whole-house heating.
Keep in mind that gas prices are expected to rise into the foreseeable future so you may want to consider sticking with electric.
Sizing Matters as Well
You also need to consider sizing a tankless water heater, so you can ensure that what you're buying is capable of meeting your hot water needs. For example, if you've got two showers, you'll need a unit capable of heating a higher flow rate of water. By knowing the demands of your household, you will not waste money on buying a unit that is too powerful. Better yet, you will avoid installing a heater that can't keep up!
On top of this, understand the temperature rise required. If you live in a colder environment, you will need a unit that can bring the temperature up higher. The opposite is true if you live in a warm climate. YourBestPicks provides a useful guide to correctly sizing your tankless water heater as well as choosing the right model for you. 
Final Thoughts
Tankless water heaters offer a highly efficient and are a convenient solution for providing hot water in homes, in businesses as well. They provide an endless supply of hot water on-demand all while saving energy and reducing utility costs. Additionally, tankless water heaters are highly durable and have a longer lifespan compared to traditional water heaters, which tend to only last 10-20 years.
They are also reliable and an innovative solution for heating water in your home. These are just a few benefits of owning a tankless water heater for those looking to upgrade their hot water system.
Please consider spreading the word and sharing; Is Buying a Tankless Water Heater for Your Home Worth it?
If it's time to replace your water heater you might be wondering if you should invest in a tankless water heater, here's the answer! #waterheater
Popular Tankless Water Heater Questions
Should I put a tankless water heater in my house? Deciding whether to install a tankless water heater in your house depends on several things. If you prioritize energy efficiency a tankless water heater can result in lower energy bills. Additionally, they take up less space and offer the advantage of never running out of hot water.
However, it's essential to consider your household's hot water needs. If you have a large family or frequently require hot water simultaneously in multiple locations, you may need multiple units to ensure sufficient flow rates. Moreover, the higher upfront cost and potential installation complexities should also be taken into account.
How expensive are tankless hot water heaters? Tankless water heaters generally have a higher upfront cost compared to traditional tank-based water heaters. The price of a tankless unit can vary depending on factors such as the brand, model, size, and additional features. On average, you can expect to pay between $500 to $2,500 for a tankless water heater, excluding installation costs.
How long do tankless water heaters last? Tankless water heaters are known for their durability and typically have a longer lifespan compared to traditional tank-based water heaters. On average, a well-maintained tankless water heater can last between 15 to 20 years. However, the actual lifespan can vary depending on several factors such as usage patterns, water quality, maintenance practices, and the specific brand and model of the unit. Regular maintenance, including flushing to remove mineral buildup, can help extend the lifespan of a tankless water heater.
Who can install a tankless hot water heater? Installing a tankless hot water heater typically requires the expertise of a professional plumber or a licensed contractor experienced in plumbing installations. Due to the complexity of the installation process, it is generally recommended to hire a qualified professional who has the necessary knowledge and skills to handle the job safely and correctly.
A professional installer will ensure that the unit is properly connected to the plumbing system, electrical supply, and gas lines (if applicable). They can also provide guidance on selecting the right size and model of tankless water heater based on your household's hot water needs.
What are the disadvantage of tankless water heater? While tankless water heaters have numerous advantages, there are also some disadvantages to consider. The initial cost of a tankless water heater is higher than a traditional tank-based system. The installation process can be more complex, requiring modifications to the existing plumbing and electrical systems, which may incur additional expenses.
Additionally, if you have a large household with simultaneous hot water demands, a single tankless unit may struggle to meet the requirements, leading to a reduced flow rate and inconsistent water temperature. In some cases, upgrading to multiple units can mitigate this issue, but it further increases the cost. Lastly, tankless water heaters can require regular maintenance, such as descaling, to prevent mineral buildup and ensure optimal performance.
About the Author
Top Wellington Realtor, Michelle Gibson, wrote: "Is Buying a Tankless Water Heater for Your Home Worth it?"
Michelle has been specializing in residential real estate since 2001 throughout Wellington Florida and the surrounding area. Whether you're looking to buy, sell or rent she will guide you through the entire real estate transaction. If you're ready to put Michelle's knowledge and expertise to work for you call or e-mail her today.
Areas of service include Wellington, Lake Worth, Royal Palm Beach, Boynton Beach, West Palm Beach, Loxahatchee, Greenacres, and more.
Is Buying a Tankless Water Heater for Your Home Worth it?