Contract Extension: Should a Buyer or Seller Agree to One?
Real estate transactions aren't always smooth, in fact, ask any Realtor and they'll probably tell you they have more difficult transactions than smooth ones. When issues arise during a real estate transaction a delay might be inevitable.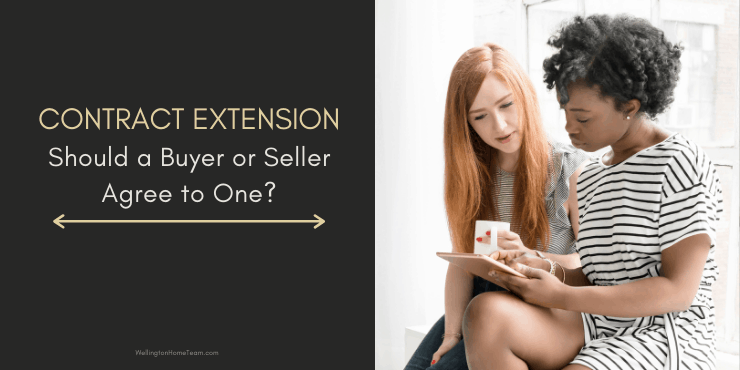 Sometimes these delays are only a day or two while other times they could be weeks or months. When an unexpected delay occurs a buyer or seller may ask for a contract extension, but what is it and how does it impact a real estate transaction? Let's take a closer look at contract extensions now.
What is a Contract Extension in Real Estate?
A contract extension is an agreement between a buyer and seller to extend an existing contractual due date. An extension will allow the buyer and/or seller additional time to fulfill their obligations outlined in the original contract. In order for a contract extension to go into effect all parties must agree to the extension in writing, one party can't arbitrarily extend any part of the contract.
Why Does a Buyer or Seller Request a Contract Extension?
There are various reasons why a buyer or seller might request an extension. One of the most popular extensions is a closing extension, but requesting to extend the inspection period or mortgage contingency period are also pretty common. Let's take a look at why buyers and sellers need to extend these time periods.
Closing Date Extensions
Both buyers and sellers may request to extend the contractual closing date and here are a few reasons why;
The seller isn't able to provide a clear title due to liens on the property
The buyer's loan is still being processed/ in underwriting
The seller never made contracted repairs
The buyer didn't receive HOA approval
A party to the transaction passed away
Judgments against one of the contracted parties were discovered
A natural disaster hit
Unable to obtain homeowners insurance
Inspection Period Extension
Generally, a buyer will request to extend the inspection period for one of the following reasons;
The buyer didn't receive the inspection report yet
The buyer needs to conduct additional inspections
The buyer needs to obtain repair quotes
The buyer needs more time to negotiate repairs
Mortgage Contingency Period Extension
Sometimes a buyer will request to extend their mortgage contingency period or loan commitment period because their loan won't be fully approved within the original timeframe. While a lot of buyers can simply waive their mortgage contingency without full loan approval, therefore not needing an extension, not all buyers are comfortable removing their mortgage contingency prior to receiving loan approval.
There are countless reasons why a buyer's loan won't be approved during the original mortgage period contingency. It could simply be because their lender needs more time but in some cases, there might be serious issues that need to be resolved. When these unforeseen issues arise there is always a possibility the buyer will receive loan denial. If they do end up receiving loan denial and it's within their mortgage contingency period they may get their entire escrow deposit back.
Should a Buyer or Seller Grant an Extension?
So if a buyer or seller needs an extension should the other party grant one? It depends.
It depends on what's causing the delay. Is it something simple that will be rectified or is it something complicated that may never be rectified? Every situation is different and this is where a top Realtor will be able to discuss the possible outcomes with you.
I've had transactions that were no doubt going to close, so an extension was a no-brainer. Then I've had transactions that were extremely complicated and there was no guarantee that it would ever close.
Once again this is where a Realtor's expertise and experience will help a seller or buyer make an educated decision on whether or not they should grant an extension.
Final Thoughts
Don't make knee-jerk reactions! Sometimes it's easy for a seller or buyer to throw in the towel because they're angry, upset, or frustrated. Sometimes the towel probably should be thrown in, but other times it shouldn't. If you're guaranteed to close within a week or so you really need to weigh your options.
Does it make financial sense to start the process all over again? In most cases, it probably doesn't. However, if the delay could turn into several weeks or months and there is no guarantee then not granting an extension may be the best decision.
Please consider spreading the word and sharing; Contract Extension: Should a Buyer or Seller Agree to One?
Many obstacles can happen during a real estate transaction, these obstacles might cause a delay, which will require a contract extension. However, should one be granted? #realestate
Popular Contract Extension Questions
What happens when a seller won't sign extension? When a seller refuses to sign an extension, it can create complications in the real estate transaction. The main complication is the entire transaction could blow up, but sellers aren't required to sign a contract extension. So a buyer should never assume a seller will agree to any type of extension because not a lot of sellers do.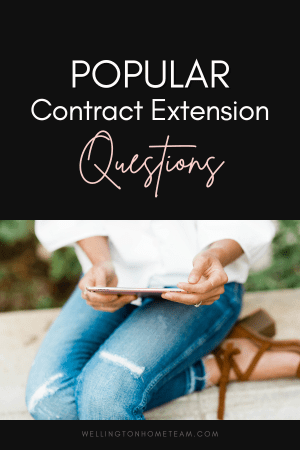 Wondering what to do when seller wants to extend closing date? If a seller wants to extend the closing date the buyer should find out why before agreeing to grant one.
Is it because they need more time to pack or is it because there are title issues that need to be cleared up? It also depends on the buyer's situation, can they extend the closing date without creating issues for themselves?
These are all things that need to be taken into consideration before a buyer agrees to extend the closing date.
Is there a specific closing date extension addendum? Yes, in real estate transactions, a specific addendum is used to formalize the extension of a closing date. This addendum is a legal document that outlines the new closing date that the buyer and seller both agreed to. It may also include any additional terms or conditions related to the extension, like when title commitment is due. If an extension of closing date agreement has not been signed by both parties the closing date will remain the same.
About the Author
Top Wellington Realtor, Michelle Gibson, wrote: "Contract Extension: Should a Buyer or Seller Agree to One?"
Michelle has been specializing in residential real estate since 2001 throughout Wellington Florida and the surrounding area. Whether you're looking to buy, sell, or rent she will guide you through the entire real estate transaction. If you're ready to put Michelle's knowledge and expertise to work for you call or e-mail her today.
Areas of service include Wellington, Lake Worth, Royal Palm Beach, Boynton Beach, West Palm Beach, Loxahatchee, Greenacres, and more.
Contract Extension: Should a Buyer or Seller Agree to One?