One of the biggest complaints from people looking to buy or sell a home is that real estate agents don't answer their phones. The reality is agents aren't available 24-7, so there will be times when they can't answer their phone. Below are the 9 most common reasons real estate agents don't answer their phone.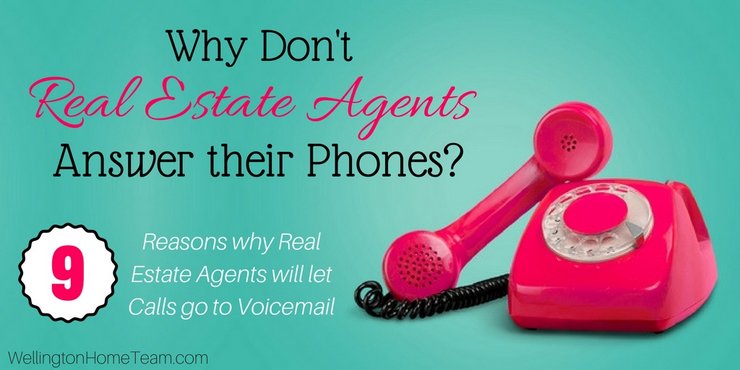 With a Client
When real estate agents are with a client a majority of them will not answer their phone because they want to give their client their undivided attention. Now, there are times when a real estate agent is expecting an important call and will need to answer their phone. However, they will let their client know ahead of time that they will have to excuse themselves to take a call. However, it's unlikely an agent will stop what they're doing to answer the phone when with a client.
On the Other Line
Real estate agents and phones go together like peanut butter and jelly. So odds are when you see a Real Estate Agent they'll be on their phone or have their phone within reach. Some people are under the impression the only thing agents do is show homes.
Although the reality is a lot of them are on the phone all day talking to clients, prospective clients, lenders, inspectors, title agents, attorneys, or appraisers. So when the other line beeps it may be sent to voicemail. A few agents may try to end the call they're on and switch lines, but others will not.
Driving
Even with speakerphones and other hands-free devices not all real estate agents are comfortable answering their phone while driving, which is understandable. Some will pull over and call the person back. While others will wait until they reach their destination or later in the day when they have time.
In the Bathroom
This one really doesn't need an explanation, wouldn't you prefer a real estate agent call you back when they're out of the bathroom?
With Family
Some real estate agents are extremely good at setting boundaries, so when they're spending quality time with their family or friends they may not answer their phone.
Getting a Massage or Playing Golf
A big misconception the general public has about real estate agents is they work from 9:00 am to 5:00 pm Monday through Friday with a 5-hour lunch. However, in reality some agents are pulling in 14-16 hour days 7 days a week. So when they have availability on Tuesday at 11:00 am they may treat themselves to a round of golf or a massage and won't be answering their phone.
Don't Want to Talk
Sometimes agents don't care who's calling they just don't want to talk, so they don't answer their phone. Yes, even real estate agents need a break once in a while.
Blocked Number
In the age of caller id some agents won't answer their phone if the callers' phone number is blocked. While some of these callers aren't intentionally blocking their numbers others are, such as telemarketers or people who don't want the agent to have their information.
Time is money in real estate, so not many agents want to spend time on the phone with a telemarketer or a person who is intentionally hiding their identity.
Sleeping
Real estate is international and not every caller will be in the same time zone, so they may call during off-hours when an agent is sleeping. Then there may be a few local buyers who will find their dream home at 2:00 am on a Wednesday and want to call the agent immediately.
Regardless of who's calling only a few agents may answer their phone while they're sleeping. However, probably only if it's an expected call otherwise their phone will be turned off.
Final Thoughts
Answering our phones isn't always an option. So when your call goes to voicemail leave a message, don't keep calling until we answer. I've been in situations where I wasn't in a position to answer my phone. However, the caller kept calling to the point I thought there was an emergency. In some cases, I answered after the 10th hang-up call, but every time I answered it was nothing of importance.
If you think this article, Why Don't Real Estate Agents Answer their Phone? Here are 9 Reasons, was an interesting read please give it a share!
Have you ever tried calling a real estate agent, but they didn't answer? It can be frustrating for some, but there is usually a reason, here are 9. #realestate
Additional Real Estate Advice from Top Professionals
About the Author
The above real estate article "Why Don't Real Estate Agents Answer their Phone? Here are 9 Reasons" was written by Michelle Gibson of Wellington Florida Real Estate. Specializing in residential real estate since 2001 in Wellington and the surrounding area. Not only does Michelle assist buyers and sellers, she assists landlords and tenants too. She would love to share her expertise and guide you through the entire real estate process.
We service the following areas; Wellington, Lake Worth, Royal Palm Beach, Boynton Beach, West Palm Beach, Loxahatchee, Greenacres, and more. If you are considering selling your home, we welcome the opportunity to work with you and list your home with a top Realtor in Wellington Florida
Why Don't Real Estate Agents Answer their Phone? Here are 9 Reasons