Feng Shui Tips | How to Make Chi Flow In Every Room of Your Home
The Chinese characters for Feng Shui translate as wind and water. Feng Shui is the art of designing your home to promote success in life, health, wealth, and happiness. Just like Traditional Chinese Medicine, Feng Shui originated in China over 4000 years ago. Its practice has a long history throughout the East. Similar ideas have also existed in other parts of the world.
As we now know, ancient practices such as acupuncture can be backed up by scientific proof. Maybe it is about time we took another look at the ancient of Feng Shui. Perhaps we can learn a thing or two, and allow energy (chi) to improve our lives.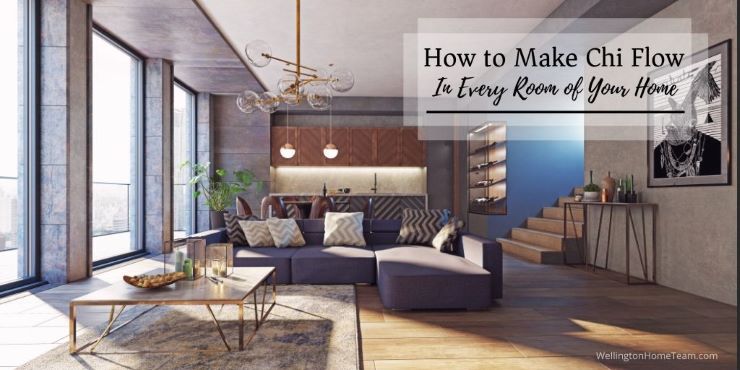 Simple Feng Shui Principles You Can Apply In Your Home
Feng Shui principles are easily applied to every room in the house. To give you an introduction to how you can make chi flow better in your home, I am going to give you some easy-to-follow top Feng Shui tips for almost every room in the house.
The Living Room
The living room is essential to family life. It is where you entertain your guests and enjoy family life. Often, after a long day at work, the living room is the one place in your home where you feel you can relax.
Applying Feng Shui principles in the living room is easier than you think. Here are some top Feng Shui decorating ideas that easily fit in with a modern lifestyle.
Lighting – the vertical beam of uplights and the shape of standing lamps, supports upward moving energy
Television – electronic equipment has a negative effect on chi. Position the television and other electronic equipment away from the seating area.
Use plants to minimize the impact of electronic gadgets. Tall palms strengthen chi and so does round-leave bushy plants. Try to mix and match to create a good flow of energy
Place sofas and chairs in a way that makes it easy for people to communicate with each other. To promote positive energy avoid living room furniture with hard edges. Green and cream are good colors for the living room.
Window treatments such as drapes should be light so that they can move with the wind. Dark-colored drapes will not let positive energy in.
Paintings – choose cheerful paintings that have a positive psychological effect.
The Dining Room
Given today's hectic lifestyles, the evening meal is often the only time of the day the family gets to sit down together. It is important to create a warm and friendly dining room area and make it easy for the family to talk to each other.
A round dining room table is a good idea. Consider what kind of material your dining room table is made from. For instance, as food is natural, a dining room table made from natural or reclaimed wood is the best idea.
Colors in the dining room should be bright and the focus should be on the food. Accessories such as pretty flowers and a couple of nice Feng Shui objects de art can help to create the perfect dining room atmosphere.
Creating The Ideal Feng Shui Bedroom
Feng Shui is perfectly at home in the bedroom. The principle is to create a restful atmosphere. The bedroom is where you ultimately destress after a long day, and to recharge your batteries. It is essential to let chi flow in the bedroom.
Quick and easy Feng Shui tips for the bedroom:
Lighting – you don't want any harsh lights in the bedroom. Go for low wattage bulbs and you should try to introduce some candles.
Storage – we do store a lot of stuff in our bedrooms. If you don't have a walk-in closet, you should always put away clothes and other objects to make sure chi can flow easily while you sleep.
Bed linen – go for natural materials such as silk and cotton. Believe it or not, silk is surprisingly warm and you can pick up comforters and bedspreads in some fantastic colors.
Colors in the bedroom – the color theme in any bedroom should be calming. Pastel colors work great and they should be mixed with soft furnishing in similar colors.
More than anything natural materials are important in the living room. You also want to place a couple of round-leaved plants in the bedroom. They will help to keep the air fresh as you sleep.
The Kitchen and Feng Shui
The principle of Feng Shui is particularly important in the kitchen. In the Orient, the kitchen is seen as a place of creativity. Positive chi really matters in this room. Here are a couple of tips you can follow to make your own kitchen a hive of creativity:
Place healthy plants such as herbs between the stove and sink to harmonize the fire and water. The stove represents fire and is an element you need to control.
Natural lighting is a must in the kitchen. If you can, try to add a skylight and make sure that you keep window dressings to a minimum. Chi really needs to flow into your kitchen.
Food and flowers – displays of food and flowers help to create a healthy flow of chi.
Wood is the perfect choice for the kitchen whether it comes to flooring or storage units. Worktops should be easy to wipe clean and keep dry.
Worktops – do not allow worktops to become cluttered with appliances. Make sure that you have plenty of storage space for kitchen equipment such as juices and steamers.
Kitchens in the Orient look sparse when compared to Western kitchens. This is because more or less every object is stored away. Even the inside of the kitchen cupboards is always tidy.
Feng Shui Tips | How to Make Chi Flow In Every Room of Your Home
The Bathroom
If you have ever stayed in a hotel in the Orient, you will have noticed the bathroom is almost spartan. You may also have picked up on the fact that good ventilation is a must. The reason for this is very simple.
In Traditional Chinese Medicine, it is thought damp causes many of our illnesses. If we keep the home, and especially the bathroom dry, our health will improve. When you have bought a new home, it is a good idea to check out the ventilation.
If you can add a window to let in natural light and air, it is considered extremely important. In Japnese homes, you will often come across plants in bathrooms. Feng Shui is very popular in Japan, and it is thought that plants in the bathroom promote good chi more than in any other room in the house.
Choose light colors, a pretty mirror, and place round-leaved plants that can help to promote a healthy moisture level. You can also take care of preventing mold growth in your home by using a good dehumidifier that will help to reduce humidity levels within your bathroom
Feng Shui In the Home Office
Increasingly, more of us work from home. Home offices have become popular additions to our homes. Unfortunately, most of the time, we don't appreciate how important a nicely decorated home office can be to our professional and business success.
If you would like to make the most of your career and time spent in the home office, there are many Feng Shui principles you can take advantage of to make it happen.
Choosing The Right Kind of Home Working Environment
According to Feng Shui principles, choosing the right kind of furniture for any office environment is important. The same color may look aesthetically pleasing but is not necessarily the right principle.
The main furniture such as the desk, chair, and bookcases, should be simple, but there it is also important to add color. The addition of colors such as red and gold are thought to improve and create positive chi in the home office. A red-colored side table with a plant improves energy.
On top of that, you may just want to place a small sofa in the home office. It gives you a space to sit and think when you want to develop and come up with new creative ideas.
Keep your home office free from clutter by applying smart storage solutions. This will also help to keep your home office clean. Cleanliness is important in any workplace in the East. A dusty atmosphere stagnates chi. Ideally, you should clear away clutter and clean your home office once a day.
Many Oriental home offices have a fish tank in them. Fish, such as goldfish and shubunkins, make chi flow and are considered lucky tokens. The water in the tank is another important source of chi.
Plants are essential, and as always when it comes to Feng Shui, you should make sure all of your plants are either Bonsai or have rounded leaves. Sharp leafed plants are frowned on in the East. They are thought to disrupt energy. Free-flowing chi energy is more important in the working environment than anywhere else.
There is an endless amount of Feng Shui principles that you can apply to your home and working environment. You don't have to call in a Feng Shui specialist to make the most of your home.
Final Thoughts
Become your own Feng Shui master and learn how you can change and improve your life by making the most out of this ancient art. Feng Shui takes advantage of the natural flowing energy called chi that surrounds everything around us and exists within all life.
Please consider spreading the word and sharing; Feng Shui Tips | How to Make Chi Flow In Every Room of Your Home
About the Author
Top Wellington Realtor, Michelle Gibson, wrote: "Feng Shui Tips | How to Make Chi Flow In Every Room of Your Home"
Michelle has been specializing in residential real estate since 2001 throughout Wellington Florida and the surrounding area. Whether you're looking to buy, sell or rent she will guide you through the entire real estate transaction. If you're ready to put Michelle's knowledge and expertise to work for you call or e-mail her today.
Areas of service include Wellington, Lake Worth, Royal Palm Beach, Boynton Beach, West Palm Beach, Loxahatchee, Greenacres and more.