Home Inspectors are usually hired by buyers to inspect the home they're purchasing. However, it's not uncommon for homeowners to hire an Inspector to identify problems in the making so they can avoid costly repairs in the future or if they plan on selling their home they can make repairs prior to putting it on the market.
Home Inspectors do a visual, non-invasive examination of a home's current condition. Most Inspectors inspect the roof, attic, heating/cooling system, water heater, appliances, plumbing, electrical, windows. Occasionally they'll inspect swimming pools, sprinkler systems, and structural issues. Their primary focus is to look for items needing repair or replacement along with fire and safety issues, not cosmetic issues. Most Inspectors will go over their findings immediately after the inspection. This is usually followed by a written report with photographs.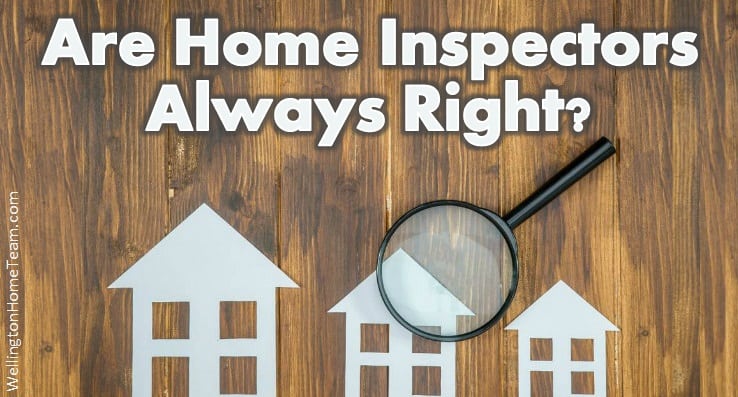 So, are Home Inspectors Always Right?
Not always! Home Inspectors are limited on what they can see and do, they are not Superman, and can't see through walls or move wall units. They are also human, so they may miss or overlook something and no two Inspectors are the same. I've had multiple inspections done on one property and what one Inspector found the other missed and vice versa. They also don't know everything, but in my experience when an Inspector is uncertain about something they will recommend further inspection. However not all Inspectors will do this, some will give their two cents, which could be right or completely wrong.
Last year I worked with buyers who were involved in a situation where the Inspector was 100% wrong. However, since he was a licensed professional they believed him. So they didn't want to get a second opinion or even look at documentation proving he was wrong. It was an unfortunate situation that could have been avoided had the Inspector reported his findings and kept it at that.
Final Thoughts
When hiring a Home Inspector check their qualifications and experience. If anything comes up in the report that might be questionable or of concern get a second opinion. The second opinion should not be from another home inspection, it should be from a person who specializes in that field. So if roof repair was noted hire a roofing contractor to confirm and provide an estimate to repair.
Homebuyers should also do a final walk-through of the property prior to closing. The purpose is to make sure everything is still in the same working order as it was at the inspection.
If you think this article, Are Home Inspectors always Right?, was an interesting read and helpful, please share it across your social media platforms!
A home inspection is a crucial part of the home buying process. However, are home inspectors always right with their findings? #realestate #homeinspections
Additional Home Buying Resources
About the Author
The real estate article above, "Are Home Inspectors Always Right?" was written by Michelle Gibson of Wellington Florida Real Estate. Specializing in residential real estate since 2001 in Wellington and the surrounding area. Not only does Michelle assist buyers and sellers, she assists landlords and tenants too. She would love to share her expertise and guide you through the entire real estate process.
We service the following areas; Wellington, Lake Worth, Royal Palm Beach, Boynton Beach, West Palm Beach, Loxahatchee, Greenacres, and more. If you are considering selling your home, we welcome the opportunity to work with you and list your home with a top Realtor in Wellington Florida