Are Home Inspectors Always Right?
If you are buying or selling a home you might be wondering how accurate a home inspector's findings are after conducting a home inspection. A majority of home inspectors are hired by a home buyer to inspect the property they're purchasing. However, it's not uncommon for a home seller to have an inspection prior to listing their home for sale so they can make repairs in advance. Let's discuss whether or not home inspectors are right.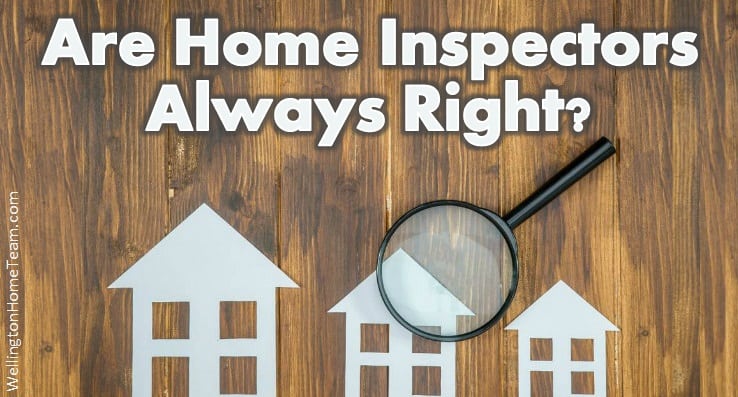 What is a Home Inspector? 
First and foremost, what is a home inspector? A home inspector is a trained professional, usually licensed, who evaluates the condition of a residential property. They do a visual, non-invasive examination of a home's current condition.
What Do Home Inspectors Inspect?
A majority of home inspectors inspect the roof, attic, heating/cooling system, water heater, appliances, plumbing, electrical, and windows. Occasionally they'll inspect swimming pools, sprinkler systems, and structural issues. Their primary focus is to look for items needing repair or replacement along with fire and safety issues, not cosmetic issues. Most Inspectors will go over their findings immediately after the inspection. This is usually followed by a written report with photographs.
So, Are Home Inspectors Always Right?
Not always! Home Inspectors are limited in what they can see and do, they are not Superman, and can't see through walls or move wall units. They are also human, so they may miss or overlook something and no two home inspectors are the same.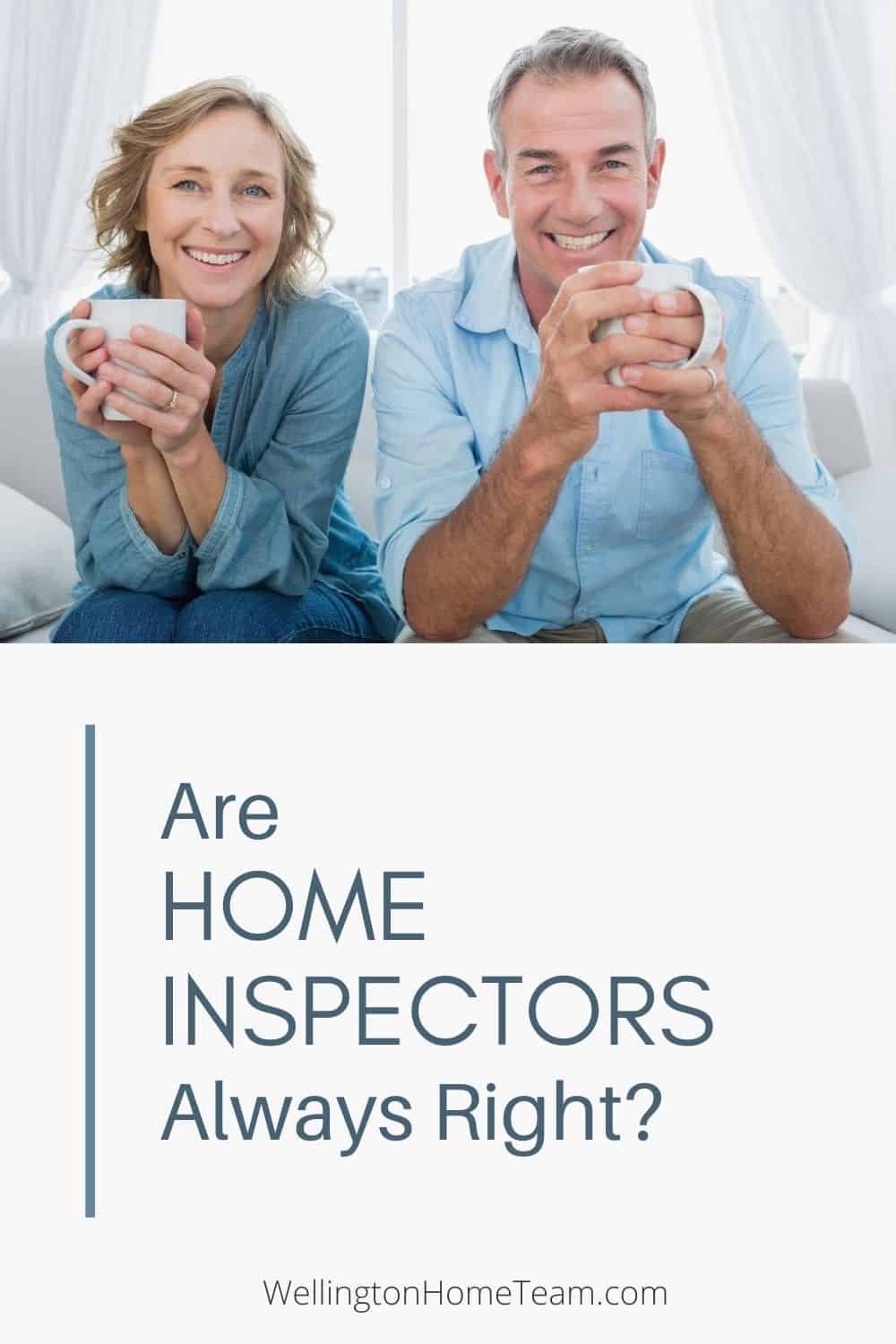 I've had multiple inspections done on one property and what one inspector found the other missed and vice versa. They also don't know everything, but in my experience when an inspector is uncertain about something they will recommend a further inspection. However not all inspectors will do this, some will give their two cents, which could be right or completely wrong.
Several years ago I attended a home inspection and the inspector wasn't certain about the roof. So he took a few pictures and texted them to his boss. Between the two they concluded the roof needed to be replaced.
Since he was a licensed professional the buyers took believed him. They didn't want to get a second opinion from a licensed roofing contractor nor did they want to look at any of the documentation proving the inspector was wrong. It was an unfortunate situation that could have been avoided if the inspector reported his findings and kept it at that or recommended further investigation by a licensed roofer. Instead, the buyers lost out on a phenomenal home that had a solid 10+ years of life left on the roof.
Final Thoughts
When hiring a home inspector make sure to check their qualifications and experience. If anything comes up in the report that might be questionable or of concern get a second opinion. The second opinion should be from a person who specializes in that field. So if roof repair was noted hire a roofing contractor to confirm and provide an estimate to repair.
While a home inspector has a vast knowledge of the things they inspect there are things that could be out of their scope or expertise. A majority of home inspectors know their limitations and will report accordingly. However, there will be inspectors who will state their findings as facts, facts that may be wrong. Buyers should never be afraid to ask questions or get second opinions.
If you think this article, Are Home Inspectors Always Right? was an interesting read and helpful, please share it across your social media platforms!
A home inspection is a crucial part of the home buying process. However, are home inspectors always right with their findings? #realestate #homeinspections
Popular Home Inspection Questions
What are home inspectors not allowed to do? Home inspectors are not allowed to perform tasks that go beyond the scope of a standard home inspection. Their primary role is to assess the condition of a property and identify potential issues or areas of concern.
Home inspectors are generally not licensed or qualified to perform specialized tasks such as structural engineering, environmental testing, or electrical, plumbing, or HVAC system repairs. They are also not responsible for predicting future problems or guaranteeing the future condition of the property.
While they may provide recommendations for further evaluation by professionals, home inspectors typically do not provide estimates to repair or replace items. It is important to understand the limitations of a home inspection and if necessary, consider hiring specialized professionals for any specific concerns that fall outside the scope of a standard inspection.
How long is a home inspector liable? The length of time a home inspector is liable can vary depending on several factors, including local regulations and contractual agreements. Typically, home inspectors provide a limited period of liability for their services, which is typically outlined in the inspection contract. This liability period is usually a matter of months, ranging from 30 to 90 days, during which the inspector can be held responsible for any errors or omissions that were reasonably discoverable during the inspection.
Once this liability period expires, the inspector is generally released from any further responsibility for the condition of the property. It's crucial to review the inspection contract carefully and understand the specific terms and limitations of the inspector's liability before hiring them.
Who is liable if defects are found after a home inspection? The liability for defects found after a home inspection can depend on various factors, including the contractual agreements and applicable laws in the specific jurisdiction where the property is located.
In general, if defects are discovered after a home inspection, the liability may rest with the homeowner or the seller, depending on the circumstances. If the seller intentionally concealed or misrepresented the defects, they may be held liable for the repairs or damages. On the other hand, if the defects were present and reasonably discoverable during the inspection, but the inspector failed to identify them, the liability may lie with the home inspector. It's best to consult with an attorney to understand the specific rights, obligations, and potential liabilities of your specific situation.
Can a house fail a home inspection? A house itself does not "pass" or "fail" a home inspection. A home inspection is a thorough assessment of a property's condition and is conducted by a qualified home inspector. The purpose of a home inspection is to identify any existing issues, defects, or areas of concern that may affect the value, safety, or functionality of the home. The inspector will provide a detailed report outlining their findings, but the inspection itself does not determine the success or failure of the property.
Should I get a home inspection before buying a home? Yes, getting a home inspection before buying a home is highly recommended. A home inspection provides an objective evaluation of the property's condition, helping you make an informed decision about your purchase. It can reveal potential issues, defects, or safety concerns that may not be apparent during a casual viewing. By identifying these issues early on, you can assess the potential costs of repairs or maintenance and negotiate with the seller accordingly.
A home inspection also offers peace of mind, allowing you to proceed with the purchase confidently or reconsider if significant issues are discovered. It is an essential step in the home-buying process to ensure that you are making a well-informed investment and to avoid any unpleasant surprises down the line.
Can buyers negotiate issues after a home inspection? Yes, buyers can typically negotiate issues discovered during the home inspection. Depending on the severity of the issues and the contract, buyers may be able to negotiate for repairs, price reductions, or seller concessions to cover the costs of addressing the issues.
Negotiations typically involve the buyer's real estate agent communicating their requests to the seller or the seller's agent. The outcome of these negotiations will depend on various factors, including the motivation of the seller and the market conditions. It is important for buyers to approach negotiations with reasonable requests.
Are home inspectors liable for missed items? Home inspectors can be held liable for missed items during a home inspection, depending on the circumstances and applicable laws. While home inspectors strive to conduct thorough inspections, it is possible for them to overlook or miss certain defects or issues.
If it can be shown that the inspector was negligent or failed to exercise reasonable care in performing the inspection, they may be held responsible for any resulting damages. However, the extent of the inspector's liability may be limited by contractual agreements and local regulations. It is advisable for buyers to carefully review the terms of the inspection contract and seek legal advice if they believe the inspector's negligence led to significant financial losses.
About the Author
Top Wellington Realtor, Michelle Gibson, wrote: "Are Home Inspectors Always Right?"
Michelle has been specializing in residential real estate since 2001 throughout Wellington Florida and the surrounding area. Whether you're looking to buy, sell, or rent she will guide you through the entire real estate transaction. If you're ready to put Michelle's knowledge and expertise to work for you call or e-mail her today.
Areas of service include Wellington, Lake Worth, Royal Palm Beach, Boynton Beach, West Palm Beach, Loxahatchee, Greenacres, and more.
Are Home Inspectors Always Right?