"Back on Market" is a type of property status a home will have when it was under contract, but came back onto the market. When this happens a lot of home buyer's want to know why. Sometimes it's a red flag that there is something wrong with the house or price. While other times it's for absolutely no reason at all, literally the home could be close to perfect, but still come back onto the market. So what are the most common reasons why a home will "back on market?"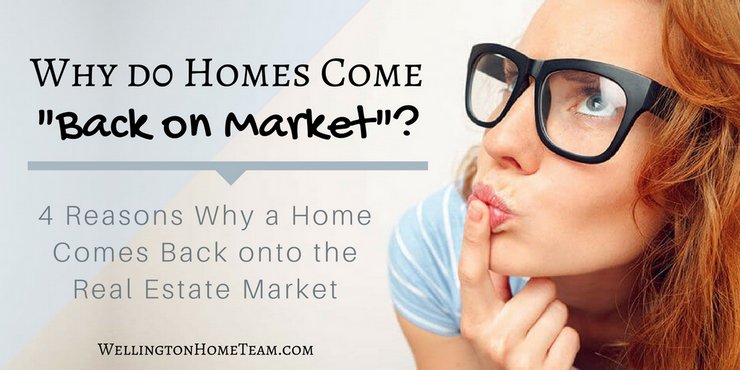 The Sky is Gray
Some real estate contracts give buyers the option to cancel the contract for ANY reason. Now, most homebuyers don't submit an offer on a home with the intention of canceling the contract if their offer is accepted, but it does happen. Maybe they had buyer's remorse or they found a property they liked more. Or maybe their circumstances changed and buying a home was no longer a possibility.
It's also not uncommon for homebuyers to cancel a contract if they are purchasing a short sale or bank-owned home. Sometimes the short sale process can be challenging. It can take longer than anticipated and the buyer can no longer wait or want to wait. Whatever the reason maybe it doesn't matter if the sky is gray, blue, or hot pink because if the contract stipulates a buyer can cancel for any reason then they can cancel for any reason and the home will come "back on market."
Inspection Results
No matter how old a home is the home inspector will always find something wrong, even on newly constructed homes. Sometimes the items an inspector finds are visible or previously disclosed by the seller, so they were expected, but other times the inspector's findings are a surprise to all parties.
When unforeseen items come up, especially costly ones, some sellers are willing to fix the items, reduce the contracted price, or give the buyer a credit to keep the deal together. However, occasionally some buyers will cancel the contract no matter what the seller is willing to do. So the home will come "back on market."
Didn't Appraise
Homes appraising less than the contracted price does happen and when it does a few things can happen. The seller can reduce the contracted price to the appraised price. The buyer can come up with additional funds to make up the shortfall. The buyer and seller can meet somewhere in the middle. Lastly, the buyer can cancel. When the deal can't be salvaged due to a low appraisal the home will come "back on market."
Loan Denial
The days of every buyer being able to get a loan are long gone. Typically if a buyer is pre-approved for a loan in today's market it is unlikely they will get denied, but it can happen. Maybe the loan officer didn't thoroughly pre-approve them. Maybe the buyer withheld important information. Or maybe something came up while under contract, like job loss, which produced loan denial. When a buyer is denied it is possible they may qualify for another loan program or through another lender. However, when they can't or won't the home will come "back on market."
Final Thoughts
There are several reasons why a home will come "back on market" and a buyer should never rule the house out because it's "back on market." Over the years I've been involved in many transactions where the home came back onto the market and the new buyer got an amazing home because nothing was wrong with it.
If you think this article, Why do Homes Come "Back on Market"? was an interesting read please give it a share!
Homes come back on market for several reasons. Sometimes it might be a red flag while other times it could be nothing. Find out the 4 reasons now! #homebuying #homeselling
Additional Real Estate Advice from Top Professionals
About the Author
The above real estate article Why do Homes Come "Back on Market"? was written by Michelle Gibson of Wellington Florida Real Estate. Specializing in residential real estate since 2001 in Wellington and the surrounding area. Not only does Michelle assist buyers and sellers, she assists landlords and tenants too. She would love to share her expertise and guide you through the entire real estate process.
We service the following areas; Wellington, Lake Worth, Royal Palm Beach, Boynton Beach, West Palm Beach, Loxahatchee, Greenacres, and more. If you are considering selling your home, we welcome the opportunity to work with you and list your home with a top Realtor in Wellington Florida
Why Do Homes Come "Back on Market"?