How Much Room Do I Need for a Pool Table?
If you're one of the many people asking "How much room do you need for a pool table" this guide is for you! Back when we purchased our home an inexpensive pool table was left behind, which was rarely used for playing pool. It became the prime spot for school projects, building legos, and wrapping presents. However, once our youngest son took an interest in pool and started competing in national tournaments we decided to upgrade our table.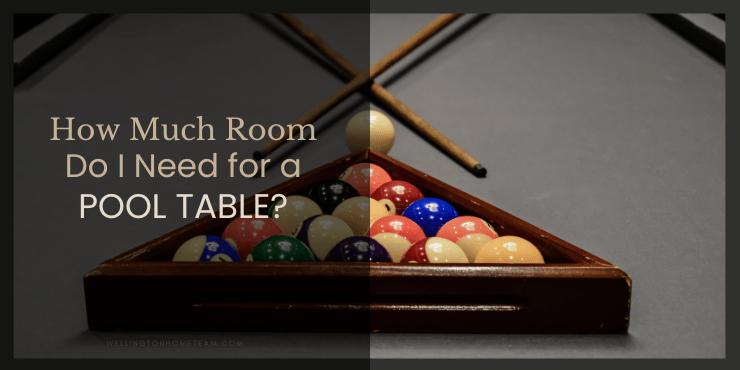 Since we bought our home with an existing pool table we had the advantage of seeing how the current size table fit in the room. So it was easy for us to determine if we could increase or decrease the table size if we wanted to. However, not many people have this luxury and are left wondering how much room they need for a table. This comprehensive how-to guide shares everything you need to know about how much room you need for a table along with tips for buying a pool table.
How Much Room Do I Need for a Pool Table?
Adding a pool table to your home can be exciting, but it's important to ensure you have adequate room for it. The question that often arises is, "How much room do I need for a pool table?" This comprehensive guide will provide you with all the information you need to determine the right amount of space for your pool table, taking into account not only the table itself but also factors like cue clearance and player comfort.
Selecting the Correct Size Pool Table | 6 Considerations
1. Table Size Matters
The size of your pool table is a critical factor in determining the space required. The most common standard pool table sizes are as follows:
7-foot pool table (7′ x 3.5′)
8-foot pool table (8′ x 4′)
8.5-foot pool table (8.5′ x 4.25′)
9-foot pool table (9 x 4.5)
*Note these are the sizes for the bed of the table, it does not include the rubber rail or actual rail, which could add another 3.5″ to 7″ onto the table size.
2. Cue Clearance
In addition to the table size, you must consider cue clearance. Players need enough room to comfortably maneuver their pool cues to make shots without feeling cramped or hitting a wall. A good rule of thumb is to have at least 5 feet of clearance around the table's perimeter, which allows for comfortable cueing from any angle.
Pool cues come in various lengths and sizes to accommodate players of different heights and playing styles. The most common cue lengths are as follows:
Standard cue length: 58 inches
Short cue length: 52 inches
Junior cue length: 48 inches
It is important to choose a cue that is the right length for you, as this can impact your playing performance. A pool cue that is too short or too long can cause discomfort and affect your shot accuracy. A standard cue length of 58 inches is suitable for most adult players, while shorter cues are ideal for children or players with a smaller stature.
3. Room Shape
The shape of your intended game room can also impact the space required for a pool table. Rectangular rooms are ideal for setting up a pool table, as they provide more options for cueing from various angles. Square rooms or rooms with irregular shapes might require extra space to accommodate the same table comfortably.
4. Lighting & Overhead Clearance
Proper lighting is crucial, so it's important to make sure that your room has adequate overhead clearance to install pool table lights or fixtures without obstructing the playing surface. Typically, you'll want at least 7 to 8 feet of clearance above the table.
5. Wall Clearance
Cue clearance and wall clearance are ultimately one and the same. The pool table needs to be far enough away from the walls in order to properly stroke a cue. Since the standard cue is 58 inches most people will need a 5-foot clearance around the table. Not one wall, all walls must be 5 feet away from each side of the table.
So for those wondering can a pool table fit in a 12×12 room, the answer will be no. The smallest table length is 7 feet, in a 12 foot room that would only leave 5 feet of space, 2.5′ on each side of the table is not enough space. A table that is 7′ x 3.5′ the room size needs to be around 17′ x 13.5′ to comfortably accommodate a 7 foot pool table. A room that is a tad smaller, might actually work as well.
6. Furniture & Other Considerations
Creating a comfortable environment for players is essential for an enjoyable game of pool. So you'll want to consider the placement of other furniture in the room, such as a pub table and chairs. While you need to allocate enough space for the table, cue clearance, and furniture, it's equally important to ensure that players have enough room to move around comfortably without feeling cramped.
Tips for Buying a Pool Table
Purchasing a pool table can be exciting but it involves several steps to ensure you make the right decisions. In this comprehensive step-by-step how-to guide, I'll walk you through each stage of the process, providing you with the knowledge and insights necessary to make an informed decision when buying a pool table.
1. Set a Realistic Budget
Before you start shopping, determine how much you're willing to spend. This figure will need to include the cost of the table, installation, and any needed accessories or furnishings. Pool tables do come in a wide range of prices, and having a budget in mind will help you narrow down your options.
2. Measure Your Room Space
The next step is to measure your space. This will determine the size of the pool table your space will accommodate. While an electric tape measurer is pretty accurate I still recommend using a standard cased tape measure to ensure all measurements are accurate.
3. Consider the Table Size
Pool tables typically come in four standard sizes: 7-foot, 8-foot, 8.5-foot, and 9-foot. The size you choose will depend on the available space and your preferences. Keep in mind that larger tables offer a more challenging game but not all rooms will fit a 9-foot table.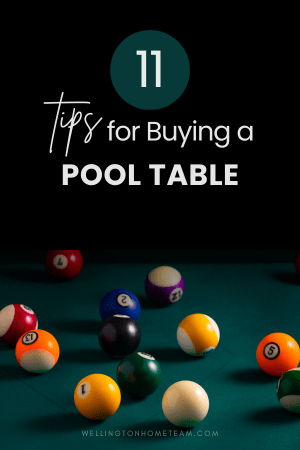 4. Decide on Table Type
Pool tables can be categorized into slate and non-slate tables. Slate tables are considered the best for serious players due to their superior playing surface. While non-slate tables, usually MDF, are more affordable but difficult to leave and can warp over time.
5. Understand the Playing Surface
The playing surface quality greatly affects your game. Factors like cloth material, cushion quality, and pocket size are crucial.
6. Evaluate the Frame Construction
A sturdy frame is essential for durability and stability. Consider tables made from hardwoods like oak or maple, as they are more robust and long-lasting compared to particleboard or MDF.
7. Research Brands and Manufacturers
Take the time to research reputable pool table brands and manufacturers. Reading reviews and seeking recommendations can help you choose a reliable and quality product.
8. Explore Additional Accessories
Consider what additional accessories you'll need, such as cues, balls, chalk, racks, and covers. High-quality accessories can significantly enhance your playing experience.
9. Plan for Delivery and Installation
Decide whether you want professional installation services. If so, make sure your room is ready for installation. This means the space is cleared out, there is proper lighting and ventilation.
10. Check for Leveling and Precision
Ensure the table has adjustable leveling mechanisms to maintain a perfectly flat playing surface. Additionally, examine the precision of the table, including pocket sizes and angles. If you have the pool table professionally installed this isn't something you will have to worry about.
11. Create a Maintenance Plan
Learn how to maintain your pool table to ensure its longevity. Regular cleaning and care routines for the cloth, frame, and accessories are crucial.
Final Thoughts
Buying a pool table is an investment in entertainment and recreation. By following this comprehensive guide and taking the time to research and consider your options, you can make an informed decision and enjoy countless hours of pool-playing fun in your own home. Remember that choosing the right pool table is crucial for both your enjoyment and the table's longevity, so take your time and make the best choice for your specific needs and preferences.
Please consider spreading the word and sharing; How Much Room Do I Need for a Pool Table?
About the Author
Top Wellington Realtor, Michelle Gibson, wrote: "How Much Room Do I Need for a Pool Table?"
Michelle has been specializing in residential real estate since 2001 throughout Wellington Florida and the surrounding area. Whether you're looking to buy, sell or rent she will guide you through the entire real estate transaction. If you're ready to put Michelle's knowledge and expertise to work for you call or e-mail her today.
Areas of service include Wellington, Lake Worth, Royal Palm Beach, Boynton Beach, West Palm Beach, Loxahatchee, Greenacres, and more.
How Much Room Do I Need for a Pool Table?