Boynton Billiards | Elevating Florida Game Rooms
Boynton Billiards has become the destination of choice for billiards enthusiasts and aficionados alike. Offering a unique blend of quality products and exceptional customer service this company has redefined the billiard and game room experience.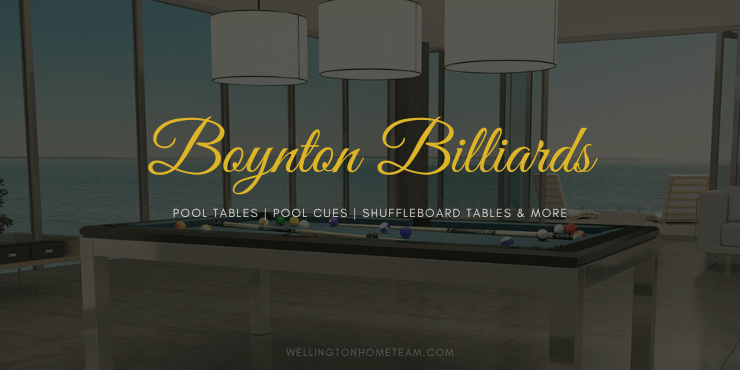 Whether you're a casual pool player, a seasoned pro, or simply looking to spend a fun-filled evening playing pool, shuffleboard, or ping pong with friends, Boynton Billiards has everything you need to elevate your game room. So if you're looking for the best billiard table store near me look no further! The Boynton Billiards is the ultimate billiard and game room store in Florida.
Unparalleled Game Room Products
One of the key factors that set Boynton Billiards apart is its vast selection of high-quality game room and billiard products. From top-of-the-line custom pool tables and pool cues to cue racks, chalk, and table covers, they stock everything a player needs. However, Boynton Billiards doesn't just focus on pool tables and cues, they handle all of your Florida game room needs. Check out the incredible options Boynton Billiards has to choose from.
Pool Tables: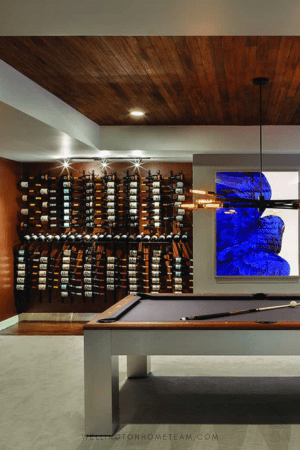 Whether you're looking to add a pool table to your Florida home, neighborhood clubhouse, office, restaurant, or bar The Billiards Collection offers a wide variety of table sizes and finishes to choose from.
Not only do they carrier in-stock pool tables they also offer custom pool tables. When going custom you'll have the opportunity to select from multiple manufacturers that offer many different styles, and finishes. Additionally, you'll be able to choose from different grades of cloth in over 30 different colors. Adding custom inlays and built-in drawers that will hold all of your pool equipment is an option as well.
Pool tables are available in the following sizes; 7′, 8′, and 9′. Manufacturers for indoor pool tables include; A.E. Schmidt, Canada Billiards, California House, Fusion by Aramith, Olhausan Billiards, and Imperial/Rasson. While outdoor pool tables and games tables are also available from R&R Outdoors.
Pool Cues
Boynton Billiards offers an extensive line of pool cues and pool cases. In addition to playing pool cues, they also carry break cues, jump cues, and break/jump cues. Boynton Billiards offers tip upgrades for your new cue along with tip replacements for your current cues. Just a few of the pool cue makers include; Predator, Cuetec, Jacoby, McDermott, Schon, Nick Varner, and Pearson.
More Than Just a Billiard Store
While Boynton Billiards carries your standard pool table and pool cues their selection of game room equipment doesn't stop there!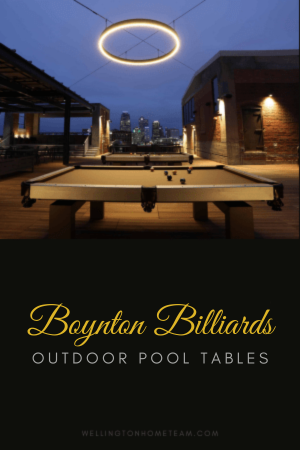 Check out all of the other game room tables and furniture that Boynton Billiards offers:
Outdoor Pool Tables
Dining Room Pool Tables
Antique/ Classic Billiard Tables
Shuffleboard Tables
Poker Tables
Foosball Tables
Ping Pong Tables
Game Sets
Arcade & Games
Bars & Barstools
Lighting
Billiard Accessories
So whether you're in search of a pool table, pool cue, or accessories to enhance your game, you'll find an extensive range of billiards options at their showroom. Plus, Boynton Billiards knowledgeable staff is always on hand to assist customers in finding the perfect equipment, tables, and furnishings to match their style and preferences.
Pool Table & Gaming Manufacturers
Pool table manufacturers play a crucial role in shaping the billiards industry by crafting incredible pool tables that stand the test of time and The Billarids Collection only carries the best!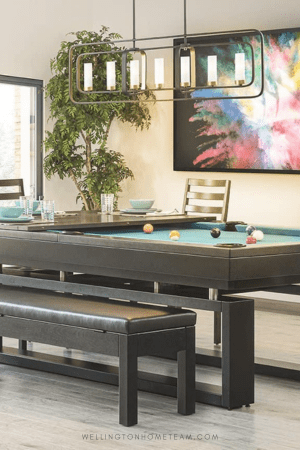 The manufacturers they work with are dedicated to producing high-quality, durable, and aesthetically appealing pool tables that meet the needs and preferences of players.
Many of them also produce stock and custom game room furnishings, such as poker tables, shuffleboard tables, and chairs. Below are just some of the top pool table lines Boynton Billiards carries:
A.E. Schmidt
Canada Billiards
California House
Fusion by Aramith
Olhausan Billiards
Superior Customer Service
At Boynton Billiards, customer satisfaction is of paramount importance. The company takes pride in offering exceptional service to ensure that every visitor has an enjoyable experience. The friendly and knowledgeable staff at Boynton Billiards are always ready to provide expert advice, answer questions, and assist customers in finding the right products. Their dedication to customer service has earned them a loyal clientele and a reputation throughout Florida as the go-to destination for game rooms and billiard tables.
So if you're wondering Who sells pool tables near me? Boynton Billiards is the number one choice! They serve the entire state of Florida and work with interior designers, homeowners associations, corporate spaces, pool halls, billiards rooms, restaurants, and bars to name a few.
Location
Boynton Billiards is the best billiard table store in Florida and they offer three convenient locations:
Boynton Beach
1950 South Federal Highway
Boynton Beach, FL 33435
561-736-7665
West Palm Beach
2522 Okeechobee Blvd.
West Palm Beach, FL 33409
561-616-2221
Fort Lauderdale
345 W Oakland Park Blvd.
Ft. Lauderdale, FL 33311
954-564-2100
Boynton Billiards is Florida's premier game room store for pool tables, pool cues, shuffleboard tables, ping pong tables, arcade games, and more! #pooltables #gamerooms
Popular Game Room Questions
What is a game room? A game room is a designated space within a home that is specifically designed for recreational activities and entertainment. It typically contains various forms of entertainment, such as billiards or pool tables, shuffleboard tables, ping pong tables, poker tables, video game consoles, arcade machines, board games, and other recreational items.
Who sells billiard tables near me? The Boynton Billiards sells pool tables throughout the state of Florida. Not only are they a Florida pool table store they also sell other types of tables such as shuffleboard tables, ping pong tables, foosball tables, and poker tables along with pool cues, accessories, and bar tables and chairs.
How do you decorate home game rooms? It ultimately depends on the type of game room you have. If your game room consists of a pool table consider adding bar stools and a bar table. A cue rack for your pool cues is another great addition. Artwork on the walls will add some character as well. If your game room is geared towards video games a big comfy sofa and gaming chairs would be a great addition.
About the Author
 Michelle Gibson, Wellington Realtor, and pool player wrote: "Boynton Billiards | Elevating Florida Game Rooms"
Michelle has been specializing in residential real estate since 2001 throughout Wellington Florida and the surrounding area. Whether you're looking to buy, sell or rent she will guide you through the entire real estate transaction. If you're ready to put Michelle's knowledge and expertise to work for you call or e-mail her today. Areas of service include Wellington, Lake Worth, Royal Palm Beach, Boynton Beach, West Palm Beach, Loxahatchee, Greenacres, and more.
Boynton Billiards | Elevating Florida Game Rooms