If you live in Florida, then you no doubt know how unbearable the weather can sometimes be. After all, South Florida dealt with dangerous levels of heat over the summer, so any tips on combatting the intense warm temperatures in the States would no doubt be welcome. Well, the right HVAC system can help here, packaged with quality air filters and helpful service agreements.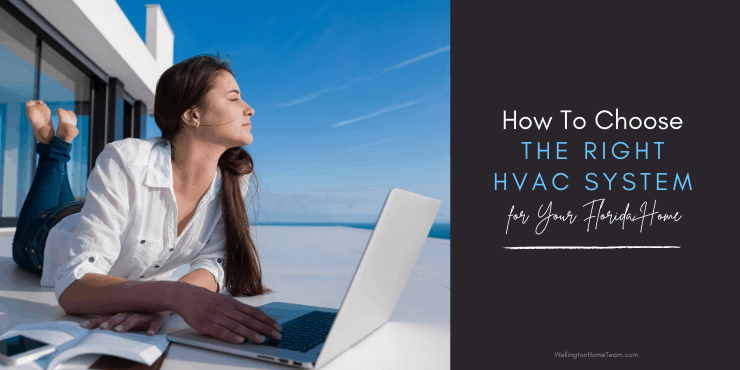 You'll be pleased to know that HVAC stands for heating, ventilation, and air conditioning. They can control the temperatures in any commercial or residential building, which means they're a sound investment if you want a say in how hot things can be at home. 
Consequently, here are some tips to help you choose the right HVAC system for you and your Florida home. 
Size and Expense
Because the HVAC system can heat or cool both residential and commercial buildings, it is important you pick the right make and model. Otherwise, you may find yourself spending an extortionate amount of dollars on something that won't reasonably sit comfortably anywhere in your property or on your land.  
It might be worth considering how often you are in your home to really enjoy and appreciate the HVAC unit too. Obviously, if you're out all day, you may want to spend fewer bucks and not buy the latest and greatest HVAC unit. Consider the size and expense and weigh it against your usage plans, and you'll be one step closer to making an informed purchase. 
Air Filter Needs
HVAC units use air filters in their running, and just like the machines themselves, they come in many different shapes and sizes. Depending on how often you plan to use HVAC in your own home, you may find yourself going through filters relatively quickly or somewhat slowly, so it's important to keep the frequency of any swaps in mind. 
In the Florida heat, you will no doubt be changing the air filters a good deal, so you'll need to make sure that the ones you pick up are cost-effective and easy to buy. Check out the selection from Filterbuy. Working with a reputable company will save you time, effort, and money, and you can set up a recurring order for bulk orders, which removes any of the tediousness of this process. Frequently switching out your filter will ensure that your unit is in optimum condition.
Blower Fan Noise
What might seem like a trivial drawback of an HVAC unit can cause greater problems later. The noise of any blower fans in the machine, for example, can potentially irritate you, your family, friends, and even your fellow neighbors, as the main air conditioner component sits outside. Try to keep these kinds of things in mind, because you don't want arguments and dramas to prevent you from cooling down or warming up. 
Some HVAC units can indeed be noisy, but there are a range of options to choose from and many of them are on the quieter side, certainly capable of pleasing everybody. Do browse and keep others in mind, because you will use these machines for prolonged periods of time and potentially through humid nights too. It's important that everyone is comfortable and on board, so if you can't afford a quieter iteration, check in with any relevant parties and see what arrangements can work for all. 
Energy Efficiency 
Of course, with buying anything electrical, many people will rightly consider how much energy they're using and whether they're having an adverse effect on the environment. After all, energy efficiency is on everybody's mind these days, and there's a global effort underway to curb all emissions. It's certainly a responsible concern to have, so checking the energy efficiency of your HVAC unit is a good idea. 
When browsing the machines, review the SEER (Seasonal Energy Efficiency Ratio) rating or any other energy-related information that pertains to your interests. Don't hesitate to enquire with the seller, too. The more you are clear on these matters, the more comfortable you will be in making your purchase and enjoying all the perks HVAC units have to offer in their use.  
Service Agreements
It's often the case that when we need our apparatuses the most, they break down. Wear and tear is natural in any product of course, but it can certainly be kept in check. It's not a secret that the levels of heat in the States are constantly climbing, seemingly without an end in sight. It's vital to ensure that all our equipment is always highly functional and ready for use so that they don't give up in your time of need. 
You can draft up a service agreement with your HVAC that will help you meet that end. The right arrangements will mean that you can have annual maintenance carried out on your unit, and that any incidental costs are conveniently covered. Ultimately, these kinds of deals save you both time and dollars, so they're absolutely something you should look into when outfitting your Florida home with an HVAC unit. 
Please consider spreading the word and sharing; How To Choose the Right HVAC System for Your Florida Home
Many Floridians use their HVAC unit year-round, so it's important to have the best HVAC system for your home, and here's a how-to guide. #hvacsystem
About the Author
Top Wellington Realtor, Michelle Gibson, wrote: "How To Choose the Right HVAC System for Your Florida Home"
Michelle has been specializing in residential real estate since 2001 throughout Wellington Florida and the surrounding area. Whether you're looking to buy, sell or rent she will guide you through the entire real estate transaction. If you're ready to put Michelle's knowledge and expertise to work for you call or e-mail her today.
Areas of service include Wellington, Lake Worth, Royal Palm Beach, Boynton Beach, West Palm Beach, Loxahatchee, Greenacres and more.