How to Furnish an Airbnb to Maximize Your Revenue
Real estate investment can be a lucrative piece in your portfolio, especially if you know what you are doing. There are various paths you can take to earn extra income from property, but one trendy option is to become an Airbnb host.
Airbnb is one of the top vacation rental organizations in the world. If you own a property in a location where people often look for accommodations during their visits, you may have a potential Airbnb property to help you earn some more income. Many travelers prefer to stay in more comfortable lodgings in lieu of a hotel, so the potential for booking guests is very high.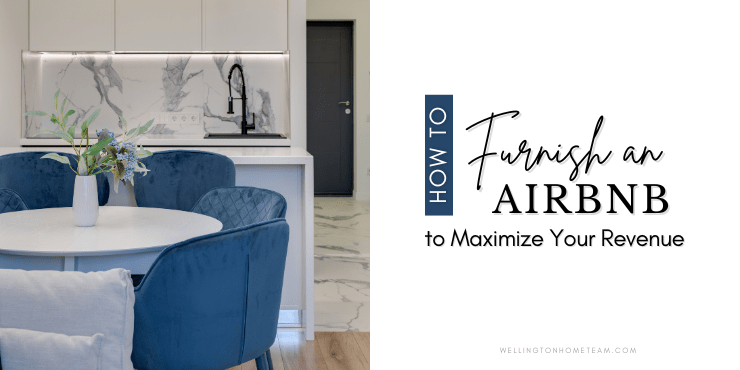 However, potential does not always pan out in reality. Just because you own a property to rent out and become an official host does not guarantee that you will attract guests or turn a profit. While there are many marketing strategies that can bring more attention to your rental, one of the simplest ways to maximize your revenue is to properly furnish an Airbnb. Here are a few ideas to generate as much income as possible with your furnishing choices. 
Energy Efficient Appliances
When you own a vacation rental, you'll be required to provide and pay for utilities such as electricity, water, and other utilities for the property. Otherwise, nobody could take a shower or turn the lights on. Maintaining an Airbnb means paying these costs, which cuts into your profits from guests.
Furnishing the property with energy-efficient appliances like refrigerators, ovens, dishwashers, washing machines, and even coffee machines can greatly reduce your bills. By doing so a larger percentage of the rental payments will go into your pocket. Plus, many travelers choose an Airbnb over a hotel or resort because they want a well-equipped kitchen along with a washing machine and dryer. So odds are they'll be frequently using all of the appliances and the more energy-efficient they are the more money you'll be able to save. Eventually, the upfront cost of these upgrades will be covered by the monthly savings on utility bills. 
Material Choices
When deciding what to furnish an Airbnb with you should also consider the materials that these pieces are made from. Generally, you have a bit of control over what happens to the furniture in your own home. But when strangers pay to occupy your vacation rental, you never know what kind of messes might be left behind.
Some of the best materials to clean for furniture are microfiber and leather. These materials are more stain-resistant and likely to last a longer time. The longer the furnishings last the less money you'll need to spend replacing them. Therefore, what furnishings you purchase, new or even used, for your vacation rental matters.
Storage Options
The people that stay on your property are probably traveling, either for pleasure or for business. This means they will have luggage with them containing clothes, toiletries, and other essentials. Giving your guests places to store their possessions can help entice them to your rental property, making them more likely to book a stay.
Convenient storage options like dressers, end tables, vanities, and armoires provide the needed space for their clothes and other items. This is a nice touch that will be helpful for all travelers, but especially those who are in for a longer period and don't want to live out of their suitcases. 
Office Setups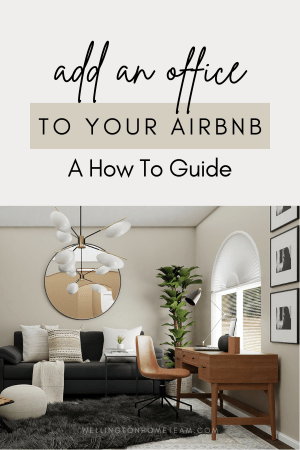 Many visitors that will stay at your property may be traveling for work or doing work remotely during the trip. Not everyone who books a weekend or a week at your Airbnb is planning to sightsee all day. Having some home furniture for an office setup can give those travelers a comfortable space to get their work done.
This includes a comfortable office chair, multi-functional cabinets, along with a modern desk. Additionally, you'll want to have office supplies readily available, such as a printer, paper, stapler, paperclips, and pens.
These simple additions could be enough to entice more guests who need workspaces to your property, resulting in greater income
Convertible Sofas
Vacation rentals are all about the available beds. The more sleeping spots you can provide, the more guests you can accommodate. One of the most popular furniture options to furnish an Airbnb is a convertible sofa that can become a pull-out bed. This gives your guests more options for bedding and makes it easier to attract groups of guests. However, you do not have to sacrifice any square footage to achieve the desired effect.
A pull-out couch is a worthy investment to bring in a wider range of guests to the property. In addition to a convertible sofa, another great option to furnish an Airbnb with is a murphy bed, which also has a dual purpose and takes up very little space.
Put Yourself in the Shoes of a Traveler
Think about what you want in a vacation rental and apply it to your own! Every traveler wants a comfortable and clean space that feels like a home away from home, that goes without saying. However, they also want plenty of room and sleeping accommodations for all of their guest. For those who will need to work having a dedicated office can be a great selling point. So when deciding on what to furnish an Airbnb with you'll want to keep this in mind. Travelers will also expect essential amenities like Wi-Fi, a well-equipped kitchen, and plenty of storage.
By providing what travelers need, you are more likely to stay fully booked. Plus, you'll be able to put more money in your pocket if you have an energy-efficient property that contains stain-resistant furniture for easier cleaning. Furnishing your Airbnb with these options will help you maximize profits as a host.
Check out these expert tips for how to furnish an Airbnb, which will help attract more guests, stay fully booked, and maximize your revenue! #howto #airbnb
Furnishing an Airbnb Checklist
Furnishing an Airbnb requires careful planning and consideration to create a comfortable and welcoming space for your guests. Here's a basic checklist to help you furnish an Airbnb:
Essential Furniture:

Sofa or seating area
Dining table and chairs
Bed(s) and mattress(es)
Dresser or wardrobe for clothing storage
Nightstands or side tables with lighting

Kitchen Essentials:

Plates, bowls, and glasses
Utensils (knives, forks, spoons, and cooking utensils)
Cookware (pots, pans, and baking sheets)
Coffee maker
Toaster or toaster oven
Basic cooking ingredients: salt, pepper, and oil
Dish soap, towels, and cloths

Appliances:

Refrigerator
Range
Microwave
Dishwasher (optional)
Washer and dryer (if possible)

Electronics & Entertainment:

Television with remote control
Wi-Fi router and internet connection
Cable or streaming subscriptions

Bedroom Essentials:

Bedding (sheets, blankets, pillows)
Hangers for clothing
Full-length mirror
Blackout curtains or blinds
Alarm clock

Bathroom Essentials:

Towels (bath towels, hand towels, and washcloths)
Toilet paper
Toiletries (shampoo, conditioner, and body wash)
Extra toothbrushes and toothpaste
Disposable razors
Hairdryer
Shower curtain and liner
Bathroom mat

Cleaning Supplies:

Vacuum cleaner
Broom and dustpan
Mop and bucket
All-purpose cleaner
Disinfectant wipes
Trash cans and garbage bags

Safety & Security:

Smoke detectors
Fire extinguisher
First aid kit

Home Decor:

Artwork
Indoor plants
Cozy blankets or throws

Guest Info:

Welcome basket with snacks and beverages (optional)
Information booklet with house rules, local attractions, and contact details, including emergency contacts
Furnishing an Airbnb, especially if you're furnishing Airbnb on a budget, requires careful attention to detail and thoughtful consideration of guests' needs and expectations. By following this comprehensive checklist, hosts can create a comfortable and welcoming space that exceeds travelers' desires. From essential furniture and well-equipped kitchens to cozy bedding, cleanliness, and safety measures, each item on this checklist to furnish an Airbnb plays a vital role in shaping a comfortable and memorable guest experience.
Please consider spreading the word and sharing; How to Furnish an Airbnb to Maximize Your Revenue
Check out these expert tips for how to furnish an Airbnb, which will help attract more guests, stay fully booked, and maximize your revenue! It also includes a helpful checklist to furnish an Airbnb. #howto #airbnb
About the Author
Top Wellington Realtor, Michelle Gibson, wrote: "How to Furnish an Airbnb to Maximize Your Revenue"
Michelle has been specializing in residential real estate since 2001 throughout Wellington Florida and the surrounding area. Whether you're looking to buy, sell, or rent she will guide you through the entire real estate transaction. If you're ready to put Michelle's knowledge and expertise to work for you call or e-mail her today.
Areas of service include Wellington, Lake Worth, Royal Palm Beach, Boynton Beach, West Palm Beach, Loxahatchee, Greenacres, and more.
How to Furnish an Airbnb to Maximize Your Revenue