Choosing the Perfect Outdoor Furniture a How-To Guide
When it comes to creating an inviting and comfortable outdoor space, choosing the perfect outdoor furniture is essential. Whether you envision hosting lively gatherings or seeking a tranquil retreat, finding the right outdoor furniture requires careful consideration.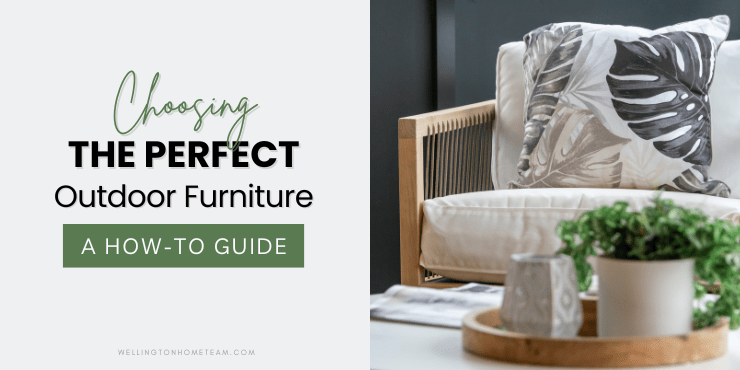 Do you prefer to unwind beside a fire on your patio or enjoy dinners on your deck? Will you organize larger gatherings or more private ones? The responses to these questions will help guide your purchasing decisions. So, let's see how to opt for the perfect outdoor furniture for your backyard! 
1. Assess Your Space
Before you even start looking at outdoor furniture you need to select the space you'll be furnishing. Will you be furnishing your front porch, balcony, or backyard? Once decided you'll want to measure the available space and take note of any unique features like landscaping elements or architectural structures. This will give you an idea of how much furniture you'll be able to accommodate and what configurations might work best.

2. Determine Your Needs
Next, you'll need to decide how you plan to use your outdoor space. Do you want a lounging area, a dining area, or both? Do you have a large family and/or will you be entertaining guests frequently? Understanding your needs will help decide how much seating you require.
3. Define Your Style
Are you drawn to contemporary, modern, boho, traditional, or rustic designs? You'll want to think about the overall aesthetic you want to achieve in your outdoor space. Make sure to choose furniture that complements your personal taste and style. It should also complement the existing architecture of your home and landscaping.
Create your dream outdoor space with our ultimate guide and expert tips for how to choose the perfect outdoor furniture. #outdoorfurniture #howto
4. Consider Your Climate & Materials
It's important to take the environmental factors of your region into account and prioritize durability. The last thing you want to do is spend money on outdoor furniture only for it to be eaten up and destroyed by the elements. So you'll want to consider things like; sun, rain, wind, snow, and temperature fluctuations in your region. Looking at the warranty provided by the manufacturer can be a great indication of the product's durability as well. Here are some popular material options to consider for your outdoor furniture:
Wood:
Wood outdoor furniture, like teak and cedar, brings a natural and timeless appeal to your outdoor space. No matter what type of wood furniture you choose it will add warmth and character to any setting. These hardwoods are often chosen for their durability and resistance to rot and insect damage. However, it's important to know that wood furniture requires regular maintenance, such as sealing, staining, or applying protective coatings, which can prolong its lifespan and maintain its appearance. Over time, wood furniture may develop a weathered patina tough.
Metal:
Aluminum, wrought iron, and steel furniture are sturdy and resistant to a lot of weather conditions. These materials are inherently sturdy and can withstand exposure to the elements, including rain, wind, and sunlight.
To ensure the longevity of your metal outdoor furniture, it's advisable to choose pieces with rust-resistant coatings or finishes. This protective layer will help prevent corrosion and can extend the lifespan of the furniture.
Additionally, adding cushions to metal chairs can add comfort and allows you to personalize your outdoor seating area.
Wicker & Rattan:
Natural wicker and synthetic rattan outdoor furniture are great options for creating a timeless outdoor setting area. While they are both lightweight, they still offer impressive durability and weather resistance.
Natural wicker is made from plant fibers like bamboo or rattan. While synthetic rattan is made from synthetic materials, which are designed to mimic the look and feel of natural wicker. However, both options are known for their ability to withstand various weather conditions, including rain and sunlight, without compromising their integrity.
Plastic & Resin:
Plastic and resin outdoor furniture are affordable and low-maintenance. They are also lightweight, which makes it easy to move and rearrange as needed. Plastic and resin furniture is highly resistant to weather conditions, including rain, humidity, along with UV rays. They come in a variety of styles, colors, and designs as well, sure to suit any outdoor aesthetic.
Fabric:
Adding fabric cushions or upholstery to your outdoor furniture offers a comfortable and inviting option. However, it's important to buy fabric that is specifically for outdoor use, these fabrics are often UV-resistant, mold-resistant, and fade-resistant. They're constructed to withstand exposure to the elements, such as sun, and rain.
Fabric outdoor furniture will include cushions, upholstery, and canopy materials, which all have a wide range of colors, patterns, and textures available. So you'll be able to easily find fabric furniture that complements your outdoor aesthetic.
In addition to choosing durable furniture that will hold up, you may also want to consider buying environmentally friendly furniture according to your climate. Outdoor furniture can be costly, so it's imperative to not only find furniture you like but that will last.
5. Test for Comfort
Finding comfortable furniture is essential for enjoying your outdoor space. So if possible, you'll want to visit local showrooms or stores to test out the furniture before buying. Don't be afraid to sit down, sprawl out, and really see how much support and comfort the furniture provides.
If you are unable to visit a local furniture store or plan to buy outdoor furniture online pay close attention to their return policy. Even though most websites have photographs and reviews online the furniture may not be what you expect when it arrives. So you'll want to make sure you understand their return policy.
6. Multipurpose Furnishing
You can opt for outdoor furniture that serves various functions to enhance the aesthetics of your area. Consider items like benches with storage, ottomans, convertible dining tables, a daybed with a canopy, planters with built-in seating, and folding tables and chairs. These multipurpose items can eliminate the need for a second patio and take up less room than other items.
7. Maintenance & Storage
Before pulling the trigger and buying outdoor furniture you'll want to take into consideration the maintenance requirements. Some materials may require regular cleaning, oiling, or seasonal storage. If the furniture needs to be stored and you have limited space consider opting for furniture that is foldable, stackable, and/or lightweight.
8. Budget
Before starting your search to find the perfect outdoor furniture determine your budget. Outdoor furniture prices can vary greatly, so knowing your budget will help you narrow down your options.
It will also help determine how much furniture you'll be able to buy. Sometimes it's best to buy a few quality pieces and add on later down the road instead of furnishing your entire space with inferior products.
9. Read Reviews & Compare
Whether you plan on buying furniture at a local store or online make sure to do extensive research. You'll want to look at the different brands, read customer reviews, and compare prices along with the different features each piece has to offer. Online reviews will provide real information, the good, the bad, and the ugly about any product.
Doing a little bit of research you will be able to make an informed decision, one you hopefully won't have to make a long for a very long time. However, if you buy outdoor furniture that looks nice or is on sale without doing any research you may be replacing it sooner than you thought. So take some time to read reviews and compare.
Final Thoughts
Choosing the perfect outdoor furniture is a crucial step in creating a beautiful and functional outdoor living space. By following our 9 steps in this comprehensive guide you'll be well on your way to designing an incredible outdoor oasis.
Just like any home improvement project, choosing the perfect outdoor furniture involves extensive planning and research. By taking the time to follow each step you'll be able to not only save time and money but you'll create a space that your family and friends will be able to enjoy for years to come.
Please consider spreading the word and sharing; Choosing the Perfect Outdoor Furniture a How-To Guide
Create your dream outdoor space with our ultimate guide and expert tips for how to choose the perfect outdoor furniture. #outdoorfurniture #howto
About the Author
Top Wellington Realtor, Michelle Gibson, wrote: "Choosing the Perfect Outdoor Furniture a How-To Guide"
Michelle has been specializing in residential real estate since 2001 throughout Wellington Florida and the surrounding area. Whether you're looking to buy, sell, or rent she will guide you through the entire real estate transaction. If you're ready to put Michelle's knowledge and expertise to work for you call or e-mail her today.
Areas of service include Wellington, Lake Worth, Royal Palm Beach, Boynton Beach, West Palm Beach, Loxahatchee, Greenacres, and more.
Choosing the Perfect Outdoor Furniture a How-To Guide